Star in the sea. Discover bioluminiscence in Holbox island

Share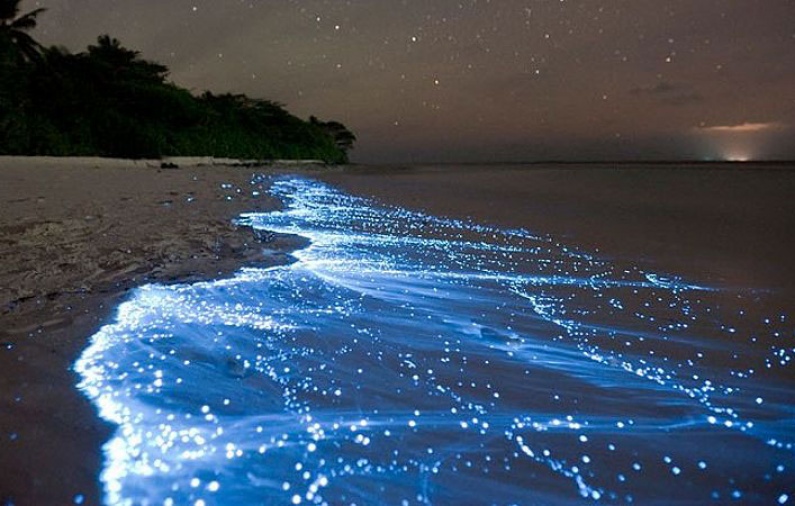 Sea, in all its immensity, keeps amazing secrets. Secrets that, upon discovered, have marveled the world; from mysterious being living in the depth to extraordinary phenomena that seem to be part of fantasy.
Such is the case of marine bioluminescence. Had you heard about this phenomenon before? If your answer is YES, you will agree with me that is as a magical spectacle, unique and incomparable. If your answer is NO, I suggest you continue reading and you will understand the magnificence of this phenomenon.
Imagine that when the night falls, you have the opportunity to appreciate the thousands of stars emitting natural light, but against all logic, these stars are not in the sky, but in the sea. This can turn real hanks to BIOLUMINISCENCE, and although what you see are not properly stars, that will be the perception you will have.  In the sea there are some live organisms capable of emitting their own light, as is the case of the bioluminescent larvae, which are present  in the warm waters of some seas.
But, what makes this phenomenon possible? In the se the sea there are some live organisms capable of emitting their own light, as sis the case with some bioluminescent larvae present in the warm waters of some seas. When these larvae feel threatened by the contact with any other living being, object or the very wave motion, they produce a chemical reaction that makes them emit this particular bioluminescent light with the aim of them being perceived. And though this is their defense, it doesn't represent the least
Pero ¿qué es lo que hace posible este fenómeno? En el mar existen algunos organismos vivos capaces de emitir luz propia, como es el caso de las larvas bioluminiscente que se encuentran presentes en las cálidas aguas de algunos mares. Cuando estas larvas se sienten amenazadas por el contacto de algún otro ser vivo, objeto o por el mismo movimiento de las olas, producen una reacción química que hace que emitan esa singular luz bioluminiscente con el objetivo de que puedan ser percibidas. Y aunque sea este su modo de defensa, no representa el más mínimo daño para la piel.
Holbox Island, magnificent island locates in the Mexican Caribbean, has one of the most privileged beaches where this phenomenon can be perceived. It is one of the points of the island, near Punta Mosquito, and is one of the right places to watch and marvel to such spectacle, it is just a matter of setting in motion the water motion with your fingers to make appear the tale looking like a magic wand in a fairy tale. In
In the island there are several services as boat tours that can take you this site, as otherwise there are those who adventure to tour the island on foot in order to reach this so sought destination where they will be witness of one of the most incredible and exciting shows of  the whole world, the human quality.
Holbox Island is a marvel in all the world to see, a place that has kept its natural resources almost as is as a place, that depends mainly on tourism, its extraordinarily  quality inhabitants, its dreamy human quality, its local gastronomy as a dream, and only three places  as you can see stars in the sea.
We invite you to visit Holbox Island and get, as I am, marveled by this magical place. Stay at VILLAS FLAMINGOS, a select member of MEXICO BOUTIQUE HOTELS, a spot that just like La Isla, keeps an architectural, ecological, rustic and bohemian decoration concept.
1 855 2236061

Angela Ortega (Eng)
Born in the central region of Mexico, but having lived most of her life in the beautiful state of Nayarit, Angela fell in love with this area's landscapes and its natural beauty. With the firm conviction from an early age that she wanted to be part of the way tourism was managed in her state and the country at large, she studied a degree in Tourism Management and Development at the Technological University of Nayarit. Immediately following her studies, she immersed herself in the world of hospitality in Puerto Vallarta, an iconic city within Mexico known for its wide range of hotels. Working within this field, she took various positions, which allowed her to develop many skills such as teamwork and great service as well as to learn about the standards of operations at a large hotel complex. After taking a break from the hotel industry for personal reasons, her path met Mexico Boutique Hotels, a company that closely matched her personal convictions, which involve presenting Mexico to the world as a brand that guarantees memorable experiences thanks to its natural beauty and the excellent hospitably of its people who by their very nature provide great service and are excellent hosts. Angela currently serves as Chief E-Concierge and Travel Designer for the aforementioned company, offering travelers the opportunity to live a different experience every day, where attention to details make a huge difference.