Excelencias Turísticas in FITUR 2016

Share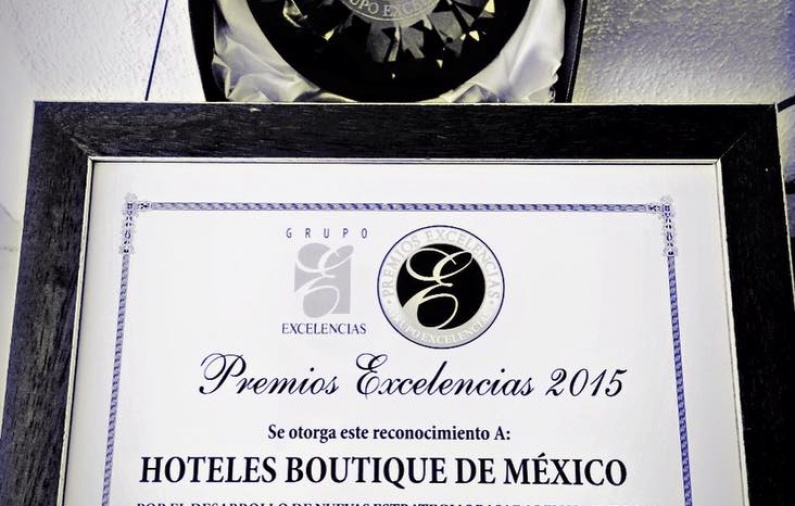 Mexico City. February 2016. MEXICO BOUTIQUE HOTELS / HOTELES BOUTIQUE DE MEXICO, www.hotelesboutique.com is pleased to announce that for the second time it has been awarded the international prize EXCELENCIAS TURÍSTICAS, delivered during the International Tourism Fair (FITUR) 2016.
Within a group of over 1,622 participant companies, MEXICO BOUTIQUE HOTELS showed its commitment to tourism industry and its select portfolio of member hotels through the Development of New Strategies Based on an Innovative Approach Aimed at Tendencies and Life Style.
The award was received from Sr. José Carlos de Santiago, President of the Evaluating Committee, in a press conference in Madrid, Spain with all the recipients. In its 11th edition, EXCELENCIAS AWARDS distinguished only 35 projects and personalities in different categories, all with an outstanding trajectory in the fields of tourism, culture and gastronomy.
EXCELENCIAS AWARDS were created in 2005 by the Spanish group "Excelencias" with a view of fostering the excellence in different fields related to tourism and culture. They have since become a referent for all those involved in this important sector who develop their work looking to being excellent. Printed and online impressions of these awards surpasses the 5.5 impacts in tourism-specialized media in over 47 countries.
In this 11th edition some of the recipients along with Mexico Boutique Hotels were AMRESORTS (as the largest-growing group in the Caribbean in 2015), les Roches Marbella, The State of Illinois, Tap Portugal, Hard Rock Hotels, Guanajuato, the "111 Pueblos Mágicos" Book, Emirate United, Panamá Tourism, Nestlé, Araceli Ramos of Mundo Cuervo, Rio Grande del Norte and CNN.
HBM shares this important award with each and all of its member hotels and with the dedicated staff team, taking the Excelencias Award as a commitment to quality, warmth and innovation that has characterized our company since 1999.
To enjoy any of the genuine properties with the MEXICO BOUTIQUE HOTELS and the #BoutiqueLife, call 01-800-508-7923 within Mexico and 1.855.223.6061 from USA and Canada, or visit www.hotelesboutique.com

Miguel Andrés Hernández
22 años de trayectoria en la industria hotelera, actualmente Director Adjunto de Hoteles Boutique de México, Presidente de la Asociación de Hoteles y Moteles así como del Fideicomiso de Turismo de Puerto Vallarta por 2 años consecutivos (2010-2012). Administrador de Empresas Turísticas y Hoteleras y Mercadólogo, ganador del premio "Empresario del Año 2012" por el Latin American Quality Institute. Director General en Hoteles de Categoría Especial, Consultor y Experto en aperturas de nuevas propiedades hoteleras. Ha laborado en distintos países de Latinoamérica especializando su perfil en procesos de calidad total y consultoría mercadotécnica.