Fire, flavor and music, medieval style

Share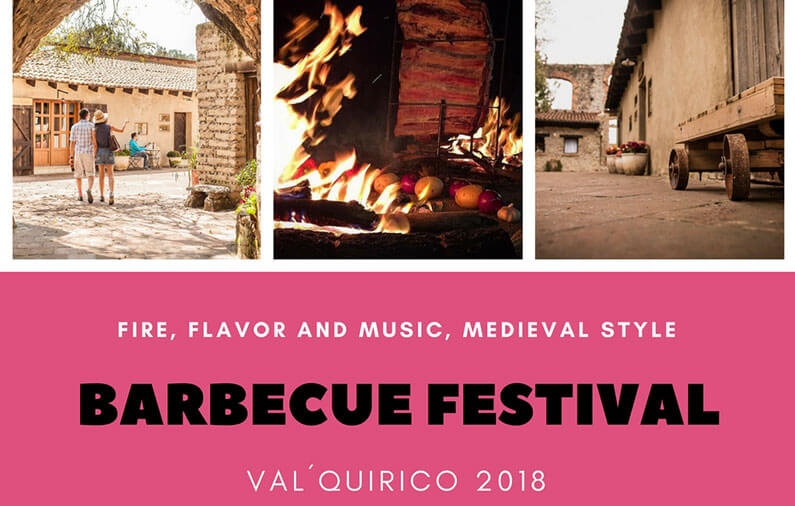 The "barbecue festival" at Val´Quirico is catching everybody's attention; it has been called the tastiest event of the year as this event will surely offer the attendants delicious delicacies affordable for all.
Barbecue passionate have decided to share the pleasure of being surrounded by good friends and family, while the aromas of red-hot charcoal, the slightly sweet flavor of vegetables and the best cuts being slowly grilled, thus kicking off this festival.
While it is true that the focal point of the event are the grilled food you can taste there, we have to add the several attractions featured. There will be over 30 stands representing the best meat shops in the area, all expert in the topic; there will be awards for them and amusing competition for the attendants.
Not to leave children out, the organizers will set up an area where kids will be amused while they play and learn at the same time. This way, those traveling in family will have a space to make every member feel special.
Entertainment will feature swing, and jazz by great performers of the genres; this type of music will complement an event where the relaxed environment will make feel people they have gone away from the modern world's madness.
Rendezvous is on Saturday14 and Sunday 15 of April from 11:00 am to 10:00 pm. Tickets are running out, we recommend you take a look at the event's official website, or check their social media platforms where they are giving them away!
http://www.festivaldelasado.mx
Feel like in Tuscan visiting Val´Quirico, touring its plazas and connecting bridges and enjoy with your significant other this great event.
La Quinta Luna – 20 minutes away
Casona María – 28 minutes away
Mesón Sacristía de la Compañía – 30 minutes away
Call us or email us:
1 855 223 6061

Angela Ortega (Eng)
Born in the central region of Mexico, but having lived most of her life in the beautiful state of Nayarit, Angela fell in love with this area's landscapes and its natural beauty. With the firm conviction from an early age that she wanted to be part of the way tourism was managed in her state and the country at large, she studied a degree in Tourism Management and Development at the Technological University of Nayarit. Immediately following her studies, she immersed herself in the world of hospitality in Puerto Vallarta, an iconic city within Mexico known for its wide range of hotels. Working within this field, she took various positions, which allowed her to develop many skills such as teamwork and great service as well as to learn about the standards of operations at a large hotel complex. After taking a break from the hotel industry for personal reasons, her path met Mexico Boutique Hotels, a company that closely matched her personal convictions, which involve presenting Mexico to the world as a brand that guarantees memorable experiences thanks to its natural beauty and the excellent hospitably of its people who by their very nature provide great service and are excellent hosts. Angela currently serves as Chief E-Concierge and Travel Designer for the aforementioned company, offering travelers the opportunity to live a different experience every day, where attention to details make a huge difference.