ROBOT HOTELS Technology vs. man

Share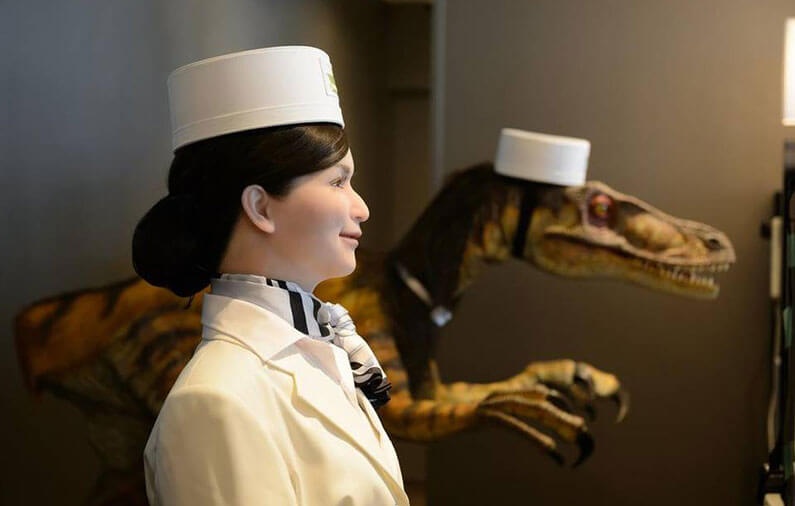 Dynamism of touristic industry is literally impressive; new trends come out to the market every day and new markets search for trends at the same speed. Traveling's structure changes in its shape, its motivating agents, its content and its actors, and this constant change factor allows science and technology to appropriate spaces we have for 21 centuries considered to be inherent to human being.
Right or wrong? Each one of us will have this answer according to our criteria and likes.
Japanese company "Henn Na", which motto is "a commitment to evolution", has decided to create hotels with robots www.h-n-h.jp/en/ as part of Huis Ten Bosch Group's commercial strategy, where the largest part of services are offered by machines and robots. The hotel's three towers are smart buildings with digital control of lights, curtains, alarms and TV programming, and the receptionists and bellmen are 100% robotized.
The company's intention is to reach a point where human service is covered totally by machines and they will continue working on this goal. The first working project is in Nagasaki. Its motto is to work for the efficiency in the care of environment. Since its opening in 1992 the hotel has gone through constant changes with the efficiency of energy management, water consumption and garbage recycling. Part of its philosophy is to ask their customers to generate as little trash as possible and cleaning services have an extra cost. For example, if you stay fewer than 7 nights you can choose form the following services with a fee:
Cleaning 1,500 yens (bed making, garbage pickup, towel change and general cleaning).
Bed making 1,000 yens (bed and pillow making, sheet change).
Towel replacement 500 yens (towel change, garbage pickup).
Extra towel 300 yens each
Kids' towel free the first night, 300 yens per additional one.
In addition, at the front desk you will be taken care of (9 am to 11 pm only) by a tyrannosaurus rex, a female android dressed as a flight attendant and a small robot taken from sci-fi films, all of them state-of-the-art robots interacting with guests.
For check-in and check-out, the robots will run a face-recognition test to grant you access to your room (if for any reason your face is not recognized, you won't have access). For obvious reasons, all charges are to a credit card as cash is not handled in the hotel but in the food and beverages vending machines.
Lights are activated by motion sensors or by the lease of a "guest room robot" to accompany you during your stay; for security reasons the hotel shuts down their doors at 11 pm. You can only access through face recognition or bay using a special card.
Is this the future of the hotel industry?
What will be the definition of experience and warmth in service if humans are replaced by robots as is the goal of this company in its projects to come?
How will complaints, observations and comments by the guests will be managed?
What happens if there is an accident in a room?
Will this and other technologies replace the human being?
When will fiction pass reality we have in face of a growing human unemployment?
All these questions are linked to an ethical theme mixed with our sense of awe and our acquaintance with technology in our daily lives.
In our personal case, we prefer to be in touch with people, we prefer the handling of emotions and the security of counting with a fleshed-and-boned individual who is attentive to our needs and expectations, people working with people and for people, and we will continue to be strong precursors of hotel and tourism industries involving social experiences and the constant improvement of local economic flow.
However, reality sometimes surpasses our own philosophies in attention and service and there surely will be those who find this concept to be fantastic, even knowing that each machine replacing a man leaves a family without income.
During our boutique hotels' evaluation and certification process, we value the relationship of the collaborators' team with the guests, we grade the number of employees at service in the hotel and the human factor as a determining numeral in the traveler's final satisfaction. At the end of the day, tourism is a social exercise. These are the small details making the big differences.

Miguel Andres Hernández (Eng)
With 22 years of experience in the hotel industry, Miguel Andres is currently Deputy Director of Mexico Boutique Hotels and was President of the Association of Hotels, Motels and Tourism Trust in Puerto Vallarta for two consecutive years (2010-2012). Administrator of businesses related to hotels and tourism and a marketing expert, he won the "Entrepreneur of the Year 2012" award granted by the Latin American Quality Institute. Director General at Special Category Hotels, consultant and expert in opening new hotel properties, he has worked in different Latin American countries specializing in total quality processes and consulting.