Fashionable Jalisco

Share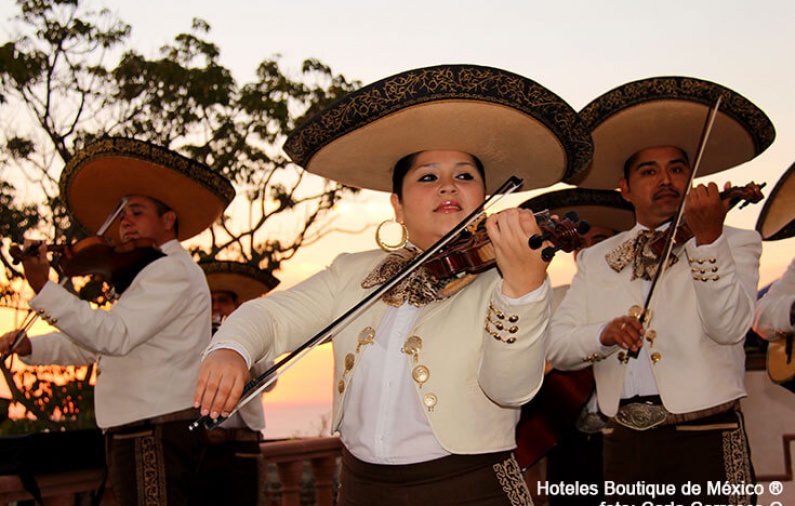 Tourism Tianguis was held with great success and plenty of achievements in Guadalajara. Every state in Mexico was present showing off their touristic vocation and attractions. The state of Jalisco and its 125 municipalities had the opportunity to show why it is one of the most important destination in the country.
The Tianguis was the perfect window to present the travel agencies Guadalajara's historical, cultural and gastronomical treasure, and had a great impact with the already renowned slogan Jalisco is Mexico". This gala confirmed that Jalisco is the state with the most tradition in Mexico and how many of its elements have become a synonym of  Mexicana for tourism, such as charrería, its textiles, its agriculture, he mariachi and the tequila. Jalisco is located on the west of the country, surrounded by the states of Nayarit, Zacatecas, Aguascalientes, San Luis Potosí, Guanajuato, Michoacán and Colima, and features an extensive seashore on the Pacific Ocean where Puerto Vallarta and Costalegre are located.
It was also possible to show during the fam trips why Jalisco is home to Magical Towns, Haciendas and Casonas and an ample variety of Boutique Hotels. A Magical Town according to the definition by Sectur and CPTM is a town with symbolic attributes, legends, history, important facts, daily life and particularly a charm and magic that emanate from each of its socio-cultural manifestations.
Tourism and visitors flow have become an important economic activity in the state, and Guadalajara and Puerto Vallarta are the preferred destinations of business and meetings tourism with important incentive trips, congresses, fairs and other kinds of meetings. Likewise, for leisure we can find important locations such as Sayula, Tapalpa, San Sebastián del Oeste, Talpa among other preferred by travelers and weekend trekkers. The great cultural force and natural and urban environments have a great impact on tourists from the Bajío and central area of the country.
Tequila, as a new Magical Town, did its share and showed its virtues as a touristic product and innovator. Tequila's history is intimately linked to its namesake elixir, which today is popular worldwide, likely the best known Mexican name abroad. Very few people know about the Tequila Volcano, with over 3,000 meters over sea level and its privileged warm climate during summer and fall.
Many years ago tequila stopped being a low-quality commercial beverage and has become an alcoholic drink of high class and prestige which groups a whole culture and aging around itself. Other Jalisco towns have become production sites of fine fresh cheese, and we can't leave out the fertility of their lands, which make them top producers countrywide. Not to be missed is the tequila route and the agave landscape when you pass by roads 15, 15D and 200.
In this area you can visit dozens of distilleries to witness the careful process of tequila elaboration.
There are all along the state haciendas dating back from the 16the century, imposing casonas and buildings which have sprang a new concept of boutique hotels, many of them with chapels to carry out fantastic weddings. It is worth highlighting that in Jalisco it is possible to have a LGBT-friendly civil wedding.
There are other towns as magical too, with their own touristic repertory and patrimony, such as Tapalpa, one of the towns with the most touristic attractiveness in the south of Jalisco, thanks to its beautiful scenery and picturesque constructions, undoubtedly one of the most famous to vacation in an environment of provincial quaintness.
In this area you can practice canoeing, sport fishing and hiking, as well as rappel, mountain biking and climbing.
Costalegre has always been an area with the most selected hotel industry of the Americas with high-end markets, great fishing and dreamy beaches.
Mazamitla can't be left behind, a favorite place of people from Guadalajara ninety minutes away and nestled on the mountains with spectacular climate and views. Mazamitla means place of deer and is a beautiful town with plenty of creeks, waterfalls and a healthy weather.
In this area you can enjoy a variety of fruit, cheese and great jams and marmalades; hawthorns, raspberries and wild grapes; exquisite home-made butter, cream and panela, and snacks as "corundas" or ash tamales, comalones, wheat gorditas, enmielado or burned yam with organic milk; you can also enjoy a "pajarete", a glass of milk with sugar cane alcohol, dark sugar and chocolate.
Jalisco Highlands, famous for its beautiful women, are a combination of tradition, mountain, forest, beautiful villages, people and their food in a quaint site. Here natural beauty enters your emotions, five senses and soul provoking peaceful, harmonic and reflective feelings.
Reference sites are San Sebastián del oeste, Lagos de Moreno, Mascota, Sayula and Talpa de Allende. Jalisco and its history date back to pre-Hispanic times, when it was occupied by Nahuas and Huicholes. Few people know that the name JALISCO comes from the mixture of three nahuatl words: xal, which means sand, ix – face or surface and the place ending –co. Thus the name means "on the surface of sand. Up to 1830, Jalisco was spelled XALISCO, as X was the letter used to represent the sound of J.
Jalisco is the land of charros, jaripeos, mariachi, tequila and many cultural traditions the world associates with the authentic Mexican.
It is currently the fourth most populated state in Mexico and one of the most developed states in the country regarding economical, commercial and cultural activities. In certain parts of the capital and some municipalities, life quality is comparable to that of developed countries. But as it happens with the rest of Mexico, this is not representative of all the 125 municipalities.
Guadalajara has become grandly majestic; its metro area is comprised of the municipalities of Guadalajara, Zapopan, Tlaquepaque, Tonalá, Tlajomulco, El Salto, Ixtlahuacán de los Membrillos and Juanacatlán, the second largest urban area in Mexico after #CDMX. This makes it an arrowhead for the leisure and business tourism and its closeness to places as Tequila and Puerto Vallarta creates an excellent option for incentives, corporate travel, weddings and anniversaries. When you come to XALISCO, don't forget to also visit Tepatitlán de Morelos, Ameca, Ocotlán, Tamazula de Gordiano, Colotlán, Autlán de Navarro, Ciudad Guzmán, Chapala, Mascota, La Huerta. Or if you want to take a Magic Town circuit, your list must include:
Mazamitla
Tequila
Tapalpa
San Sebastián del Oeste
Lagos de Moreno
Talpa de Allende
Mascota.
Jalisco cuisine has made a great contribution to the international fame of Mexican gastronomy. Jalisco dishes have direct relation with local produce such as corn, beans, zucchini, wheat, agave and orchard trees. Among its most representative dishes are: birria, white or red pozole, sopes, guacamole, charro beans, menudo, tortas ahogadas, meat in its juice, red of green enchiladas, corn tamales, al pastor sheep and beans tamales, among a larger variety.
Among its sweets are peanut or pumpkin seed palanquetas, coconut candies, preserved sweets, milk sweets, jericalla, red honeyed pears, cototns, fritters, and honeyed yam and pumpkin. In regards to drinks, tequila, aguamiel, pulque, tejuino, tuba, raicilla and flavored waters of fruits and rice.
Touring Jalisco and not listening to a mariachi would be inexcusable, and if you decide to visit alternate roads you must write in your list: embroidery and sweets from the Highlands, "pita" products from Colotlán, ceramis from Tlaquepaque and Tonalá, and knives from Sayula, among many other things. Handicrafts are of such beauty and quality that they are very well accepted out of the country.
Handicraft in Jalisco is by tradition a family business with the techniques passed from generation to generation. We can find typical clothing with international demand, jewelry, beach sandals, wooden furniture, shells and pottery, earrings and bracelets, beading and leather items, cloth embroidery, saddles, belts and buckles, palm and soyate hats, wool rebozos, etc.
For all this and more taking tours and circuits by Jalisco is an excellent idea, you have to take advantage of its biodiversity, its climate and of course, learn so much of its beautiful people!
Jalisco is Mexico!

Miguel Andres Hernández (Eng)
With 22 years of experience in the hotel industry, Miguel Andres is currently Deputy Director of Mexico Boutique Hotels and was President of the Association of Hotels, Motels and Tourism Trust in Puerto Vallarta for two consecutive years (2010-2012). Administrator of businesses related to hotels and tourism and a marketing expert, he won the "Entrepreneur of the Year 2012" award granted by the Latin American Quality Institute. Director General at Special Category Hotels, consultant and expert in opening new hotel properties, he has worked in different Latin American countries specializing in total quality processes and consulting.