MEET THE TOP 5 EMBLEMATIC MEXICAN CHURCHES AND CATHEDRALS

Share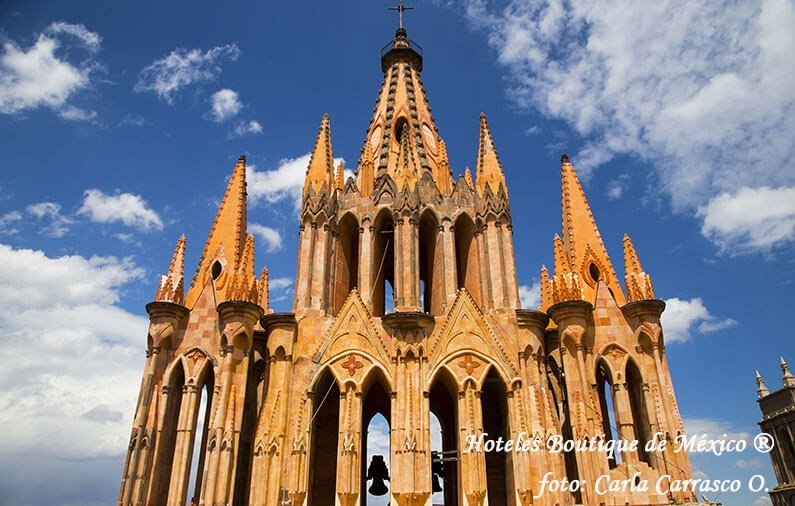 Churches and cathedrals are religious symbols, however they also have an architectonical importance in the destinations where they are found
Tall, imposing, with different styles and influences, they are all worthy of admiration and are part of the "touristic attraction" of our country, that is why today we are presenting the Top 5 Impressive Churches and Cathedrals in Mexico.
SAINT MICHAEL ARCHANGEL CHURCH – SAN MIGUEL DE ALLENDE, GUANAJUATO
There is no way to visit San Miguel de Allende and not to be impressed by this beautiful building which appears to be carved in wax instead of stone by the detail it was built with.
It has become a city icon because of its medieval Europe style, which has been criticized for not having a balance with the colonial plaza hosting it, but at the end the day this has gotten it into the most impressive constructions in the country.
Dare to visit it and stay in a boutique hotel:
MORELIA CATHEDRAL – MORELIA, MICHOACÁN
66 meters high and pink stone, this building enamors all its visitors with its imposing towers, visible from all over the Morelia valley.
Another highlight in this beautiful construction is a humungous pipe organ featuring 4,600 pipes. It was made in Germany in the early 1900´s and is the second largest organ in Mexico, just below the one in the Zamora, Michoacán cathedral.
We invite you to spend a weekend in Morelia and enjoy the impressive mapping show o the facade of the cathedral. Stay in a boutique hotel:
NEW GUADALUPE'S BASILICA – MEXICO CITY
This is the most-visited catholic venue in the country. Its construction started in 1974 and ended in 1976, opening on December 12. It is round-shaped with a copper-sheet cover. If you visit Mexico City, visiting this place full of religion and tradition is an excellent option.
PUEBLA CATHEDRAL – PUEBLA, PUEBLA
This cathedral has a singular story worth mentioning, as the popularity it enjoys is very much due to it. They say that after a bell failed, a new one was ordered, which was made with great care. However, the result was an enormous bell weighing over 9 tons!  People thought about the way to take this beautiful but heavy element up to the towers but couldn't figure it out. One night the construction guard said he could see angels coming down from heaven to carry the bell and set it up.
70-meter-high towers, ten bells and plenty of history make it worth to visit this cathedral. Come to Puebla and stay at
Mesón Sacristía de la Compañía
GUADALAJARA CATHEDRAL – GUADALAJARA, JALISCO
This beautiful 65-meter-high architectonic work is known for its beauty and for the particular fact that below the altar, in wat was the royal chapel, there are crypts with the corpses of important bishops of the area dating back from the 16th century, known as "The Bishops' Crypt".
A singular attraction in Guadalajara you can't miss. Visit Guadalajara and stay at

Angela Ortega (Eng)
Born in the central region of Mexico, but having lived most of her life in the beautiful state of Nayarit, Angela fell in love with this area's landscapes and its natural beauty. With the firm conviction from an early age that she wanted to be part of the way tourism was managed in her state and the country at large, she studied a degree in Tourism Management and Development at the Technological University of Nayarit. Immediately following her studies, she immersed herself in the world of hospitality in Puerto Vallarta, an iconic city within Mexico known for its wide range of hotels. Working within this field, she took various positions, which allowed her to develop many skills such as teamwork and great service as well as to learn about the standards of operations at a large hotel complex. After taking a break from the hotel industry for personal reasons, her path met Mexico Boutique Hotels, a company that closely matched her personal convictions, which involve presenting Mexico to the world as a brand that guarantees memorable experiences thanks to its natural beauty and the excellent hospitably of its people who by their very nature provide great service and are excellent hosts. Angela currently serves as Chief E-Concierge and Travel Designer for the aforementioned company, offering travelers the opportunity to live a different experience every day, where attention to details make a huge difference.