Quietly "Guarded Secret" becomes New Member of MBH

Share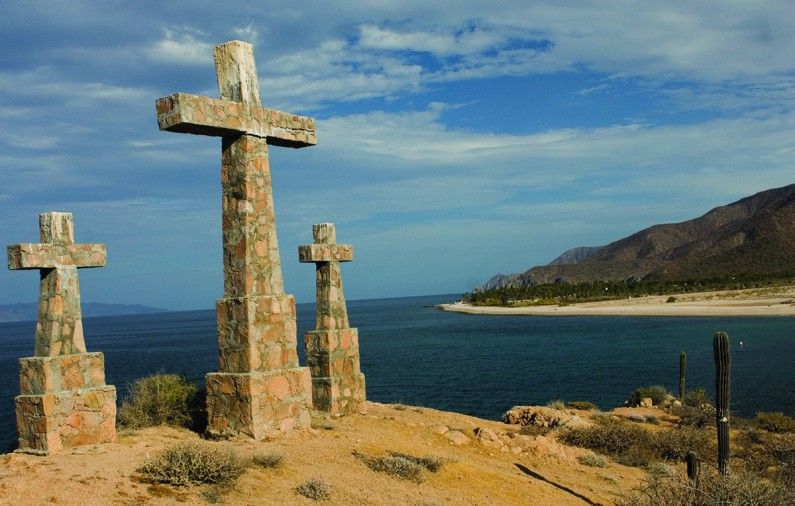 Mary Carmen Lopez (or @marylopezaguado for all you twitter folks) writes about her experience at Rancho Las Cruces the newest addition to the Mexico Boutique Hotels collection:
My Rancho las Cruces experience started at the Cabo San Lucas airport, where staff from the hotel were waiting to whisk me away to this mysterious, unknown destination. The transportation was already indicative of the level of service tI could expect; an air-conditioned Suburban van equipped with current magazines and a great selection of refreshing beverages. Arriving in Cabo is great but if you're among the fortunate few that have their own plane, you can land right on the property. They have their own strip.
The first stop on our route was lunch. We enter Pescadero town on our way to La Paz and just a few miles from the main road, there was a tiny & cute restaurant with an incredible oceanfront location. Carlito's Place is owned by a Mexican that worked in one of the best sushi restaurants in LA , thus creating a unique find in Pescadero; Japanese/Mexican cuisine. He offered us a tasting menu of 10 courses! YES, you read correctly….10 delicious courses!!! All great. I personally loved the Jurel sashimi & the chiles güeros stuffed with crab which MUST be washed down with an artisan beer from Ensenada called Diabla Blanca (Perfect Match).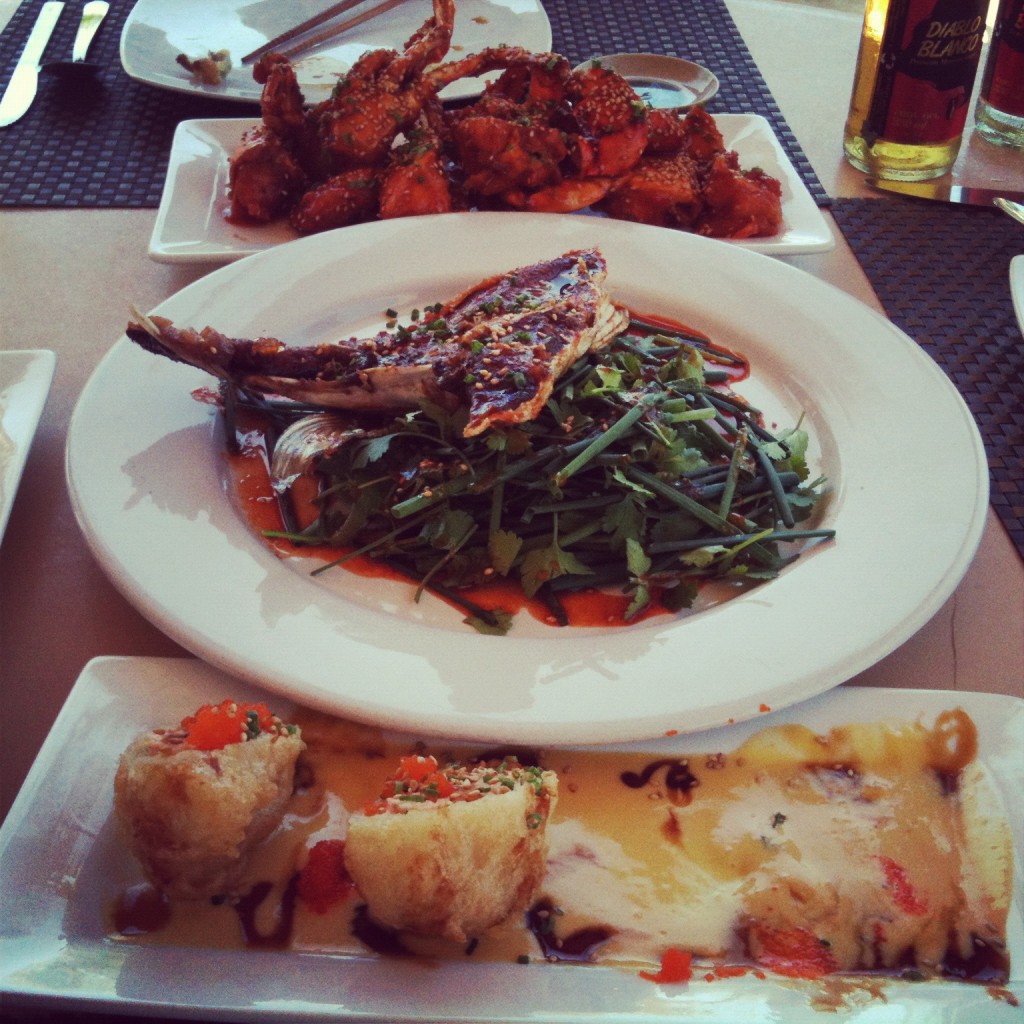 We continued our journey towards Las Cruces, and the landscape became more and more spectacular with a contrast between desert and the blue sea.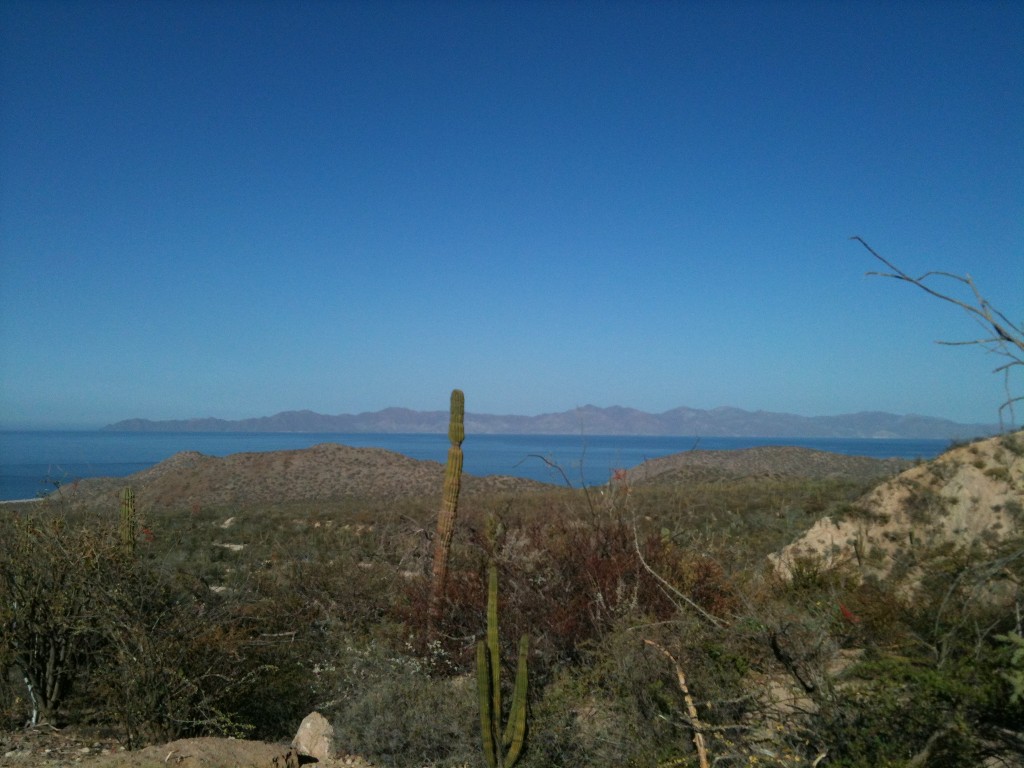 Note: It's necessary to inform estimated time of arrival as there are two gates for access and they are far from the main area of the hotel. You can be sure that you will have privacy in this hotel.
When I arrived, I felt transported back in time and was enjoying a glamorous 1950's Hollywood retreat.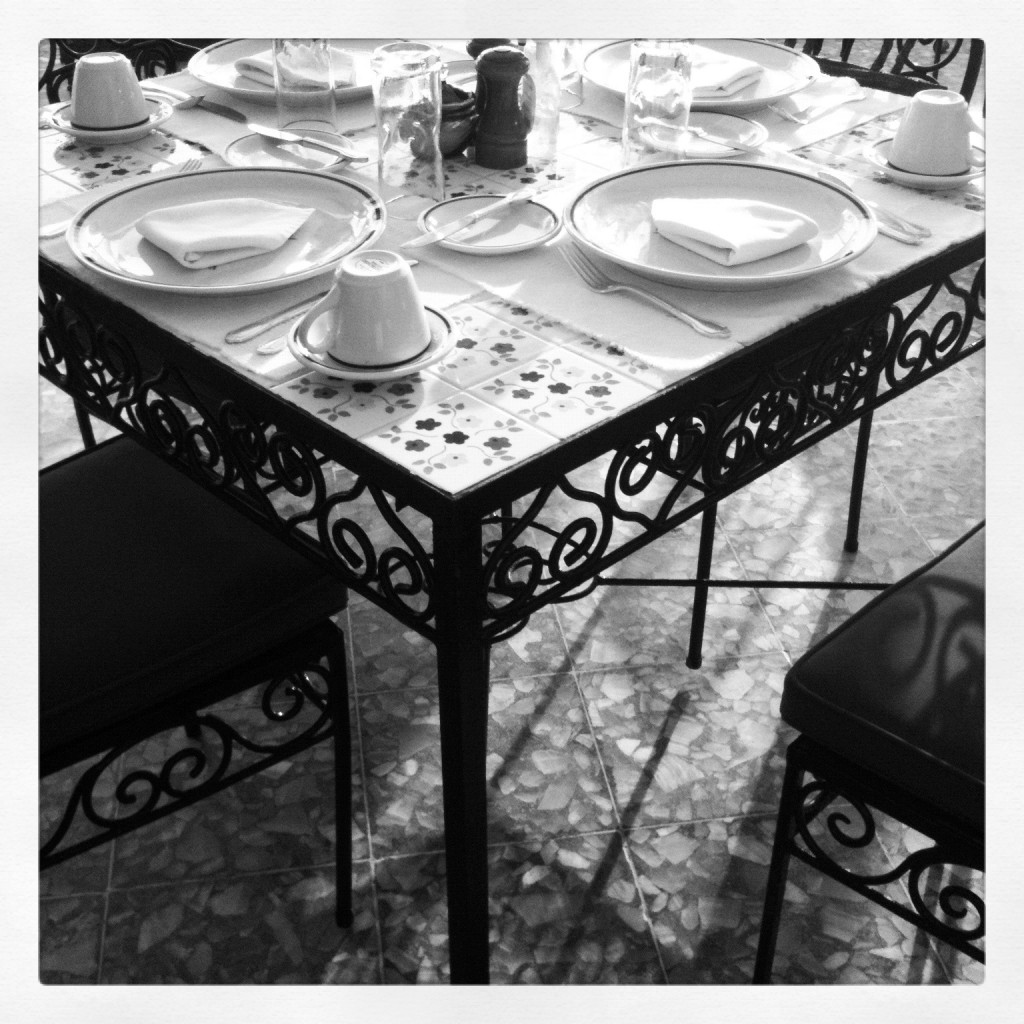 The floors, decor and furniture are original from that era and you'll see many important works of art. The hotel was inaugurated in 1950 and has maintained its doors closed to the public while creating its own private community.  Today, it opens its doors exclusively to the Mexico Boutique Hotels clientele.
The property´s history is very interesting. More than 60 years ago the area of Baja California was much less developed of course. There were unexplored lands and Mr. Abelardo Rodríguez, who was the owner, had heard stories of fortune that surrounded the Sea of Cortés. Fortunes that were made from the exploitation of pearls. By the time he bought the 12,300 acre property, the pearls had already been over-exploited and there was nothing left to make a fortune. However, when he took a look at the natural beauty of his land, he realized there was still a chance to make a fortune, although not in the same way he had originally planned. He started building this 36 room paradise. The rich and famous of the time were frequent visitors of Rancho Las Cruces. Frequent guests included Maria Felix, Desi Arnez and Big Crosby.
Upon arrival, I was escorted to a "Cabin" which is a mini suite with a king size bed, beautiful ocean view, a small living room and a pretty talavera bathroom. The rooms are connected by a small boardwalk that gives you the chance to enjoy the landscape. At sunset, even though you don't have the right angle to see the sun coming down, you can see the reflection of the red color in the mountains.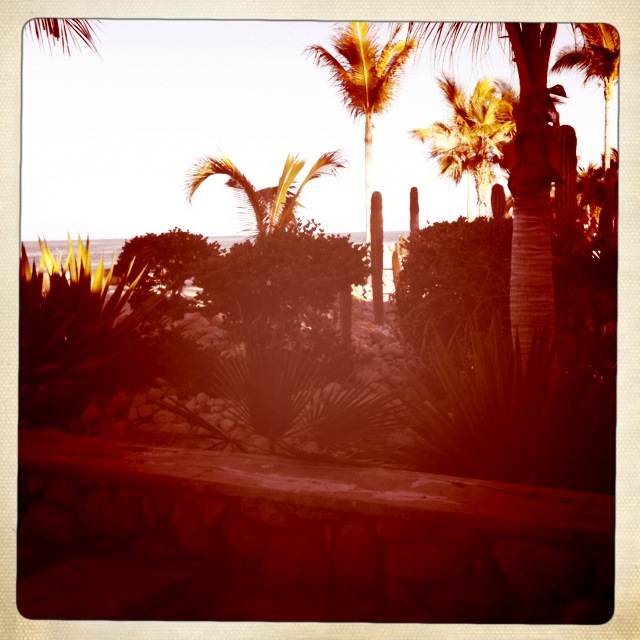 For dinner we enjoyed a simple al fresco Mexican bufet which included fried tacos, enchiladas, guacamole, fish, chicken, beans, and rice. Everything delicious and homemade.  Margaritas were prepared by Mauricio and enhanced the experience for sure. Desert was a choice of flan or tapioca—or both.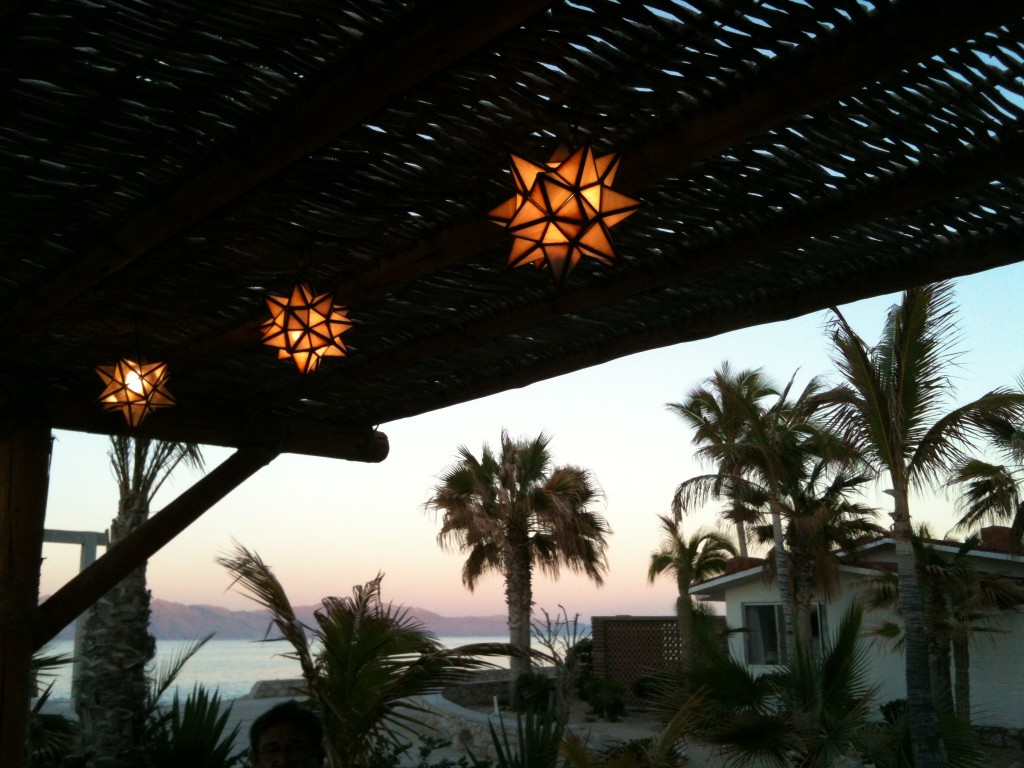 The moon looks huge and red when it comes out of the mountains. It was a stunning site. After that, it was time to call it a night and head to my comfortable accommodations.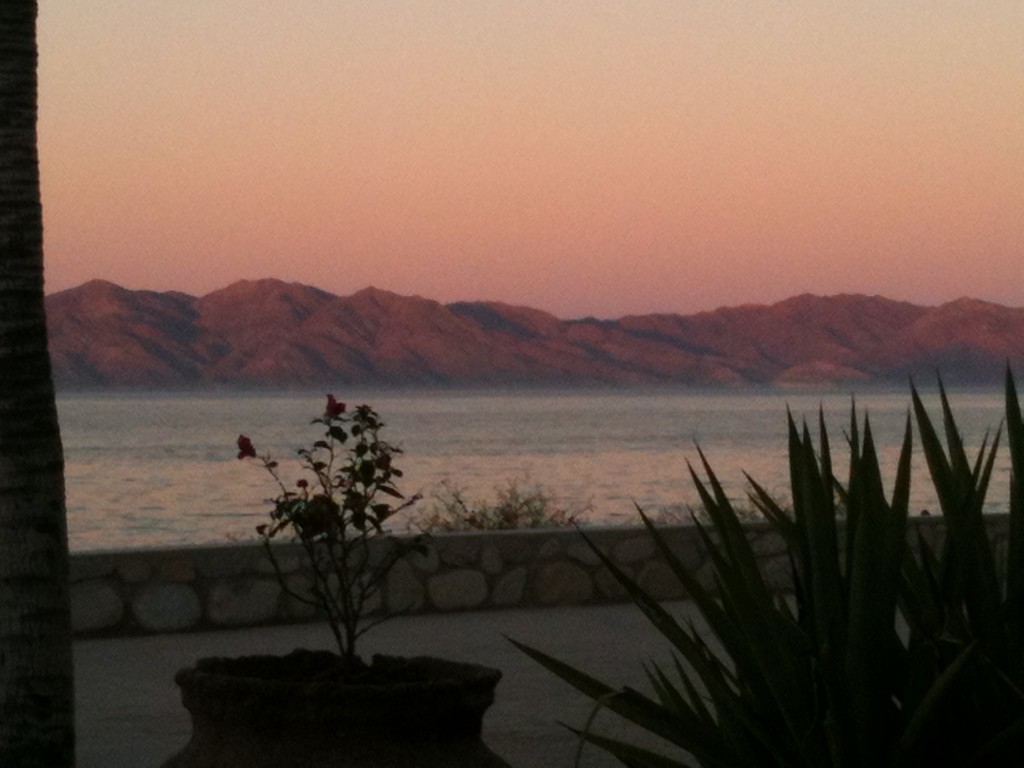 Sunrise is equally spectacular. For breakfast, they have a variety of eggs, fruit, yoghurt and bread, and it is served in the inside. If you are a coffee lover (like me), you've be well served with their toasty Colombian offering.
After breakfast, I went out fishing with Fernando, the hotel manager. Las Cruces thas several boats with the necessary professional equipment for this activity.
Truth be told, I'm not very skilled at fishing so I don't have much to report other than my utter enjoyment of the Sea of Cortes and the chance to see the extensiveness of the property. At that point I understood its immensity and how you could easily enjoy several private beaches, accessed by land or by sea.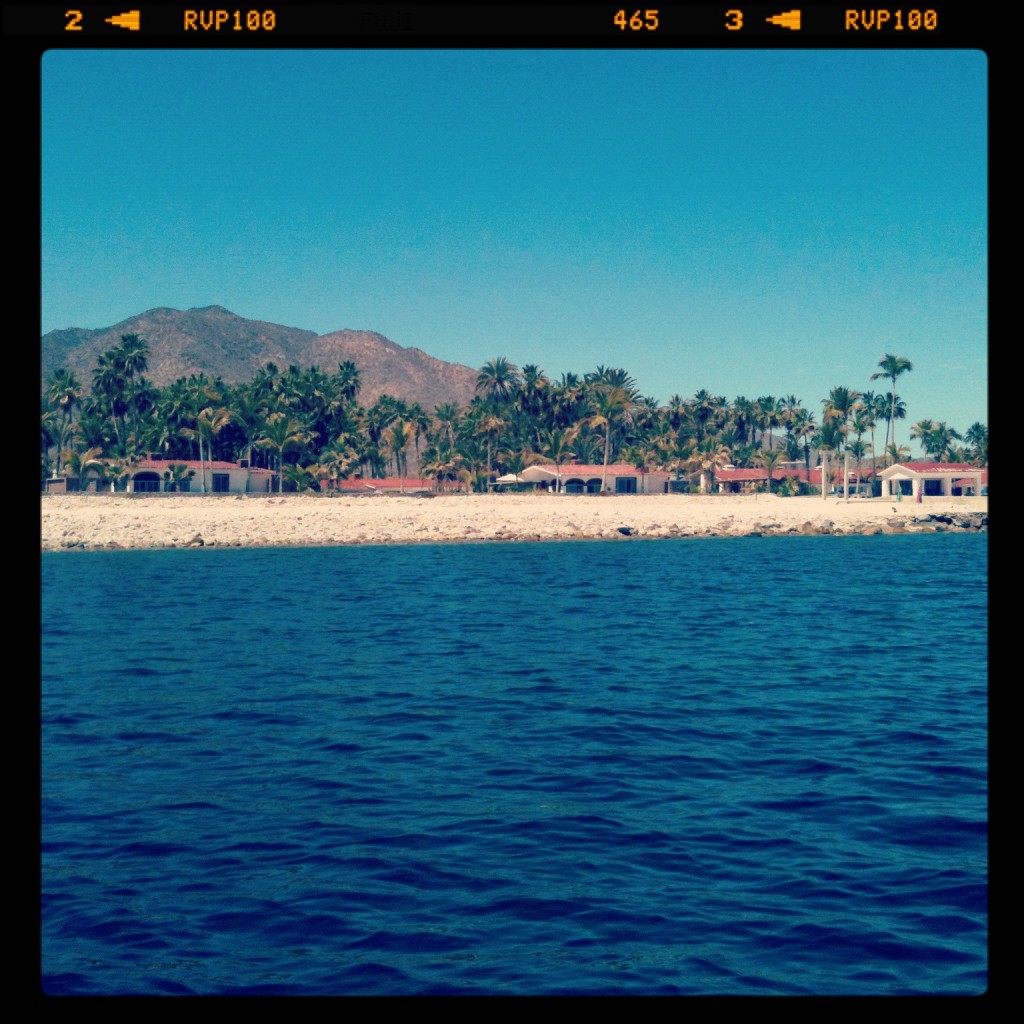 We came back for lunch. Ceasar Salad (lettuce is part of their organic orchard), shrimp and chocolate brownies for dessert. After lunch, Fernando took me to see the houses that can be rented, starting with 3 couples. They also have their own church where they have already celebrated over 60 weddings, with some spectacular views at the top of the mountain. The houses also have amazing views. As part of the services they offer you can get a vehicle to get around on your own or they will designate a person in the house to provide the required services.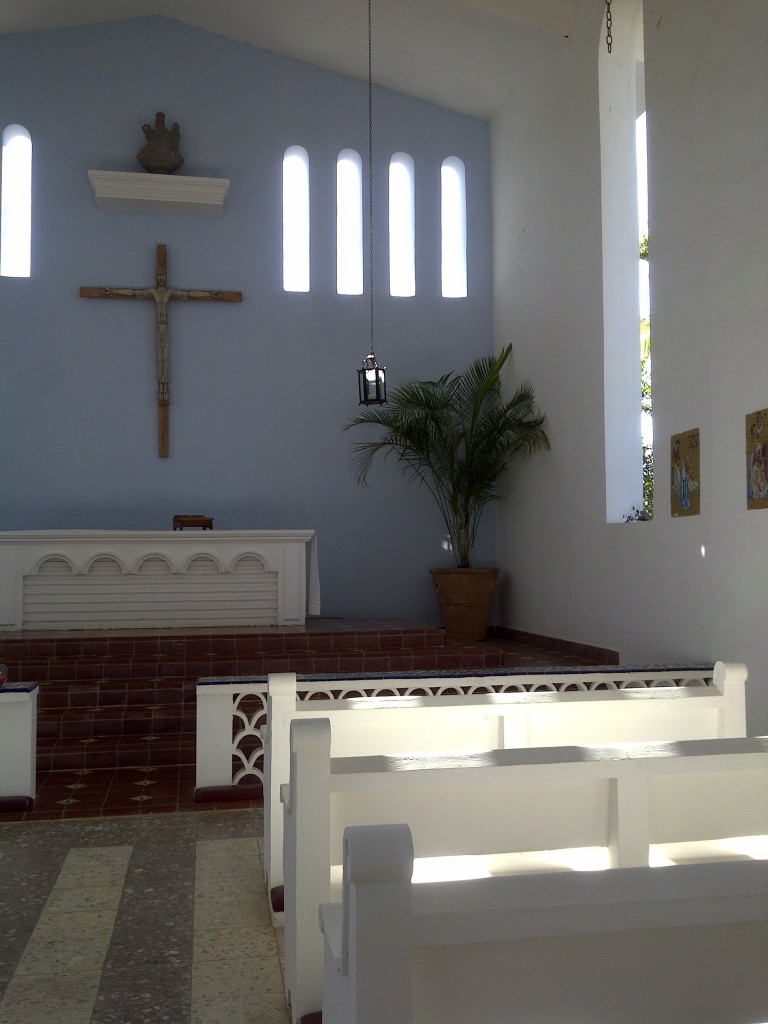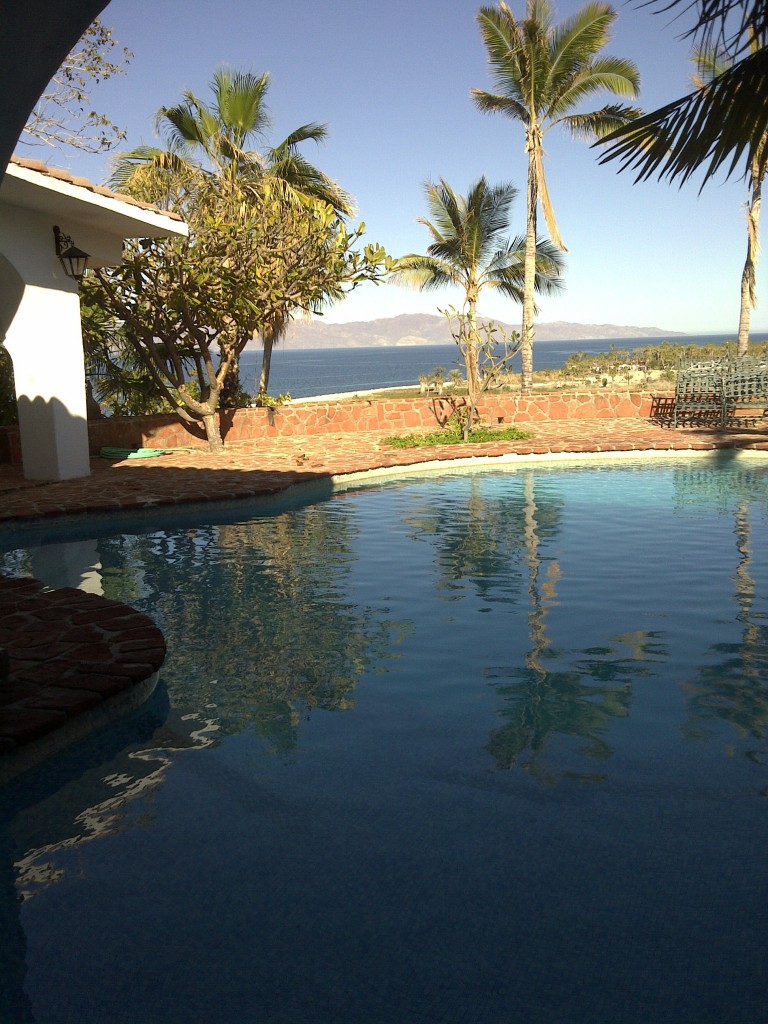 They have multiple interpretative paths that are marked with signs and established in a map for those that enjoy nature (you'll want to pack the right clothes so you can enjoy all activities). The best time to enjoy nature is after the rainy season as some of the paths become rivers and natural "pools" are formed. You will also find some cave paintings. Another option is to do the fitness track, they are 10 stations in a road where you can stop and make specific exercises that are marked on signs. Like a light boot camp with a better setting.
They also have a shooting range, 2 tennis courts, 2 cricket courts, mini golf practice court, kayaks, body boards, a pool, pool table and board games. On the path that we took, we saw the "I want to be alone beach" and there is a bell several steps before arriving that must be rung to inform in case there is someone at the beach.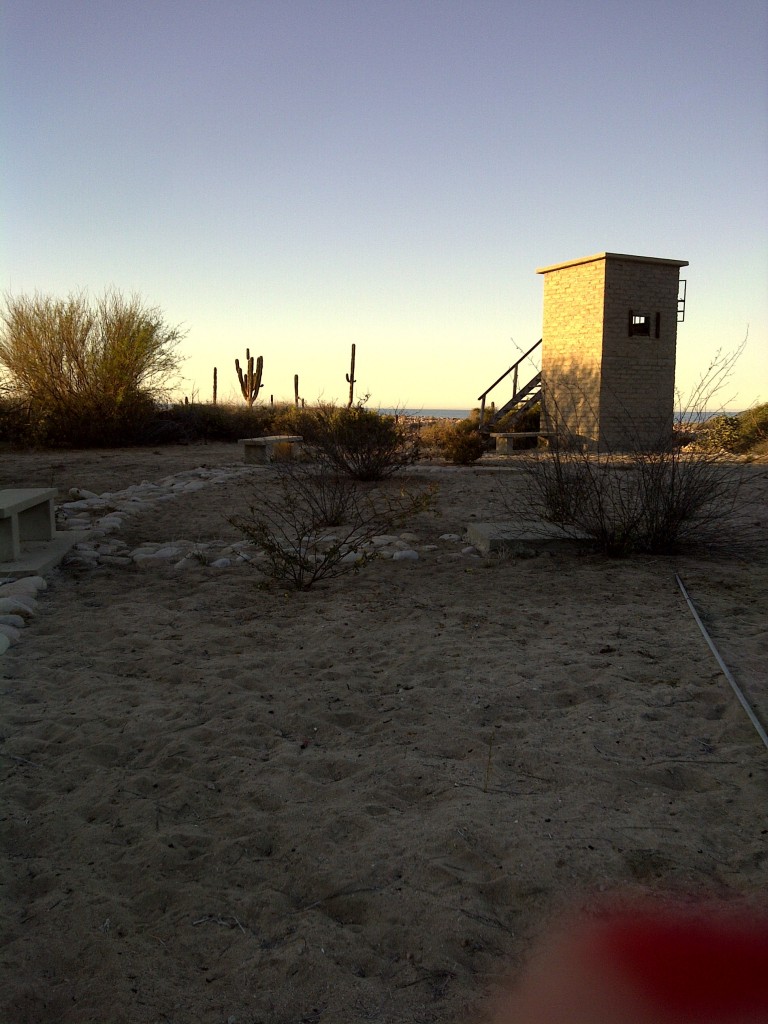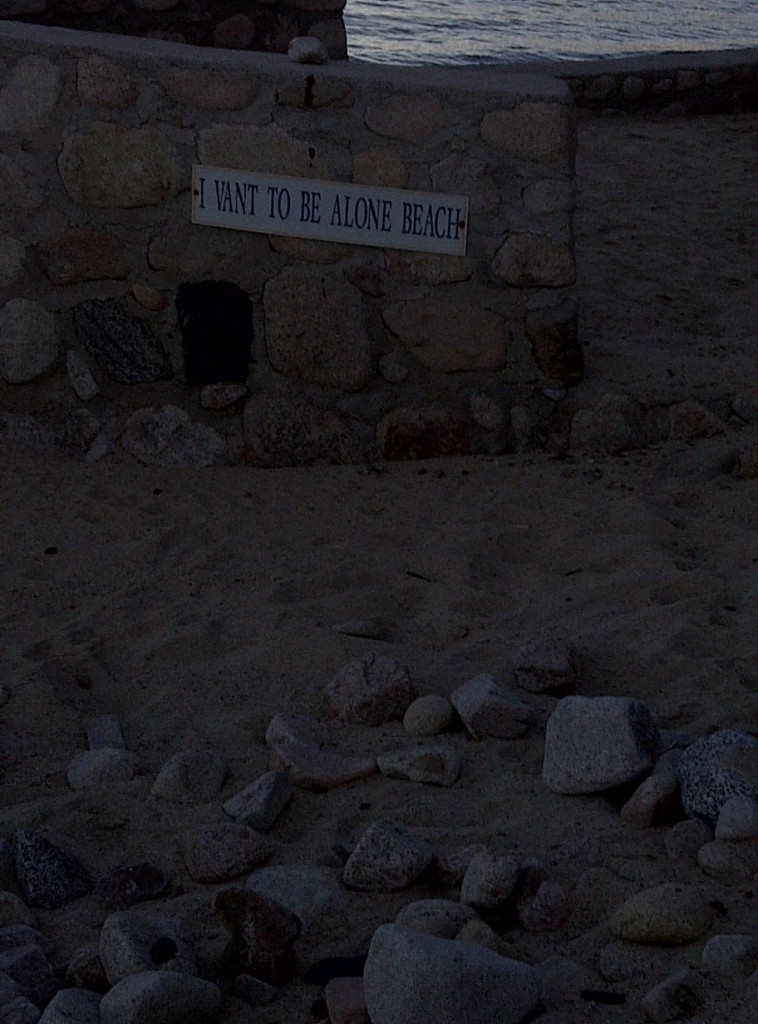 To finish the tour we went to Three Crosses Hill. These three crosses are a replica of the ones set up by Hernan Cortes commemorating the expedition to these lands.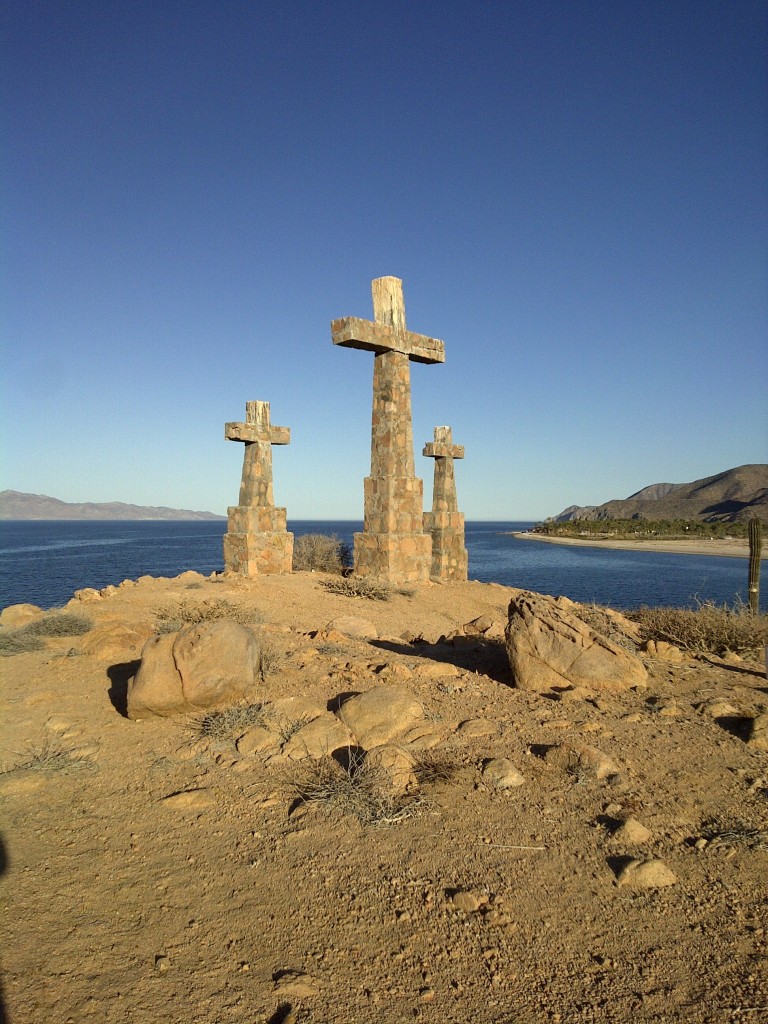 My trip ended with more food; soup, arugula salad, chateaubriand aand pecan pie, all under a starry sky.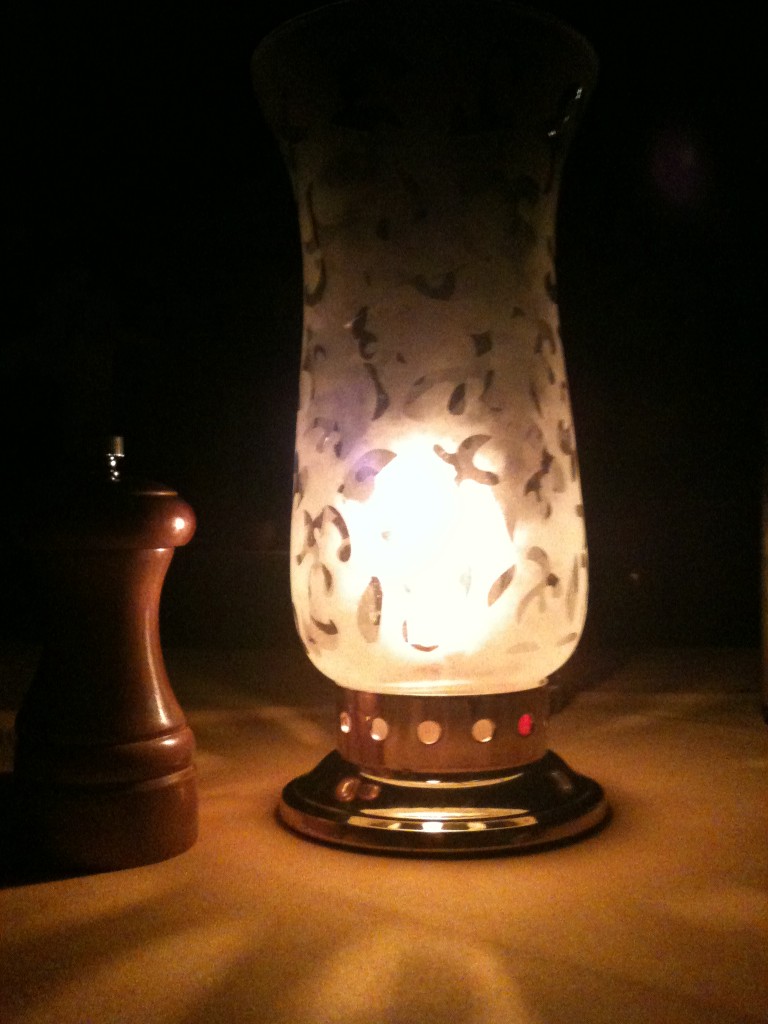 Mary Carmen López
Más de 10 años de trayectoria en la idustria hotelera, Lic. en Administración Hotelera y Turística, con especializaciones en Mercadotecnia y Ventas. Se ha desarrollado profesionalmente en diversos hoteles en México y en el extranjero enfocándose en los últimos años en la hotelería boutique. Apasionada por el turismo en México busca en cada viaje conocer lo más destacado a nivel cultural, gastronómico e histórico de cada destino.