A good trip is also full of flavors… Gastronomic tourism in Mexico

Share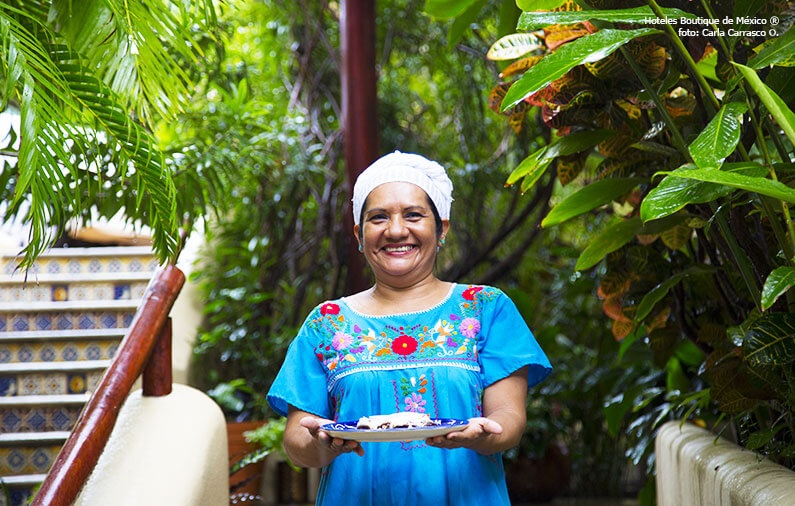 To be honest, when we talk about traveling there is always a point when we end up talking about food. Food tasted on a travel is one of the most important remembering factors for most of the people, be it because it literally left a "good taste of mouth" or because the culinary experience was not completely good. Anyway, food has the magic to create unforgettable experiences.
Having recognized the importance of gastronomy in travels, we will go on to talking about GASTRONOMIC TOURISM, which has become a trend in constant growth around the globe. Being experts Mexico lovers, we will talk about the way this country has adopted this trend as its own, which is an interesting variable of conventional tourism.
GASTRONIMIC TOURISM is closely linked to the culture of the visited destination, as around 70% of travelers use gastronomy as a means of approach to local cultures, involving each one of the elements related to the food preparation in their travels: visits to traditional market places to buy fresh produce, talks with locals, as well as the participation in gastronomic fairs and events.
Given the demand and importance this trend has acquired, several "gastronomic routes" have been created, devoted to learn and highlight the properties of some specific element or food; for example, in Bernal, Queretaro, there is the "Cheese and Wine Route"; in Tapachula, Chiapas, "The Route of Coffee" is offered, and what to say about the world famous "Tequila Route" in Tequila, Jalisco.
Cooking lessons and workshops are also an important part of practicing GASTRONOMIC TOURISM in its purest form, as you can learn in them from the best place to buy the necessary raw materials up to the best-kept culinary secrets that only an expert in Mexican cuisine can share. Those who like to travel to take this kind of lessons and workshops are travelers coming not only from within Mexico, but also from faraway countries, moved by the idea of tasting and learning to prepare the most representative dishes of Mexico's gastronomy, proudly recognized worldwide.
This kind of tourism is not limited to those who love to eat or who work in the gastronomic field, but it can be an excellent option for those willing to live a culinary adventure where they will explore new flavors and delight their palate.
Some hotels cataloged as select members of MEXICO BOUTIQUE HOTELS offer gastronomic routes and cooking workshops to their visitors: Mesón Sacristía de la Compañía and its Poblana cuisine workshop is a full success, as well as Hacienda Los Laureles in Oaxaca and its specialty in mole preparation.
In the premises of Finca Argovia in Tapachula you will know "The Coffee Route", while if you stay in Casa Mateo of San Sebastián Bernal, Querétaro, you will live the experience of "The Cheese and Wine Route" in the zone's vineyards.
Contact us and allow us to create an experience full of flavor for you.
1 855 2236061 / [email protected]

Angela Ortega
Nacida en el centro del país, pero pasando la mayor parte de su vida en el bello estado de Nayarit adquirió el amor por esas tierras y por las bellezas naturales que estas poseen. Con la firme convicción de ser gestora del crecimiento turístico en el estado y en el país, estudio la Licenciatura en Gestión y Desarrollo Turístico en la Universidad Tecnológica de Nayarit. De manera inmediata al finalizar sus estudios se incursionó en el mundo de la hotelería en Puerto Vallarta Jalisco, una cuidad icono del país, bien conocida por su amplia oferta hotelera. Estar inmersa en ese ámbito y desempeñando diversos puestos en diferentes áreas, le permitió desarrollar sus habilidades de trabajo en equipo, de espíritu de servicio, así como aprender los estándares de operación de un gran complejo hotelero. Pasados un par años y por motivos personales se retiro de la hoteleria, pero la vida puso en su camino a Hoteles Boutique de México, una empresa con convicciones muy similares a las personales, las cuales involucran representar a México ante el mundo como una marca que garantiza escenarios memorables gracias a sus bellezas naturales poseídas, así como un excelente trato por parte de una población que por herencia es servicial y buena anfitriona. Actualmente funge como Chief E-Concierge and Travel Designer en la empresa antes mencionada, ofreciendo día a día al viajero la oportunidad vivir una experiencia diferente donde la atención a los detalles hacen una enorme diferencia.