La Casa del Atrio: Art and Lodging

Share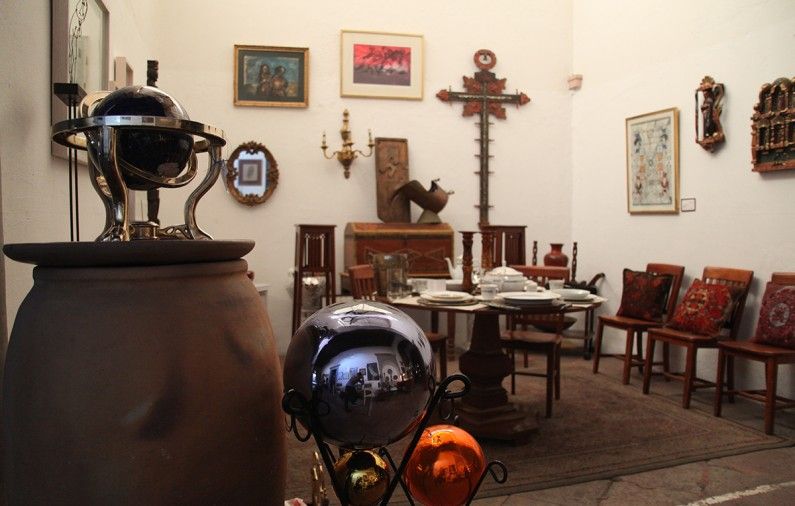 Talking with one of the owner of La Casa del Atrio Hotel in Querétaro, he told us about his art collection:
"Here in the gallery we have basically Mexican artists, 50% from all over the country and 50% locals form Querétaro. It was one of the promises I made when I opened my gallery in Querétaro
Some of them are: Román Miranda, Marcela Herbert (Director of the de Querétaro Art Museum) Ticha González, Claudia Ramos, Gustavo Villegas, Jordi Boldó, Esmeralda Torres, Rubén Maya, Alberto Lescay, Hernán García and photographers such as Hans Paul Brouns y Elsa Chabaud. These are the works I have right now, but I move it every three or four months.
Antiques are mainly from Mexico. I have bought them in different cities such as Querétaro, Guanajuato, Celaya, León, DF, Puebla, Oaxaca, among others. It is my passion and as such I collect a little of everything: ivory, sacred art, porcelains, carved wood, old jewelry, typewriters, old radios and TV sets, marble, etc.
There are several pieces that traveled to Mexico from France at the early 1800's and that were purchased by the wealthy families of that time. I have a few pieces of English furniture. Obviously there are English, Chinese and Japanese porcelain, etc. I have a few Mexican pieces from the Colony years (17th and 18th centuries).

Sylvie Laitre (Eng)
A multilingual communications specialist with a bachelors in Leisure and Tourism Development Sciences, Sylvie has been working in the field of the hotel industry for several years in different countries in North and Latin America. With experience as a public relations specialist and university teaching in various disciplines such as philosophy, leisure as a tool for social development, research and so forth, she is an expert on service quality. She has also been a consultant and speaker at various international forums as an expert in the boutique tourism industry and luxury travel, and was Mexico Boutique Hotels' director between 2002 and 2014.