Tips to visit Cholula

Compartir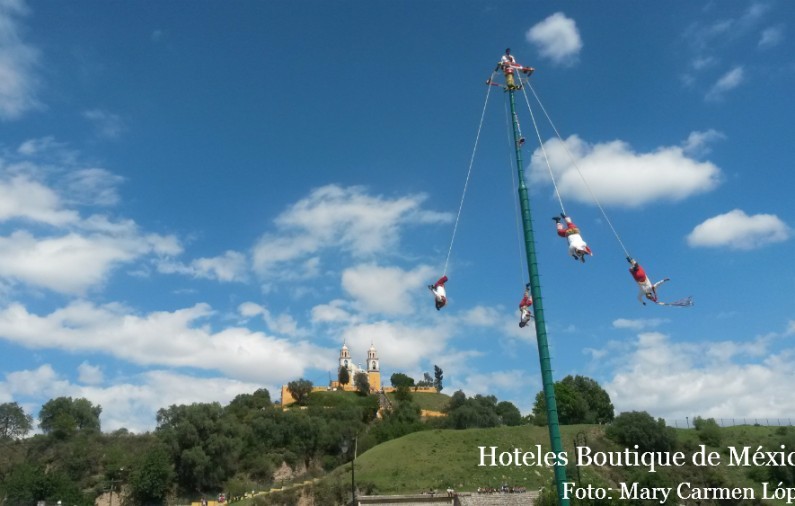 The magic town of Cholula (place of the ones that runaway) a place full of history and tradition that has many activities to offer. Here some of the options that we had the opportunity to enjoy and that we are sure will make you wish you where there.
To start we recommend you to start the day early, the first stop should be the Cholula pyramid, which is the biggest one considering the measures of its base in the world; it is calculated to have 1,410 foot to 1,509 foot per side and an approximate of 217 foot of height. Its architectonical importance it is due to the construction that was made with adobe nucleus and the creation of interior tunels with a gradient that were use to move from one place to another within it. When visiting this archeological area you have the chance to visit the tunel section and also some different areas that have been discover on the top.



In this area you will also should visit the Sanctuary of Our Lady of the Remedies, it was built in 1594, one of the main examples of the evangelism in our country. Of great beauty for its gold decoration, neoclassic style, a sanctuary that thousands of pilgrims from all over the world visit. Also you will have from there one of the best views of the town. After visiting the sactuary you will probabbly need a couple of minutes to rest and to refresh, on your way down you fill find different stands offering you a variety of beverages and artisan ice creams, any of these treats very well deserve after the walk.



Another characteristic of Cholula  for which it is recognized is for having 365 churches, in each one of them you can appreciate different architectonical styles such as gothic, renaissance or churrigueresco among others. Some of the main ones are the San Gabriel Monastery, San Pedro, San Miguel Tianguisnáhuac, San Andrés Cholula  and  San Juan de Aquiahuac.


For this reason everyday is a celebration in Cholula, as every church has its celebration, so don't be sorprise if you find a pilgrimage or a fair as a conmemoration.

Then you can visit the House of the Caballero Águila, built at the end of the XVI century, which is also an important representation of the construction of that time, now it is the museum of the city. Some other activities we propose are to  visit the House of culture, the city theater, Americas university and the Franciscan Library.
In all this visits you will see alon the way many stores where you can buy souvenirs and artcrafts. And certainly places to eat  and taste the local flavors.

To rest after this tour… Hotel La Quinta Luna, a space that welcomes you to relaxation and invites you to read it its patio, while you enjoy the sound of the fountain.
Mary Carmen López
Más de 10 años de trayectoria en la idustria hotelera, Lic. en Administración Hotelera y Turística, con especializaciones en Mercadotecnia y Ventas. Se ha desarrollado profesionalmente en diversos hoteles en México y en el extranjero enfocándose en los últimos años en la hotelería boutique. Apasionada por el turismo en México busca en cada viaje conocer lo más destacado a nivel cultural, gastronómico e histórico de cada destino.