5th anniversary of B Cozumel, a full success

Share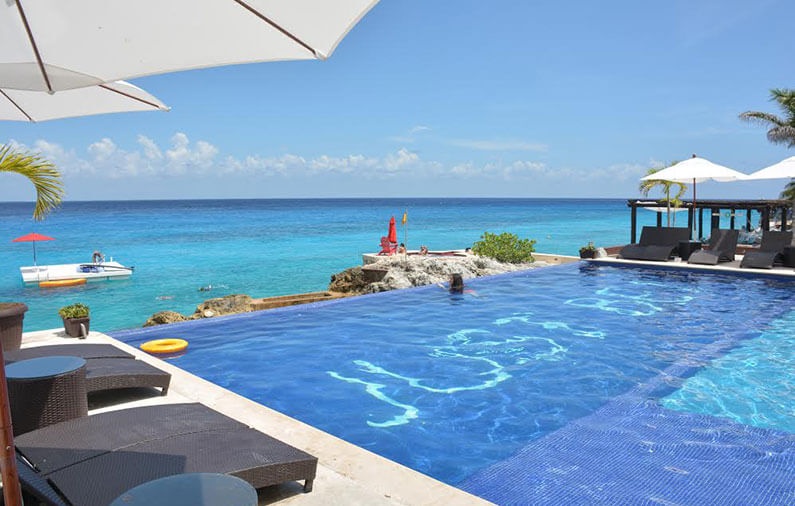 The opening of a floating bar, an innovative idea for sure, was part of the festivities carried out for the fifth anniversary of B Cozumel.
Always under the visionary direction of Beatriz Tinajero, Corporate Director of this place, it was that this platform was created anchored at about 18 meters deep, so that guests and visitors could delight their palate sipping a drink on th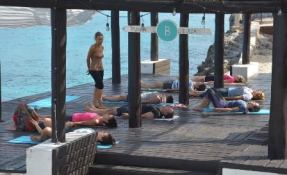 is aquatic bar, sitting20 people.
The beginning of the festivity started early with a yoga class given by yogi Eva Gonzalez for 90 minutes, to continue with a bicycle rally starting a B Cozumel to solve skill tests, including mixing some drinks in the floating bar and making bracelets with artisans, among other activities.
In the evening, with sunset as witness, a Mayan ritual was held by spiritual guide Adrian Salas, who thanked Mother Earth and saluted the four directions of the Universe where the guardians dwell: the serpent of fire, the celestial armies, the black jaguar and the smoking mirror. The shaman – accompanied by Alfredo Tinajero, President; Beatriz Tinajero, General Director and her husband Hector Uribe and their son Patricio – requested to live in harmony with nature laws.
Afterwards was laid the first stone of what will be the second phase of this B Cozumel Hotel, which will cater to adult clientele and which is set to be finished next year.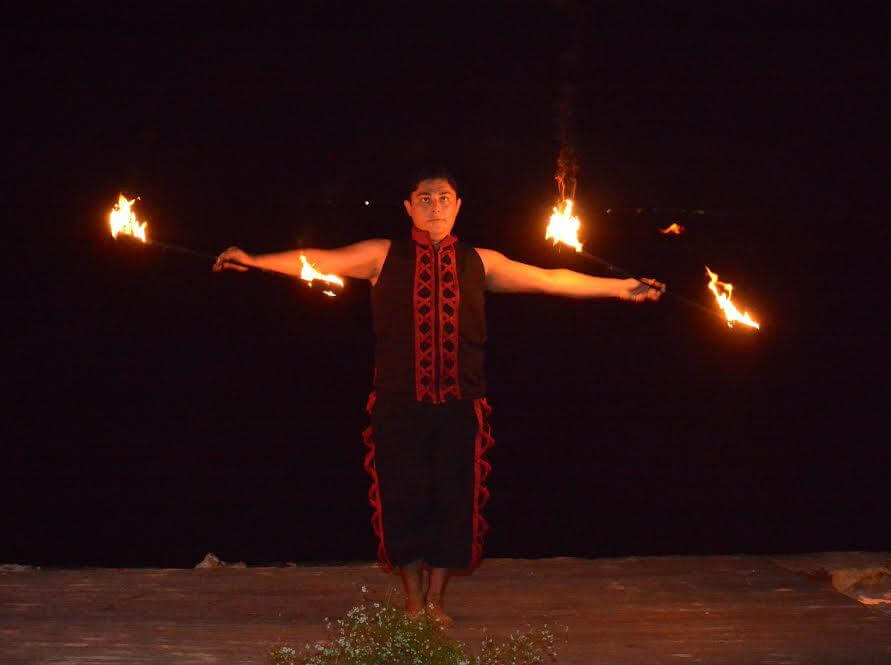 A cocktail was also offered where hors d'oeuvre prepared by Chef Azhael Moran were served, entertained with music selected by a professional DJ.
A white Cantolla balloon with the hotel logo was the carrier of good wishes for all the B Cozumel staff, and its launching preceded the closing of the event by Quetzacoatl Productions, whose acts with fire rings and spectacular make up delighted the guests.
THEY SWAM IN THE OCEAN ALL DRESSED!
Without thinking it twice, area managers dived into the sea to swim to the floating bar, where they toasted for these five years of B Cozumel. There was a symbolic ribbon cut by Mrs. Tinajero.
Alfredo Tinajero's idea of transcending as a person and company has been carried out by Beatriz Tinajero, wh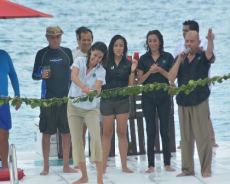 o five years ago started this dream full of illusions. "It was a strong learning", she said among tears of emotion remembering the road she has had to travel.
SACRED RENOVATION OF ENERGY
Shaman asked Mrs. Tinajero, Mr. Uribe and Mr. Tinajero to make a sacred offer with cocoa, corn, beans and chocolate seeds while he sang sacred songs.
As part of its commitment with Mexican popular art, B Cozumel Hotel has played host to important presentations by artisan and designer workshops from different states of the country, as Manuel Jimenez from Oaxaca and the renowned designer Daniel Espinoza.
It has also been the venue of the filming of Paraiso, starred by Ana Claudia Talancon and Ivan Sanchez, who picked B Cozumel to stay, just like model Jaidy Michel and her husband footballer Rafa Marquez, among other celebrities.
It has also been awarded important prizes and certifications thanks to its service quality. It is an ideal spot for divers too, and for those traveling with mascots as it is a pet-friendly hotel. B Cozumel select Hotel is regarded as one of the best spots to take outdoors yoga lessons, with an impressive ocean view radiating energy and inner peace.
PRENSA Y RELACIONES PUBLICAS
MARY PAZ HERNANDEZ