Let's go shopping! Discover "Santo Tesoro"

Share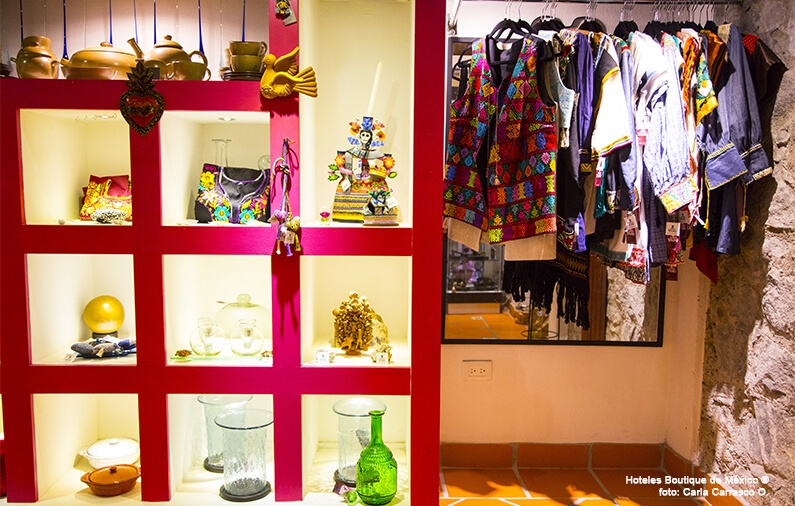 At México Boutique Hotels we know exclusivity is really valued, and that is our reason to pick carefully each one of the hotels part of our collection.
Casona María is one of the 25 jewels comprising this hotel collection. A hotel full of history, specifically from the colonial years of Mexico. The own hotel estate, which was originally a goldsmiths' workshop, dates from the 18th century. Casona María carries in its walls a magical legend, which has made Puebla to be "The City of Angels", as it was here where the famous and heavy wall was built for the cathedral, the one that according to the dwellers was lifted to the towers by the angels themselves.
Today, Casona María is an extraordinary heritage space which has integrated into itself all the amenities of the 21st century.
Part of the charm of this hotel is its singularity, and they feature a lovely handcraft shop called – rather originally – "SANTO TESORO"-, which opens its doors to recognized the work of the Poblano hands that fill the folklore in each corner of this hotel and that puts this works in hands of anyone who wants to take along a little piece of Puebla.
Embroidered clothing, jewelry, clay works and handicrafts in general are there to be discovered; you can also shop online, here is the link to access:
www.kichink.com/stores/santotesoro
Casona María, besides being the ideal place to get to know the true and authentic Mexican flavor, offers its guests the opportunity to purchase unique pieces that will carry the memories lived in Puebla. visit it.

Angela Ortega (Eng)
Born in the central region of Mexico, but having lived most of her life in the beautiful state of Nayarit, Angela fell in love with this area's landscapes and its natural beauty. With the firm conviction from an early age that she wanted to be part of the way tourism was managed in her state and the country at large, she studied a degree in Tourism Management and Development at the Technological University of Nayarit. Immediately following her studies, she immersed herself in the world of hospitality in Puerto Vallarta, an iconic city within Mexico known for its wide range of hotels. Working within this field, she took various positions, which allowed her to develop many skills such as teamwork and great service as well as to learn about the standards of operations at a large hotel complex. After taking a break from the hotel industry for personal reasons, her path met Mexico Boutique Hotels, a company that closely matched her personal convictions, which involve presenting Mexico to the world as a brand that guarantees memorable experiences thanks to its natural beauty and the excellent hospitably of its people who by their very nature provide great service and are excellent hosts. Angela currently serves as Chief E-Concierge and Travel Designer for the aforementioned company, offering travelers the opportunity to live a different experience every day, where attention to details make a huge difference.