Islas Marietas

Share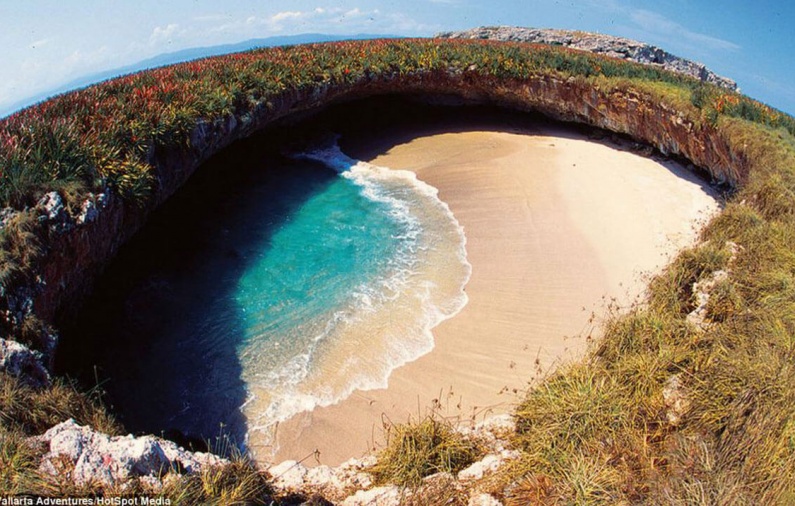 In the last few years a picture has undoubtedly gone around the world thanks to its natural beauty, and how good it is to discover this place is in Mexico. By the photographs one could think it is a computer creation or some kind of photomontage, but it is 100% real.
The Marietas is a group of islands in front of the Riviera Nayarit, a hideaway of clear water and white sand, as if you were in the Caribbean.
Mexican government has for years protected these islands and continues to do so. Fishing and hunting are banned and a few companies have permission to make activities on the islands, which has allowed the development of a great marine ecosystem.
Due to the water's clarity you can see up to 10 meters deep, so snorkeling is one of the most-sought after activities thanks also to the coral reefs and the fish diversity, which turn it into a unique experience. Among the species you can watch in the area are the sea turtles, rays, dolphins, humpback whales and the blue-footed bobby.
One of the most emblematic places in the islands is the "Hidden Beach"; the island formed by volcanic rock collapsed in an area where the sea later created an access. It is a small beach accessible only by swimming or on a small boat, depending on the tides.
Discover this natural marvel and let yourself be pampered by the hospitality of the boutique hotels in #RivieraNayarit.

Mary Carmen López
Más de 10 años de trayectoria en la idustria hotelera, Lic. en Administración Hotelera y Turística, con especializaciones en Mercadotecnia y Ventas. Se ha desarrollado profesionalmente en diversos hoteles en México y en el extranjero enfocándose en los últimos años en la hotelería boutique. Apasionada por el turismo en México busca en cada viaje conocer lo más destacado a nivel cultural, gastronómico e histórico de cada destino.