Tejuino, a wirrarika heritage

Share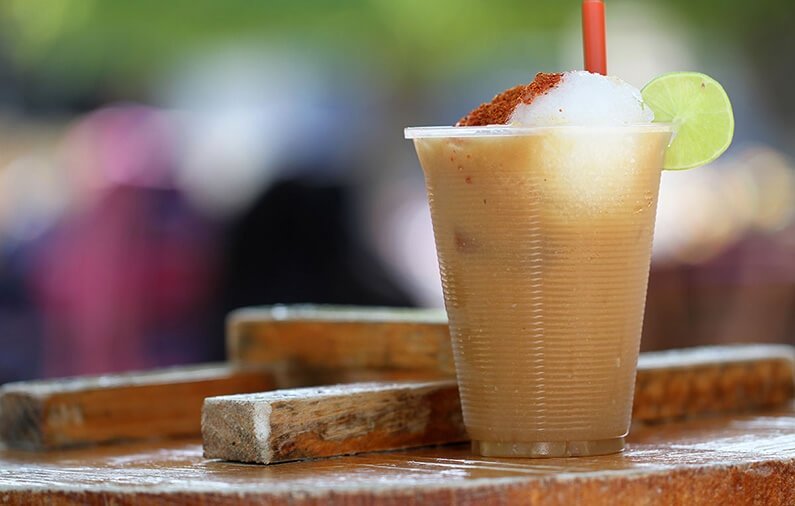 The Huicholes, an ethnic group originally from the Mexican states of Nayarit and Jalisco, are famous for their wonderful handicrafts and their particular traditions.
Part of the gifts this people originally called wirrarika has left to modern generations is the famed and succulent TEJUINO, beverage of their creation which was originally used for ceremonial purposes only, offered to their gods with the aim of keeping them appeased and being worth of their blessings.
The tesgüinadas ar festivities where colors, music, men, women, and children alike gather to adore Father Sun and Mother Moon, who in appreciation will send the miracle of rain to help grow the new corn cobs.
The base of this drink is of course corn, cooked corn or nixtamal which is sweetened with piloncillo or honey and fermented between three and five days. Nowadays it is served chilled adding chopped ice, salt and lime or lemon ice-cream, to become a very refreshing option.
The most modern version of tejuino is sold in the west part of Mexico, including the states of Nayarit and Jalisco. However, it is common to find it in San Luis Potosí, Durango, Sonora, Chihuahua, and some areas of Puebla. It is served in natural clay mugs to keep it fresh, but for practicality it is common to have it in disposable cups.
In medicine terms, tejuino has been subject to multiple lab tests which have found it to be a regenerator of intestine flora due to the high bacteria index found in it, a source of probiotic activity. It is also said that it is a miracle cure for hangover, as well as an excellent diuretic.
If you have the opportunity to taste TEJUINO, do not let it pass, and you will know what gods' beverage tastes like.
Discover the boutique hotels we have in Puerto Vallarta and Nayarit area.

Angela Ortega (Eng)
Born in the central region of Mexico, but having lived most of her life in the beautiful state of Nayarit, Angela fell in love with this area's landscapes and its natural beauty. With the firm conviction from an early age that she wanted to be part of the way tourism was managed in her state and the country at large, she studied a degree in Tourism Management and Development at the Technological University of Nayarit. Immediately following her studies, she immersed herself in the world of hospitality in Puerto Vallarta, an iconic city within Mexico known for its wide range of hotels. Working within this field, she took various positions, which allowed her to develop many skills such as teamwork and great service as well as to learn about the standards of operations at a large hotel complex. After taking a break from the hotel industry for personal reasons, her path met Mexico Boutique Hotels, a company that closely matched her personal convictions, which involve presenting Mexico to the world as a brand that guarantees memorable experiences thanks to its natural beauty and the excellent hospitably of its people who by their very nature provide great service and are excellent hosts. Angela currently serves as Chief E-Concierge and Travel Designer for the aforementioned company, offering travelers the opportunity to live a different experience every day, where attention to details make a huge difference.