A Gallery – Hotel in the heart of Queretaro

Share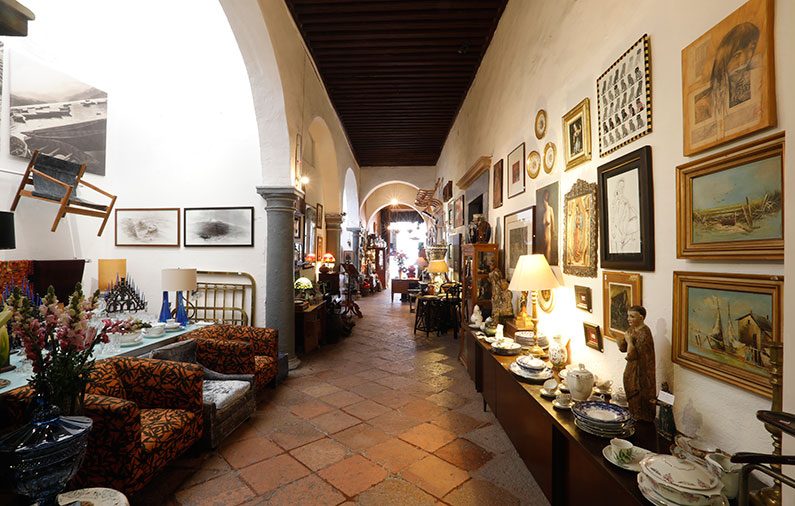 This week we have for you the details that make La Casa del Atrio your best lodging option in Queretaro. We invite you to know these details from its owners' hands.
Did you remodel the property, build it purposely or what was there before?
The hotel is located in a property from 1790 – that is, from the 18th century – and originally it was twice as big as we found it. In its first years it was the venue of the Caballeros de Colón but it was always living quarters. For some years in the 1970's it was rented as a multi-housing and then it was used a commercial space.
When we started the project we conditioned the property to have six rooms; after two years we decided to enlarge the hotel in the back yard (here we lived for a while). We started with six rooms because it was an easy number to control and ever since, it has been as hosting friends and family.
Who was the responsible architect? What previous work did he do?
We designed the architectonic project ourselves, it took us about six months. We then built four rooms in the house that was part of the patio in the original property.
What is the general concept in the decor?
Our spaces are an eclectic mixture of very clear styles (decó furniture with minimalistic lamps; empire chairs with contemporary art, etc.) each room has its own and particular style, which depends mainly on the specific color we assign to each suite.
Which styles are mixed? What treasures are there in the decoration?
For each suite we select one or several pieces with a special value; some works are by renowned artists, others are from a very specific period or style. To mention some: the paintings collection in suite 5, which feature color is yellow, includes works by Luis Filcer, Lola Benton and Tanya Kohn; in suite 12 we decided to place a large-format work by Claudia Ramos; in suite 2, which features a grapes mural, we hung a 19th-century door that came from India.
Another good example is the Korean black lacquer chest with mother-of-pearl shell. The best part for us is that every guest discovers the pieces in their suite and enjoys them thoroughly.
The concept we have always had clear is that both in the bazaar and in the hotel guests should enjoy the art works and decoration we have exhibited and in used. It is a way to use the objects normally exhibited as untouchable and distant; we like to know that our guests can appreciate these objects that have an artistic value for us.
The concept is and has always been that we are a hotel-gallery, two inseparable concepts from our perspective.
About your spa?
We just recently opened the doors of our spa, a space with Mediterranean atmosphere that fulfills two main functions: it offers the services of massage, relaxation and exfoliation and at the same time, is a perfect place to unplug from the outside world and breathe tranquility.
What do you recommend to do around the hotel?
La Casa del Atrio is located in the heart of the Historic Center of the city, which allows the guests to enjoy the benefits of its cultural richness and the gastronomic offer it features. There are cultural unmissables such as a visit to eh City Museum of Art (right across the street from our hotel) and gastronomic delights as Tikua, offering southeast food, one of the best restaurants downtown located next door to La Casa del Atrio.
We invite you to chill out a few days, visit our city and pamper in the spa, contact us.
1 855 2236061

Angela Ortega (Eng)
Born in the central region of Mexico, but having lived most of her life in the beautiful state of Nayarit, Angela fell in love with this area's landscapes and its natural beauty. With the firm conviction from an early age that she wanted to be part of the way tourism was managed in her state and the country at large, she studied a degree in Tourism Management and Development at the Technological University of Nayarit. Immediately following her studies, she immersed herself in the world of hospitality in Puerto Vallarta, an iconic city within Mexico known for its wide range of hotels. Working within this field, she took various positions, which allowed her to develop many skills such as teamwork and great service as well as to learn about the standards of operations at a large hotel complex. After taking a break from the hotel industry for personal reasons, her path met Mexico Boutique Hotels, a company that closely matched her personal convictions, which involve presenting Mexico to the world as a brand that guarantees memorable experiences thanks to its natural beauty and the excellent hospitably of its people who by their very nature provide great service and are excellent hosts. Angela currently serves as Chief E-Concierge and Travel Designer for the aforementioned company, offering travelers the opportunity to live a different experience every day, where attention to details make a huge difference.