New Year, New Trips – Travel Calendar Mexico 2021

Share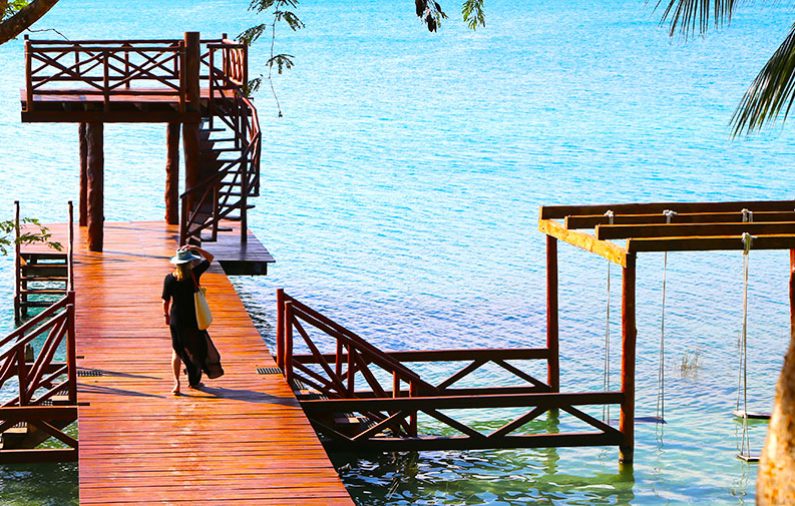 The arrival of a new year brings joy to our lives, each and every one of us sets goals and establish resolutions, and always with the hope of being better and bringing better things to our environment.
Traveling more will always be a good New Year´s resolution; to travel is to learn and get to know, when we travel we discover and experience new sensations that make us see life in a different way than the one we are used to. Traveling is the best way to exercise the soul, this is why we have set up a travel calendar, in which we suggest month to month the best options to visit and enjoy the diverse natural scenarios that this beautiful country gives us.
JANUARY Visit the Monarch Butterfly Biosphere Reserve in Michoacán
Being a firsthand witness to the arrival of these wonderful insects that lay their bodies over the long tree trunks in Michoacán's woods is a unique spectacle, they appear to be exhausted after having made a trip of over 2500 miles from southern Canada, fleeing the winter cold.
The Monarch Butterfly Biosphere Reserve is located in the eastern area of the state of Michoacán in the frontier with the west side of the Estado de Mexico; stay in Morelia, capital city of the state, that way you will be able to enjoy the beautiful colonial city and you will only be a few miles from an amazing experience.
FEBRUARY In Valentine's Day Month, visit romantic places that pay tribute to love.
There are many places that are known for counting with magical scenery that emphasize couples love like quaint Puerto Vallarta, the beautiful Riviera Nayarit, full of virgin and private beaches, Queretaro with many couples activities to do, Huatulco with its calm bays and postcard worthy sights.
Treat yourself to an ideal weekend, this are some of the options of hotels for couples CLICK HERE 
MARCH Visit the Peña de Bernal or Cholula to greet spring
The main commemoration of March is the arrival of spring, which is why if you visit magical town of Bernal you will be able to greet all the good vibes and positive energies from the famous "Peña de Bernal", the third largest monolith in the world. ANother option is the Pyramid of Cholula and its Great Pyramid.
Stay at CASA MATEO or LA QUINTA LUNA
APRIL A very Mexican trip full of culture and tradition in Mineral de Pozos
Abandoned a couple of times by its population Mineral de Pozos is a small town that seems to be lost in the infinity of its barren landscapes that speak of mining times and old splendor.
In April they have a Mariachi International Festival, in which they present the best of this musical genre.
No doubt the best option is CASA DIAMANTE  with ample spaces in contact with nature but also with the countries only BEER SPA!
MAY Cities with museums and Amusement parks
The month with the most no working days, why a weekend getaway or short trips would be ideal. Mexico City, Queretaro, Puebla and Guadalajara.
JUNE Visit the warm Caribbean waters to swim with the whale shark, Holbox
An un paralleled spectacle makes presents itself in Holbox island right in the middle of the year with the arrival of the huge but harmless Whale Shark, swimming with them is a sense of widening experience.
Stay at VILLAS FLAMINGOS
JULY Travel to Oaxaca and live Guelaguetza up close.
The most beautiful and popular of Oaxaca's traditions with the purpose of widening the appreciation for the natural and cultural richness of each and every one of Oaxaca's seven geographical regions. The best option is HACIENDA LOS LAURELES.
AUGUST Make a contrasting trip through the Wine Route in Baja California.
The area produces nearly 90% of Mexican wine and almost all of the award-winning labels. Feel the atmosphere authentic, charming and almost romantic there.
Stay at ALOU Boutique Hotel and you can visit the top wineries of the area since they will be only a short distance away.
SEPTEMBER Visit historical places of Mexico to commemorate independence.
The movement that gave way to the Independence of Mexico originated in Guanajuato, so going back and reliving history is something worth doing. However, there are many other places that are also full of culture and flavor in Mexico, so it would be worth it to take a break and celebrate the pride of being Mexican. Querétaro, Guadalajara, and Puebla are good options.
OCTOBER Make a trip full of cinema and charm to Morelia
The most emblematic event in cinematographic subjects in Mexico takes place in the capital of Michoacán. This event brings together film lovers, professional people and amateur beginners from various parts of Mexico and abroad, we do not have a taste of what is being created in the physical community, the whole event is framed by the attractions from the beautiful city of Morelia.
NOVEMBER A journey to experience death in its best version "The Day of the Dead"
Throughout the country, the day in which the deceased of each family returns to the earth to enjoy life is celebrated and celebrated. This is an opportunity to be enjoyed in PUEBLA, in a beautiful little town called Chignahuapan. Why? Why? "Chignahuapan" was originally named "Chignahuapan". This place is in the northern part of Puebla on a not very long trip to 2 hours from the state capital. The festival of light and life takes place in the luguna of this town, framed with fireworks, fluorenantes lights and boats that float beautifully decorated on its lagoon,
Lodging in Puebla MESÓN SACRISTÍA DE LA COMPAÑIA.
DECEMBER
Travel to the beach Finally the year ends, holidays and festivities come, and what better way to give a little bit of beach heat. To know our best options

Angela Ortega
Nacida en el centro del país, pero pasando la mayor parte de su vida en el bello estado de Nayarit adquirió el amor por esas tierras y por las bellezas naturales que estas poseen. Con la firme convicción de ser gestora del crecimiento turístico en el estado y en el país, estudio la Licenciatura en Gestión y Desarrollo Turístico en la Universidad Tecnológica de Nayarit. De manera inmediata al finalizar sus estudios se incursionó en el mundo de la hotelería en Puerto Vallarta Jalisco, una cuidad icono del país, bien conocida por su amplia oferta hotelera. Estar inmersa en ese ámbito y desempeñando diversos puestos en diferentes áreas, le permitió desarrollar sus habilidades de trabajo en equipo, de espíritu de servicio, así como aprender los estándares de operación de un gran complejo hotelero. Pasados un par años y por motivos personales se retiro de la hoteleria, pero la vida puso en su camino a Hoteles Boutique de México, una empresa con convicciones muy similares a las personales, las cuales involucran representar a México ante el mundo como una marca que garantiza escenarios memorables gracias a sus bellezas naturales poseídas, así como un excelente trato por parte de una población que por herencia es servicial y buena anfitriona. Actualmente funge como Chief E-Concierge and Travel Designer en la empresa antes mencionada, ofreciendo día a día al viajero la oportunidad vivir una experiencia diferente donde la atención a los detalles hacen una enorme diferencia.