Hammocks in the middle of the sea? It is possible! Discover where…

Share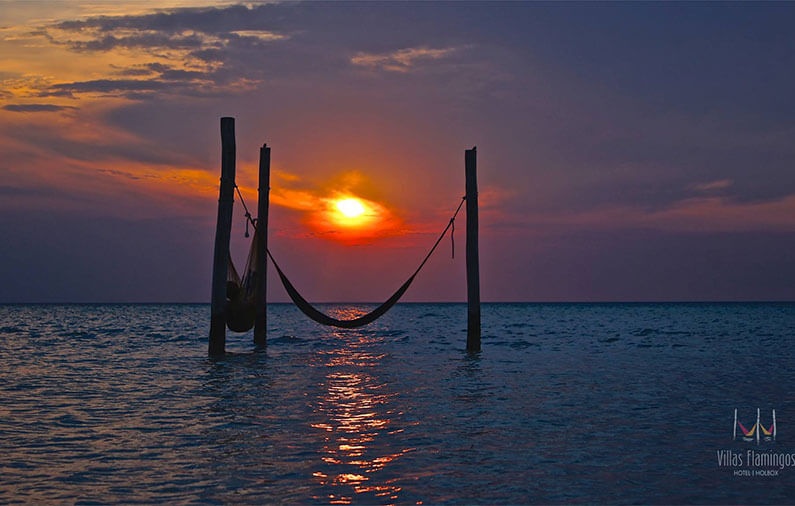 Surely more than once you have chilled out and had a good time on a hammock, but also surely almost no one has wondered where they come from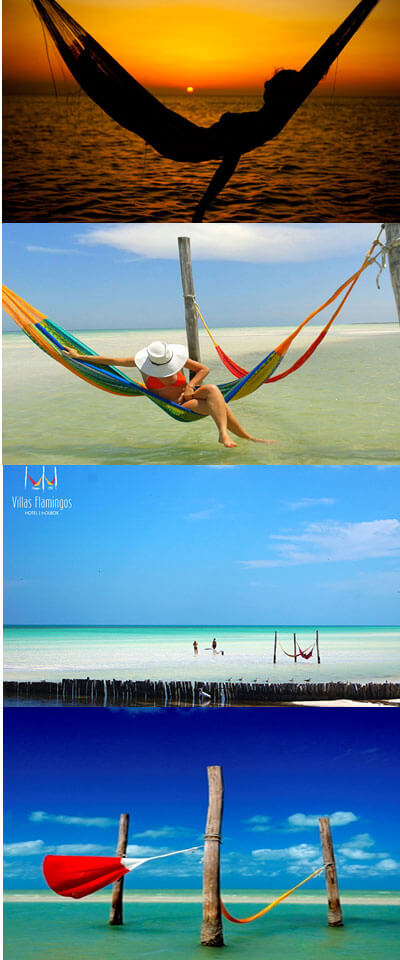 or who invented them. It is said that the origin of hammocks date back to the age when Central and South American natives dwelled these lands. They called them "Gods' cradle" – and it was such a good way to call them as that is how you feel while you lie on one -. At the beginning they were made with tree bark called hamack, from where it surely took its name in Spanish.
Close your eyes for a moment and imagine being at the Mexican Caribbean lying on a colorful and singular hammock, but not on the sand, but on its warm turquoise waters, feeling the sea breeze at your feet and listening to the beat of the waves breaking so close to you that you can feel them refreshing your body.
It sounds almost incredible, but it is real!
In the wonderful Holbox Island in Quintana Roo there is a charming hotel with a bohemian and ecological concept, one of our favorite properties, to be honest: Villas Flamingos, on the sea side with 29 beautiful rooms decorated Caribbean style with palapa roofs, huge windows and an excellent view to the ocean, just a few steps away.
Undoubtedly these singular hammocks inside the sea are the detail that makes this place unique, all available for you.
Visit Isla Holbox and have your #hospedajeboutique option be Villas Flamingos!
Call 1 855 2236161 or email us at [email protected]

Angela Ortega (Eng)
Born in the central region of Mexico, but having lived most of her life in the beautiful state of Nayarit, Angela fell in love with this area's landscapes and its natural beauty. With the firm conviction from an early age that she wanted to be part of the way tourism was managed in her state and the country at large, she studied a degree in Tourism Management and Development at the Technological University of Nayarit. Immediately following her studies, she immersed herself in the world of hospitality in Puerto Vallarta, an iconic city within Mexico known for its wide range of hotels. Working within this field, she took various positions, which allowed her to develop many skills such as teamwork and great service as well as to learn about the standards of operations at a large hotel complex. After taking a break from the hotel industry for personal reasons, her path met Mexico Boutique Hotels, a company that closely matched her personal convictions, which involve presenting Mexico to the world as a brand that guarantees memorable experiences thanks to its natural beauty and the excellent hospitably of its people who by their very nature provide great service and are excellent hosts. Angela currently serves as Chief E-Concierge and Travel Designer for the aforementioned company, offering travelers the opportunity to live a different experience every day, where attention to details make a huge difference.