Family guide by Isla Holbox

Share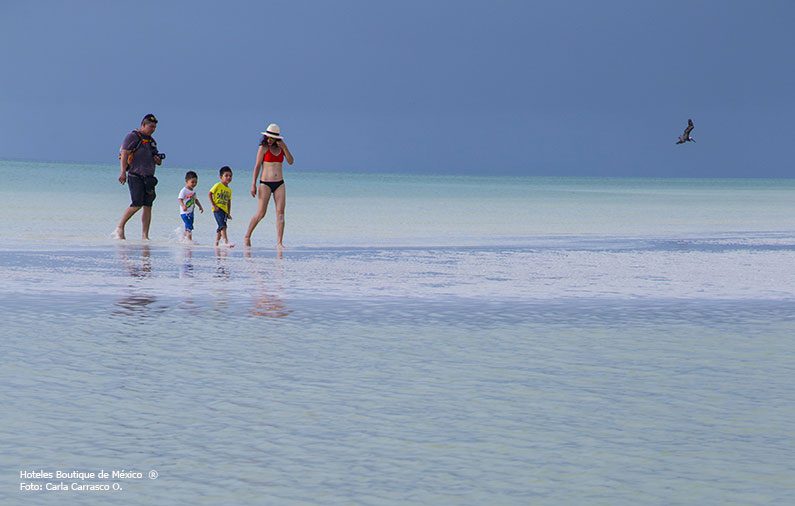 Not very different from being in paradise is how it feels to visit ISLA HOLBOX, one of the most special and incredibly beautiful destinations in Mexico,
It is special because it is located within the Yum Balam biosphere reserve; there live exotic species of birds (many of them endemic), the water is jade and the sand is fine and white, which makes this place one of the most beautiful in the country.
Imagine visiting this place in the company of your family, imagine how happy they will be to see the natural wonders you can only find at ISLA HOBOX, imagine also that those memories will accompany them for the rest of their lives.
A family trip implies a very complete planning, as when you travel with children everything must be under control, that is why at MEXICO BOUTIQUE HOTELS we want to help you, we bring to you a family guide by ISLA HOLBOX,, so in your next visit you will be a complete expert: you will know where to sleep, what to eat and what places to visit.
TRANSPORTATION          
The first thing to consider is the location of ISLA HOLBOX, which is somewhat removed from the nearest airport, which in this case is the one in Cancun, in Quintana Roo. You have to look for flights that arrive in the morning, so that you will have enough time to travel to the island without setbacks.
You fly to Cancun and from there you have to take a land transport to the beautiful port of Chiquilá, this trip is estimated in a little more than 1 hour and a half. Arriving in Chiquilá you will have to embark by ferry and enjoy the sea breeze for 25 minutes while your emotions begin to stir when you see the beautiful landscapes and think that something much better awaits you.
WE HAVE TO CONSIDER THAT: The first ferry leaves at 6:00 am and the last one is at 8:00 pm.
Upon arrival it is only a matter of taking a golf cart that will transport you to your hotel. This type of vehicles and bicycles are the main means of transport on the island due to the closeness that exists between places, coupled with the issue of ecological conservation by which large vehicles are prohibited.
Most of the hotels offer private or collective transportation service so that you don't have to worry about that part, otherwise there is a bus line that offers transportation from Cancun to the port.
LODGING
In HOLBOX ISLAND, all hotels have something in common: they try to create the least possible impact of pollution on the island, so they all operate through friendly practices
VILLAS FLAMINGOS is no exception, as this charming hotel maintains a concept of architecture and ecological, rustic and bohemian decor. The palapa roofs protect their beautiful rooms with bright colors, balconies and hammocks ready to lull you with the sea breeze. The best of all is that the hotel is the only one on the island that is part of the collection of MEXICO BOUTIQUE HOTELS, a guarantee of a quality stay, where personalized attention and special attention to detail are paramount.
In VILLAS FLAMINGOS there are rooms in which families can be comfortably accommodated, but a mention apart deserve their ARENA BUNGALOW, located on the seafront with direct access to the beach, 2 queen size beds and the best of all is that they have their private pool where you can have a moment of relaxation in the privacy of your room.
FOOD
The restaurant of the hotel VILLAS FLAMINGOS is called EL MANGLE, and offers signature cuisine that highlights fresh seafood. Here you can enjoy delicious dishes based on fish and seafood, with some classic options. All meals are prepared with fresh ingredients and Caribbean recipes, you cannot miss the dishes prepared in "night sauce", the chef's specialty.
The restaurant is available for breakfast (included in the rate), lunch and dinner, however you always have the option to go out and try the gastronomy that this place offers. There are from very simple places with typical foods to restaurants with more elaborate food, but what everyone talks about is the famous "lobster pizza" that has become an icon of the place.
A downtown walking tour will make you find the options that most appeal to you.
PLACES TO VISIT
Where to start? It is complicated when there are many things to see and explore, despite the island's being a relatively small place.
We will begin by suggesting a walk along the coasts to appreciate the bird species and the occasional friendly fish that comes out to greet visitors, swim in its clear waters and rest by the sea, in VILLAS FLAMINGOS they have at your disposal their singular hammocks in the middle of the water to meditate and even to take a nap.
To get to know the most representative of the island there is a particular activity, "The tour of the 3 islands" where you visit the Isla Pájaros, Yalahau and Isla Pasión. At the first stop you will see the hundreds of birds that live there on the tops of trees and palm trees, in Yalahau the most comforting thing is to swim in its cenote of fresh, crystalline and fresh water, to culminate with the Isla Pasión of soft sand and of an unimaginable tranquility.
Bioluminescence is a natural spectacle that occurs in only certain areas of the planet and ISLA HOLBOX is presented in a masterly way, you can learn a little more about the subject by reading our article called STARS IN THE SEA, BIOLUMINISCENCE IN HOLBOX ISLAND.
Briefly we can say that it is a spectacle that is generated due to harmless microorganisms that live in the water and that emit a bright light when the water is agitated. To appreciate this show it is necessary to do it when the sun has set, at night or in the morning very early before the sun appears. Punta Mosquito at one end of the island is a good spot to observe it.
Swimming with the shark whale is an experience that can be lived in HOLBOX ISLAND and is the reason why many people visit this place. However, in family trips it is recommended only for children over 7 years, for their own safety. This activity can only be carried out from June to September.
A bike tour through downtown gives you the opportunity to appreciate the incredible and colorful murals that adorn the walls, authentic works of art; besides being able to interact with the inhabitants and know how to live authentically on the island.
HOLBOX ISLAND, a place where nature manifests with its maximum splendor, visit it with your family, we will help you plan every detail.

Angela Ortega (Eng)
Born in the central region of Mexico, but having lived most of her life in the beautiful state of Nayarit, Angela fell in love with this area's landscapes and its natural beauty. With the firm conviction from an early age that she wanted to be part of the way tourism was managed in her state and the country at large, she studied a degree in Tourism Management and Development at the Technological University of Nayarit. Immediately following her studies, she immersed herself in the world of hospitality in Puerto Vallarta, an iconic city within Mexico known for its wide range of hotels. Working within this field, she took various positions, which allowed her to develop many skills such as teamwork and great service as well as to learn about the standards of operations at a large hotel complex. After taking a break from the hotel industry for personal reasons, her path met Mexico Boutique Hotels, a company that closely matched her personal convictions, which involve presenting Mexico to the world as a brand that guarantees memorable experiences thanks to its natural beauty and the excellent hospitably of its people who by their very nature provide great service and are excellent hosts. Angela currently serves as Chief E-Concierge and Travel Designer for the aforementioned company, offering travelers the opportunity to live a different experience every day, where attention to details make a huge difference.