Hotel Filter
Download here our complete hotel directory
5 Things to do at Hotel B Cozumel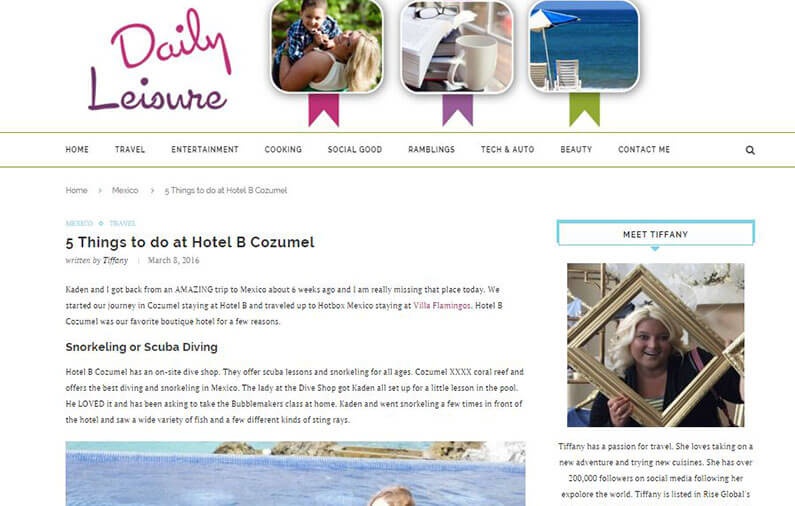 Kaden and I got back from an AMAZING trip to Mexico about 6 weeks ago and I am really missing that place today. We started our journey in Cozumel staying at Hotel B and traveled up to Hotbox Mexico staying at Villa Flamingos. Hotel B Cozumel was our favorite boutique hotel for a few reasons.
Snorkeling or Scuba Diving
Hotel B Cozumel has an on-site dive shop. They offer scuba lessons and snorkeling for all ages. Cozumel XXXX coral reef and offers the best diving and snorkeling in Mexico. The lady at the Dive Shop got Kaden all set up for a little lesson in the pool. He LOVED it and has been asking to take the Bubblemakers class at home. Kaden and went snorkeling a few times in front of the hotel and saw a wide variety of fish and a few different kinds of sting rays.
Massage
My favorite thing when I travel is making a stop at the spa. Kaden and I got a message our first night. It was Kadens first massage and he fell asleep. My massage was perfect. Firm pressure and she worked out 2 knots in my back. It was the best way to end a day of international travel.
Ceviche Workshop
Hotel B has a few different kinds of ceviche on the menu, each one is a recipe from the new chef. I think once a week or every couple days they offer a cechive workshop. The chef came out and taught us how to make Thai and tuna ceviche. It is a fairly easy process, and nothing has to be cooked. The fish cooks in the acid from the lemon juice. This was really cool. Kaden and I came home and made it for my husband. Hotel B also offers a couple other workshop such as painting and Mezcal and Tequila Workshop.
Pool and Hot Tub
My favorite place at Hotel B Cozumel was in the hot tub. It sits right next to the ocean with the best view of the sunset. The infinity pool is amazing also with the same sunset view. On a clear day you can see Playa Del Carmen.
Yoga
Each morning Hotel B has a yoga class ocean side. This was the best yoga I have ever done. The sound of the waves hitting the rocks and the warmth of the sun. It was the best way to start the day.
There are so many other things you can do a Hotel B these were just my favorite part of my trip. If you are in Cozumel, I highly recommend eating at Costeñito Bistro. They have the best pancakes for breakfast and fresh fish at night. The Sweet and Sour Salad with goat cheese and homemade XXXXX was delicious.. I ate it everyday, np joke. The chef has redone the whole menu with his best recipes. The 2 weeks I was traveling in Mexico this was mine and Karens favorite place we ate.
Trip was provided by Mexico Boutique Hotels. All opinions are my own.
Connect with  Mexico Boutique Hotels on Twitter and Facebook!
See the original source HERE