Hotel Filter
Download here our complete hotel directory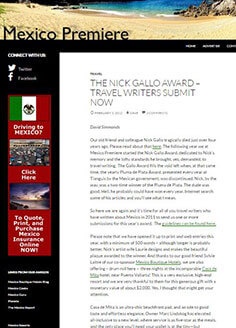 THE NICK GALLO AWARD – TRAVEL WRITERS SUBMIT NOW
David Simmonds Our old friend and colleague Nick Gallo tragically died just over four years ago. Please read about that here. The following year we at Mexico Premiere started the Nick Gallo Award, dedicated to Nick's memory and the lofty standards he brought, yes, demanded, to travel writing.  The Gallo Award fills the void...
leer mas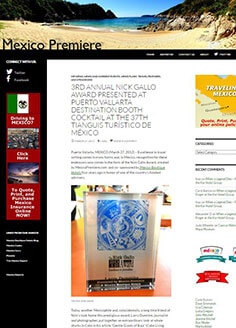 3RD ANNUAL NICK GALLO AWARD PRESENTED AT PUERTO VALLARTA DESTINATION BOOTH COCKTAIL AT THE 37TH TIANGUIS TURÍSTICO DE MÉXICO
Puerto Vallarta, MEXICO (March 27, 2012) – Excellence in travel writing comes in many forms and, in Mexico, recognition for these endeavors now comes in the form of the Nick Gallo Award, created by MexicoPremiere.com  and co- sponsored by Mexico Boutique Hotels four years ago in honor of one of the country's fondest admirers....
leer mas