Hotel Filter
Download here our complete hotel directory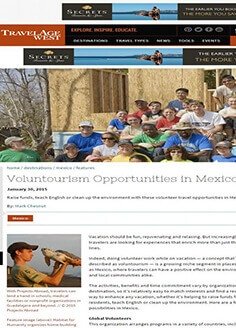 Voluntourism Opportunities in Mexico
January 30, 2015Raise funds, teach English or clean up the environment with these volunteer travel opportunities in Mexico By: Mark Chesnut Vacation should be fun, rejuvenating and relaxing. But increasingly, travelers are looking for experiences that enrich more than just their tan lines. Indeed, doing volunteer work while on vacation — a concept that's often...
leer mas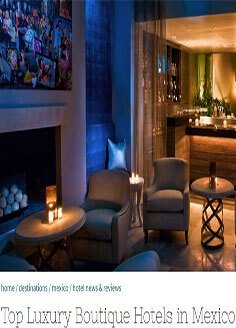 Top Luxury Boutique Hotels in Mexico
Brands such as The Ritz-Carlton and St. Regis may attract hordes of luxury travelers to Mexico, but smaller, independent hotels also imbue their offerings with enticing amenities, style and service. Whether it's a relaxed coastal beach resort or a historic inland city that clients are looking for, Mexico is well-equipped to satisfy sophisticated globetrotters looking...
leer mas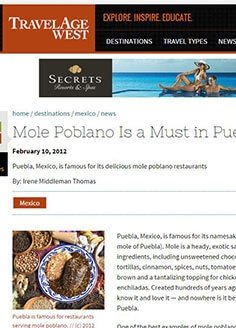 Mole Poblano Is a Must in Puebla
Puebla, Mexico, is famous for its namesake dish, mole poblano (meaning mole of Puebla). Mole is a heady, exotic sauce made of some 30 or so ingredients, including unsweetened chocolate, various chilies, corn tortillas, cinnamon, spices, nuts, tomatoes and onions. It is a rich, dark brown and a tantalizing topping for chicken and sometimes...
leer mas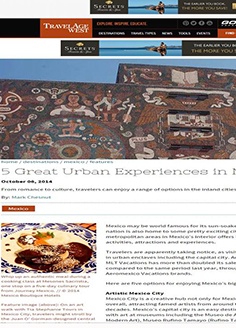 5 Great Urban Experiences in Mexico
Mexico may be world famous for its sun-soaked beaches, but this vast nation is also home to some pretty exciting cities, too. Each of the major metropolitan areas in Mexico's interior offers its own unique array of activities, attractions and experiences. Travelers are apparently taking notice, as visitor numbers continue to rise in urban...
leer mas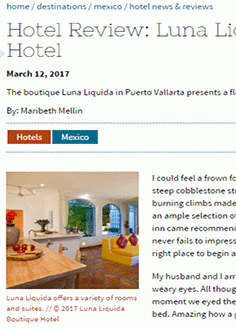 Hotel Review: Luna Liquida Boutique Hotel
I could feel a frown forming on my face as the taxi puttered up a skinny, steep cobblestone street toward my hotel. Visions of breathless, thigh-burning climbs made me question my choice. Puerto Vallarta, after all, has an ample selection of small, moderately priced hotels downtown. But this inn came recommended by Mexico Boutique...
leer mas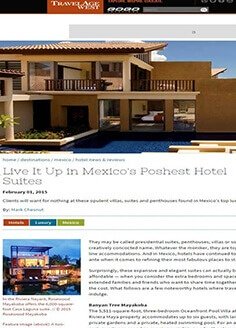 Live It Up in Mexico's Poshest Hotel Suites
They may be called presidential suites, penthouses, villas or some creatively concocted name. Whatever the moniker, they are top-of-the-line accommodations. And in Mexico, hotels have continued to up the ante when it comes to refining their most fabulous places to stay. Surprisingly, these expansive and elegant suites can actually be affordable — when you...
leer mas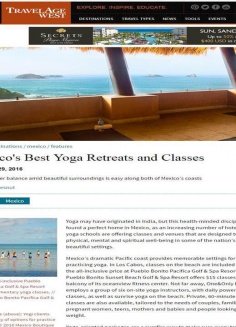 Mexico's Best Yoga Retreats and Classes
Yoga may have originated in India, but this health-minded discipline has found a perfect home in Mexico, as an increasing number of hotels and yoga schools are offering classes and venues that are designed to align physical, mental and spiritual well-being in some of the nation's most beautiful settings. Mexico's dramatic Pacific coast provides...
leer mas