Hotel Filter
Download here our complete hotel directory
Mexico's Best Yoga Retreats and Classes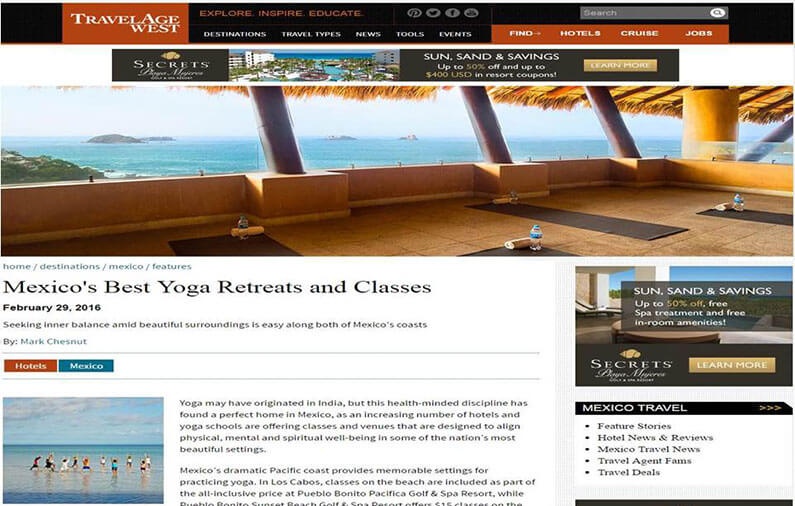 Yoga may have originated in India, but this health-minded discipline has found a perfect home in Mexico, as an increasing number of hotels and yoga schools are offering classes and venues that are designed to align physical, mental and spiritual well-being in some of the nation's most beautiful settings.
Mexico's dramatic Pacific coast provides memorable settings for practicing yoga. In Los Cabos, classes on the beach are included as part of the all-inclusive price at Pueblo Bonito Pacifica Golf & Spa Resort, while Pueblo Bonito Sunset Beach Golf & Spa Resort offers $15 classes on the balcony of its oceanview fitness center. Not far away, One&Only Palmilla employs a group of six on-site yoga instructors, with daily power yoga classes, as well as sunrise yoga on the beach. Private, 60-minute yoga classes are also available, tailored to the needs of couples, families, pregnant women, teens, mothers and babies and people looking to lose weight.
Yoga-oriented packages are a surefire way to make sure every traveler gets the rejuvenating experience they crave. In Los Cabos, CostaBaja Resort & Spa is partnering with Retreats Unlimited — which teams up top yoga, wellness and team-building instructors with resorts to provide retreat experiences — to offer a wellness getaway. Scheduled for April 7-11, the one-time "Renewed You From the Inside Out" program includes yoga, as well as cardio and Reiki sessions, plus styling and beauty tutorials.
The area around Puerto Vallarta is another hot spot for yoga-inspired relaxation. Playa Escondida, in the beachfront community of Sayulita, recently opened a new, thatch-roofed "palapa" hut designed specifically for practicing yoga. Located on a small cliff overlooking the Pacific, the venue hosts daily sessions, as well as private classes for up to 15 people.
Xinalani Retreat, set on 10 acres of jungle on the southern shore of Banderas Bay, is another wellness-focused property. Spiritual and yoga retreats, teacher trainings and "mind and body" workshops are among its offerings. With just 23 rooms and four dedicated yoga spaces, as well as a spa and "temazcal" (sweat lodge), Xinalani aims to provide lots of opportunities for aspiring and experienced yogis.
North of Puerto Vallarta, travelers looking for a truly private, yoga-filled vacation with family or a small group of friends should consider Villa Lunada, which is — as the name implies — a villa, complete with master bedroom, two guestrooms and a bonus room that can be used for sleeping or relaxing. Located in Punta Mita less than a mile from The St. Regis Punta Mita Resort, Villa Lunada has an outdoor terrace with panoramic views of the Pacific Ocean that can be used for private yoga instruction.
A sweeping view of the Pacific Ocean is also among the offerings at Capella Ixtapa Resort and Spa, which offers classes on a scenic yoga deck.
Yoga in the East
Mexico's Caribbean coast is another promising place to try out your best upward-facing dog pose.
In the Riviera Maya, the Mayakoba complex has several locations for yoga at its three hotels (Fairmont Mayakoba, Banyan Tree Mayakoba and Rosewood Mayakoba), as well as at MK Blue, an open-air palapa event space located on the beach. In addition, Banyan Tree Mayakoba offers group yoga classes twice daily, as well as private sessions.
Guests at Grand Hyatt Playa del Carmen Resort can take part in any of three group yoga classes per week, priced at $15 each, which take place either beachside, poolside or in the hotel's Cenote Spa.
See original source HERE