Hotel Filter
Download here our complete hotel directory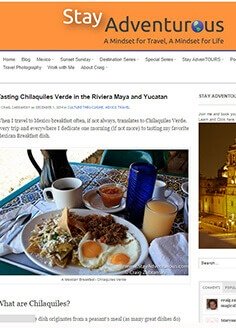 Tasting Chilaquiles Verde in the Riviera Maya and Yucatan
by CRAIG ZABRANSKY on DECEMBER 1, 2014 in CULTURE THRU CUISINE, MEXICO TRAVEL When I travel to Mexico breakfast often, if not always, translates to Chilaquiles Verde. Every trip and everywhere I dedicate one morning (if not more) to tasting my favorite Mexican Breakfast dish. A Mexican Breakfast - Chilaquiles Verde What are Chilaquiles? Simply stated, the dish originates from...
leer mas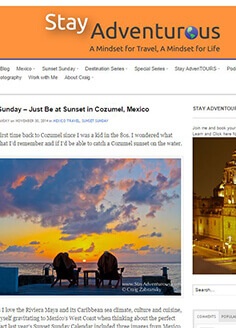 Sunset Sunday – Just Be at Sunset Cozumel, Mexico
by CRAIG ZABRANSKY on NOVEMBER 30, 2014 in MEXICO TRAVEL, SUNSET SUNDAY It was my first time back to Cozumel since I was a kid in the 80s. I wondered what changed, what I'd remember and if I'd be able to catch a Cozumel sunset on the water. As much as I love the Riviera Maya and its Caribbean sea...
leer mas