Hotel Filter
Download here our complete hotel directory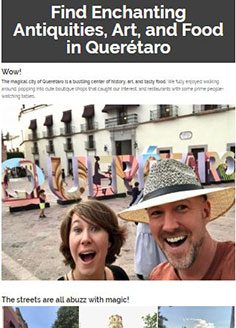 Find Enchanting Antiquities, Art, and Food in Querétaro
Wow! The magical city of Querétaro is a bustling center of history, art, and tasty food. We fully enjoyed walking around, popping into cute boutique shops that caught our interest, and restaurants with some prime people-watching tables. The streets are all abuzz with magic! The Historic Monuments Zone of Querétaro is a wonderful UNESCO World Heritage...
leer mas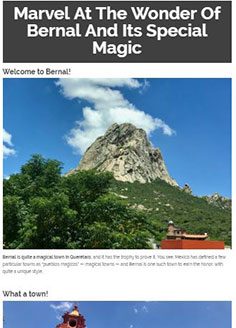 Marvel At The Wonder Of Bernal And Its Special Magic
Welcome to Bernal! Bernal is quite a magical town in Querétaro, and it has the trophy to prove it. You see, México has defined a few particular towns as "pueblos magicos" — magical towns — and Bernal is one such town to earn the honor, with quite a unique style. What a town! As...
leer mas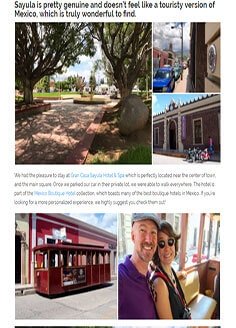 Romantic Mexican Road Trip Perfect For Foodies & Lovers
Nestled at the base of the majestic mountains in Jalisco, you will find a bustling Mexican town with a lot of personality and artisan charm. We honestly weren't sure what we'd find in Sayula when we took the easy drive from Ajijic, Jalisco, but we were full of anticipation — and we were not...
leer mas