Hotel Filter
Download here our complete hotel directory
Live It Up in Mexico's Poshest Hotel Suites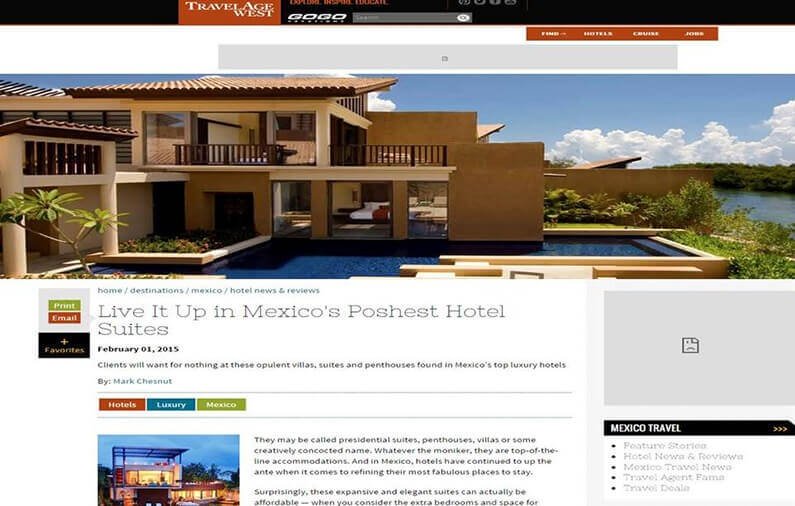 They may be called presidential suites, penthouses, villas or some creatively concocted name. Whatever the moniker, they are top-of-the-line accommodations. And in Mexico, hotels have continued to up the ante when it comes to refining their most fabulous places to stay.
Surprisingly, these expansive and elegant suites can actually be affordable — when you consider the extra bedrooms and space for extended families and friends who want to share time together, as well as the cost. What follows are a few noteworthy hotels where travelers can indulge.
Banyan Tree Mayakoba
The 5,511-square-foot, three-bedroom Oceanfront Pool Villa at this Riviera Maya property accommodates up to six guests, with landscaped private gardens and a private, heated swimming pool. For an additional cost, guests can spend an evening socializing under the stars as the staff prepares a barbecue seafood feast in the villa's courtyard.
Fiesta Americana Hotels & Resorts
This well-known Mexican hotel brand offers a variety of well-appointed suites at various properties.
At Fiesta Americana Grand Coral Beach Cancun Resort & Spa, the presidential suite has a hydromassage bathtub as well as a dining area, private pool and kitchen. Meanwhile, Fiesta Americana Grand Los Cabos All Inclusive Golf & Spa has a two-bedroom suite with the option to add a third attached bedroom.
Live Aqua Mexico City Hotel & Spa has two different presidential suites: The Sol Suite (Sun Suite) measures nearly 1,800 square feet, with a private Jacuzzi and a panoramic city view, while the 1,980-square-foot Luna Suite (Moon Suite) offers equally impressive views and a walk-in shower designed for two.
Four Seasons Resort Punta Mita
The five-bedroom, 13,300-square-foot Coral Suite at this luxury resort comes with the services of a personal host; a private, poolside cabana; and a personal spa area for a range of massages and treatments.
Smaller parties can request that the suite be configured with two or three bedrooms. The unit features a 2,236-square-foot private terrace and has a maximum occupancy of 10 guests.
Grand Solmar Land's End Resort & Spa
The 6,232-square-foot, four-bedroom penthouse at this Los Cabos hotel is laid out with a sitting room and dining room, plus five bathrooms and a large terrace with a private beachfront pool and Jacuzzi. The hotel offers in-villa dinner parties, and the penthouse can accommodate up to 12 people.
Grand Velas Riviera Maya
The 2,449-square-foot Zen Grand Presidential suite at this Riviera Maya hotel has a private outdoor garden, two bedrooms and a living room with a marble dining table that seats eight. Guests staying here receive one complimentary 50-minute massage each per day; suite and poolside butler service; and VIP transportation to and from the airport.
www.rivieramaya.grandvelas.com
Grupo Habita
Travelers looking for stylish, hip accommodations always do well with Grupo Habita, Mexico's design-oriented boutique hotelier. Perhaps that's why celebrities have often chosen these properties for their getaways and work trips.
Choices in Mexico City include the Top Suite at Condesa DF (where socialite/actress/singer Paris Hilton, singer-songwriter Bono and actor Viggo Mortensen have stayed) and the 1,200-square-foot Suite Royal at Distrito Capital (where singer-songwriter Madonna, television personality Kim Kardashian and founder of Virgin Group Richard Branson have hung their hats).
The Suite Royal has a fireplace and impressive city views that also make it a memorable backdrop for private events.
Iberostar Playa Mita
Located in Riviera Nayarit, this Pacific coast all-inclusive hotel is home to two 1,969-square-foot presidential suites. Each has two bedrooms, living and dining rooms and a balcony with whirlpool. Actress/model Brooke Shields is among the recent guests who have stayed in this suite.
Mexico Boutique Hotels
This consortium of independent small properties offers a variety of opportunities for upping the vacation experience.
In Morelia, Villa Montana Hotel & Spa has a presidential suite with a private terrace and a fireplace. At Capella Ixtapa, the one-bedroom Ocean Front Penthouse suites overlook the Pacific Ocean, with an outdoor area next to an infinity plunge pool.
Another gem is Hacienda de los Santos, located in the town of Alamos and between the beaches of San Carlos and the Copper Canyon. A stone stairway and private elevator lead to Hacienda de los Santos' second-floor, 1,350-square-foot Mansion Villa suite, which has two bedrooms, a living room, two fireplaces and 1,500 square feet of private rooftop patio space.
Nizuc Resort & Spa
The 3,270-square-foot Presidential Suite Villa at this hotel, which is located about 15 minutes from the Cancun airport, features two bedrooms, a private, 409-square-foot rooftop sundeck and 2,280 square feet of outdoor space. Guests can kick back and enjoy the lounge-like patio, which is nestled in a tropical garden with a private infinity pool.
Rosewood Mayakoba
Located in the Riviera Maya, this elegant resort serves up lots of space in its 6,000-square-foot Casa Laguna, which features a living and dining room with floor-to-ceiling windows that overlook a lagoon. A gourmet kitchen and three bedrooms — including two master suites — round out the offerings. Guests can entertain themselves with their own private media room, swimming pool, boat dock and dining deck, which is set among its 3,500 square feet of private exterior space.
The St. Regis Punta Mita Resort
The three-bedroom, 3,100-square-foot presidential suite at this opulent Pacific coast hotel combines design elements of Provence with original Mexican art and handcrafted items. Guests here make use of butler service, an eight-person dining table, original artwork and a private terrace with a swimming pool, Jacuzzi and a shower.
See original source HERE