Hotel Filter
Download here our complete hotel directory
Hotel Review: Luna Liquida Boutique Hotel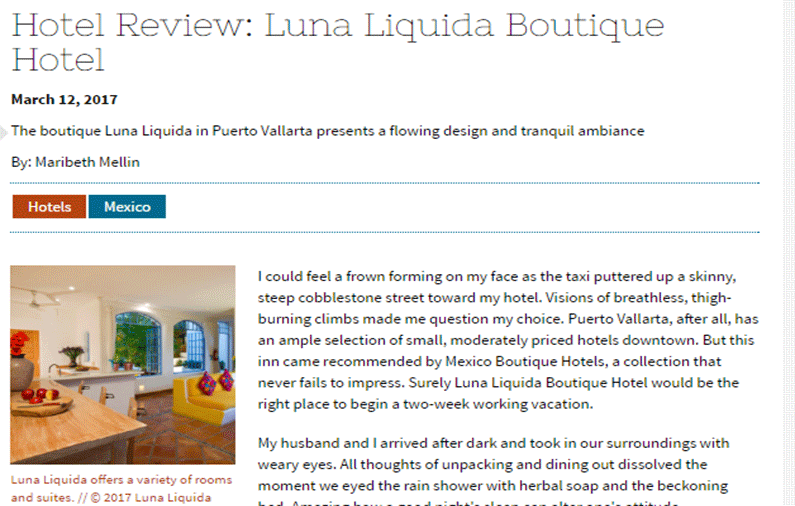 I could feel a frown forming on my face as the taxi puttered up a skinny, steep cobblestone street toward my hotel. Visions of breathless, thigh-burning climbs made me question my choice. Puerto Vallarta, after all, has an ample selection of small, moderately priced hotels downtown. But this inn came recommended by Mexico Boutique Hotels, a collection that never fails to impress. Surely Luna Liquida Boutique Hotel would be the right place to begin a two-week working vacation.
My husband and I arrived after dark and took in our surroundings with weary eyes. All thoughts of unpacking and dining out dissolved the moment we eyed the rain shower with herbal soap and the beckoning bed. Amazing how a good night's sleep can alter one's attitude.
Come morning, we passed a waterfall outside our room as we made our way to the upstairs breakfast terrace, where cooks in a lovely tiled kitchen prepared the complimentary continental breakfast. We sipped fragrant Mexican coffee and freshly squeezed orange juice, and devoured papaya, pineapple and lightly toasted homemade bread, all while admiring the breathtaking view of downtown Puerto Vallarta and the endless blue bay.
Though tempted to linger over a full breakfast (available for an extra charge), we decided it was time to tackle our hill. The descent to the seaside Malecon (waterfront promenade) included steep sidewalks with steps and railings connecting narrow residential streets. Taxis quickly became our favorite way to climb back home.
With only 14 rooms, Luna Liquida – which translates to "liquid moon" – feels like a rambling neighborhood compound. Five villas are strung together with stairways and bridges leading to clusters of private rooms that share living and dining areas, terraces and kitchens in an upscale hostel style. Our room was part of Villa Tortugas ("turtles"), where we visited with other guests while making coffee and stashing drinks in the communal refrigerator.
A giant tree stood just outside our window, nearly hiding a narrow spiral stairway to Villa Diablito ("little devil") behind its branches. As we wandered about the property, we discovered that some rooms have stellar ocean views, while others feature fireplaces or hot tubs. An overall artsy-eco Mexican theme ties the whole place together, with splashes of brightly colored walls and rugs, masks, folk art and original paintings catching the eye at every turn.
On the very top level of the hotel, a narrow rooftop pool seems balanced against the sky, the horizon broken only by the iconic crown atop the Church of our Lady of Guadalupe. Lounge chairs line a peaceful sundeck, where I passed a few hours with a novel. The deck became our favorite place to unwind and watch the sunset with chilled beers and sodas from the "honor system" cooler.
Luna Liquida's quirky, creative design makes sense when you realize the owner is Fher Olvera, the frontman of Mana, a superstar Mexican rock band with strong ties to Puerto Vallarta. The group recorded its Grammy-winning "Suenos Liquidos" (Liquid Dreams) album while renting a home in Puerto Vallarta, and band members can occasionally be spotted around town.
See original source HERE