Hotel Filter
Download here our complete hotel directory
Voluntourism Opportunities in Mexico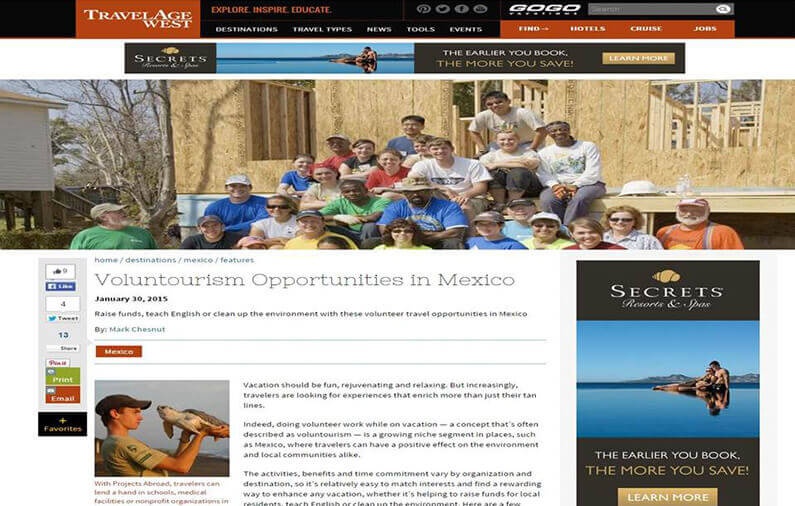 Raise funds, teach English or clean up the environment with these volunteer travel opportunities in Mexico
By: Mark Chesnut
Vacation should be fun, rejuvenating and relaxing. But increasingly, travelers are looking for experiences that enrich more than just their tan lines.
Indeed, doing volunteer work while on vacation — a concept that's often described as voluntourism — is a growing niche segment in places, such as Mexico, where travelers can have a positive effect on the environment and local communities alike.
The activities, benefits and time commitment vary by organization and destination, so it's relatively easy to match interests and find a rewarding way to enhance any vacation, whether it's helping to raise funds for local residents, teach English or clean up the environment. Here are a few possibilities in Mexico.
Global Volunteers
This organization arranges programs in a variety of countries, including Mexico. Volunteers — who need no prior experience — can teach conversational English in the Mexican host communities of Dolores Hidalgo and Queretaro. The Technological University of Northern Guanajuato and the Technological University of Queretaro host Global Volunteers in Mexico, and each volunteer teaches for about four hours a day. The program lasts for one, two or three weeks.
Habitat for Humanity
According to this well-known organization, more than half of the Mexican population does not have the economic means for buying or constructing adequate housing.
Habitat for Humanity aims to help improve their plight and now operates projects in 17 states of Mexico that range from rural to urban settings. The average house is constructed in about three weeks, and volunteers can get involved in a variety of hands-on tasks.
International Volunteer HQ
This organization offers an assortment of volunteer projects in Mexico, including teaching lessons on English, childcare, environmental research, animal care, animal rights and Maya agriculture.
Most of these programs operate out of Merida, the capital of Yucatan state, although the Maya agriculture project is based in Oxkutzcab, about a 2.5-hour drive from Merida. Programs begin on the first and third Monday of every month and run from one to 24 weeks.
Mexico Boutique Hotels
This consortium of independent boutique hotels around Mexico has created a mutual fund with the help of its member hotels, staff and guests. Meaning, hotel guests can make financial donations, each of which is matched by a Mexico Boutique Hotels contribution.
Among the beneficiaries is the Network of Domestic Workers of Guerrero, which operates Casa Solidaria, a shelter for women and girls from the mountain region of the state of Guerrero who have migrated to the city of Chilpancingo to work. Another beneficiary is PEACE, which stands for Protection, Education, Animals, Culture and Environment, an organization that provides school supplies to disadvantaged children.
Projects Abroad
This organization matches volunteers with projects in a variety of destinations around the world, including Mexico. Opportunities range from working on educational programs for youth in Guadalajara to sea turtle and coastal conservation projects on the Pacific coast of the state of Colima.
Solmar Foundation
This non-profit organization, which is affiliated with Solmar Hotels & Resorts in Los Cabos, works with several local organizations and charities in its home base of Los Cabos. Solmar Foundation's weekly Helping Hands tour is open to the public and visits several non-profit groups so that guests can observe the work being done.
Hands-on volunteer work is arranged on a case-by-case basis and is tailored to individual interest. Among its recent high-profile activities was a fundraising effort to help Solmar Group staff and their families, after many lost many of their possessions during Hurricane Odile in 2014.
Tres Santos
A new residential and resort community in Baja California Sur, Tres Santos won't debut its first homes and new boutique hotel for a while, but travelers can already get involved in volunteer opportunities.
Options include Las Amigos de Baja, which are designed for high school students and chaperones interested in building homes and infrastructure for a local orphanage. The Knockout Basura program pairs volunteers with a boxing school, headed by Mexican boxer and coach Ramiro Reducindo Radilla, to help clean up the town.
See the original source HERE