Hotel Filter
Download here our complete hotel directory
Boutique hotels at reasonable rates in Mexico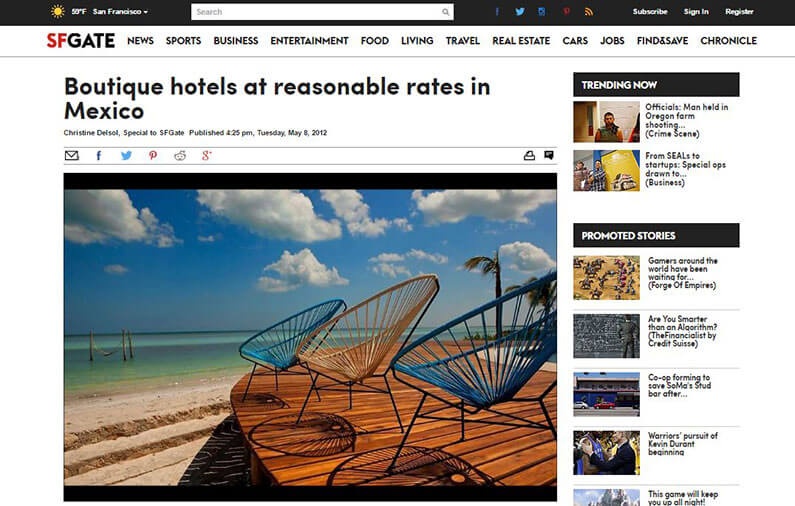 When I first started traveling to Mexico, lodging choices veered between humble homegrown pensions or rather dingy motels and the massive El Presidente, Fiesta Americana and similar hotel chains. There was virtually nothing in the middle. As more comfortable, well-run but still small and locally owned inns and small hotels sprung up, they weren't always easy to find. They lacked the big chains' promotion budgets, and they weren't exactly fixtures on the beaten path, so they were discovered more through serendipity than planning.
With the founding of Mexico Boutique Hotels in 1999, that began to change. The company now has upwards of 50 hotels in more than 25 locations throughout the country, and today you can just about throw a dart at a map of Mexico and find a unique, often historical hotel with highly personalized service. Other companies now include Mexican boutique hotels, but none works exclusively in Mexico.
From the beginning, director Sylvie Laitre has built a reputation for small, impeccably managed properties that specialize in immersing their guests in local culture. Each goes through an extended selected process, and Laitre or a member of her small staff stays at the hotel before it is accepted. She and her staff act as travel agent and concierge for travelers booking through the company, taking care of details, fixing problems and providing travel tips every step of the way.
"We ask a lot of questions when someone contacts us," Laitre says. "We figure out what they might like and then proceed to recommend and design. The hotel is the focus, but the destination is also very important in many cases." They also maintain a database of contacts that help people navigate their travels.
These days, boutique can mean pricey, and many of these hotels do cost $250 or more a night, falling into the special-occasion splurge category for many of us. The surprise is that nearly one-fourth of them, ranging from Mexico City and Guadalajara to towns you might never have heard of, charge $150 or less. Here is a quick look.
Posada de las Minas, Mineral de Pozos, Guanajuato. $83-$141. One of colonial Mexico's most prosperous mining towns, about an hour's drive from San Miguel de Allende, Mineral de Pozos was a ghost town for nearly a century before being discovered by artists, photographers and seekers of peace and solitude.  The hotel, occupying a 19th century mansion, offers six rooms and two apartments, and the bar is sell-stocked with top-notch tequilas. Though the town is only just awakening from a long slumber, active types can go hiking, mountain biking or horseback riding to the nearby mines, and shoppers have plenty of local crafts to choose from. Neighboring towns make ideal day trips for travelers who want to delve deeper into Mexican history and culture.
Top tips: The owner of the hotel, a photographer, can guide guests to places to snag some extraordinary shots. People come from around the world to seek out the town's artisans, who produce replicas of prehispanic musical instruments. Plan to visit on a weekend — the tiny town's markets are closed and activity slows to a crawl during the week.
Posada Tacubaya, Alamos, Sonora. $99. Set in the western Sierra Madre foothills, the town of Alamos is on the original El Camino Real, which extended all the way north ot San Francisco. Small in size but big in colonial splendor, its residents have protected its  Posada Tacubaya's owners, who also own the upscale hotel next door, invested this hacienda-style B&B with similar style and attentiveness when they designed it especially for families with kids and pets. Each of the six spacious rooms has a wood-burning fireplace, and sculptures and artwork are everywhere. Bird watching, visits to indigenous villages, horseback riding and photography are especially popular here.
Top tips: Late winter is the most magical time in this official Magic Pueblo. In January, the town Mounts the Festival Cultural Dr. Alfonso Ortiz Tirado, a celebration of -class opera, orchestral, jazz, and Latin music. February brings the 6-year-old Silver Festival attracts some of Mexico's top silversmiths.
La Casona, Mexico City. $110-$130. It's easy to spend a lot of money on a hotel in Mexico City, but La Casona — a restored onetime mansion, one of the National Institute of Fine Arts' artistic monuments — is one of Mexico Boutique Hotels' greatest bargains,  right off the grand Paseo de la Reforma near Chapultepec park. Its facades remain an early 20th century architectural masterpiece splendor, while the interior  is sleek ad modern. The 29 rooms are decorated in different styles that share wooden floors and elegant furniture, providing a refined, private respite from the vigors of delving into Mexico City's nonstop cultural offerings.
Top tips: A few steps from the hotel's front door, you can rent bicycles and ride safely all the way to the Zoalo and historic downtown on Reforma, a broad, parklike avenue lined with trees. To understand why the "D.F." is famous for its sidewalk food stands, take one of Lesley Tellez's street food tours — you'll learn a little history and venture behind the scenes in some neighborhoods along the way.
La Quinta Luna, San Pedro Cholula, Puebla. $127-$177. Standing proud on the sidewalks in the center of North America's oldest living city, three blocks from the main square, La Quinta Luna dates to the 17th century, when it was the home of indigenous nobility before the Spanish Conquest. Its imposing arches, 400-year-old wooden beams in a library housing 3,000 rare books, soaring ceilings and thick adobe walls ooze history. Seven luxurious rooms face a verdant central courtyard, and its restaurant is known for its mix of traditional local specialties, new takes on Mexican favorites and international specialties. Only 10 minutes from the city of Puebla, with its Talavera ceramic shops and other artisan vendors, La Quinta Luna also puts you within a few blocks of one of the world's largest pyramids and within striking distance of Mexico's second-highest volcanos.
Top tips: Cholula may be one of Mexico's most historic cities, but you shouldn't miss the ultra-modern Container City on the other side of town. Built of 50 shipping containers joined and painted in bright colors, the complex houses nearly 15,000 square feet of workshops, restaurants, galleries and shops selling Mexican designer clothes, vintage designer bicycles, and other fascinating wares. A music lounge, entertainment area and a bar stand ready to revive you if overload threatens.
Villas Flamingos, Isla Holbox, Qintana Roo (Yucatan Peninsula). $141-$399. Rebuilt after a hurricane in the mid-2000s, this is an ecotourism complex just outside of the tiny village of Holbox, the island's only settlement. Long a haven for people escaping from the world, Holbox has become known primarily as the convention center for hundreds of rare and magnificent whale sharks. Villas Flamingos borrows its style from the island, with thatched roofs, vivid colors, beds draped in mosquito netting and seashell showerheads. Its simple elegance melds seamlessly with its eco-consciousness — gray water is used to water the little gardens behind each of its 18 rooms. When the whale sharks are not in residence (the season is mid-May to early September), the island offers plenty of other adventures in nature.
Top tips: Holbox is a seafood-lover's heaven. Do nothing else until you've had the super-fresh mango/octopus/chile ceviche at Villas Flamingos, and don't leave town without tasting the lobster pizza at Edelyn, off the main plaza next to the grammar school. Between the drive and the ferry, Holbox is a good three hours from Cancun airport. If you're feeling adventurous, take one of the semi-private lanchas — it will take half the time to get across the lagoon.
Quinta las Acacias, Guanajuato, Guanajuato. $147-$385. Though largely overshadowed by San Miguel de Allende's huge appeal to foreign tourists, Guanajuato is one of Mexico's most beautiful and hospitable colonial cities, with picturesque hills that make San Francisco look like the Bonneville Salt Flats and a passel of unversities that fuel a lively and intelligent cultural atmosphere. Quinta las Acacias, converted from a 19th century French-style residence in one of Guanajuato's loveliest neighborhoods, is an alluring fusion of Mexican color and beauty with European luxury. The 17 large suites, individually decorated to reflect the hotel's historical origins from two continents, have mountain or park views.
Top tips: The new Mexican Suites behind the the cacti garden are delightful, and somehow more appealing than the Classic Europeans rooms. A leisurely 20-minute stroll takes you to the heart of downtown; it's an easy walk, but be sure to have good walking shoes and layered cothing; temperatures can change quickly.
More to consider: The following hotels' best rates come in at just a few dollars more than those above. Keep in mind that hotel rates can fluctuate with season, holidays and occupancy trends; you might very well find some of these charging less than $150 at slow times.
See original source HERE