Hotel Filter
Download here our complete hotel directory
Boutique hotels provide unique options in Riviera Nayarit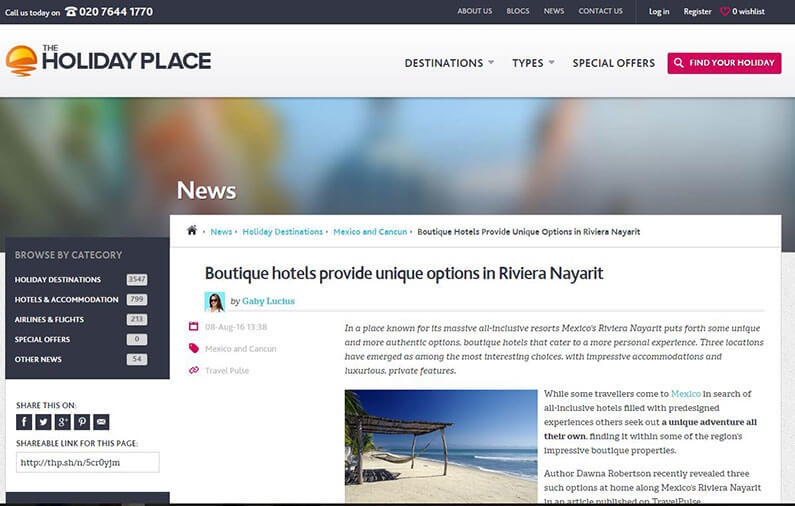 In a place known for its massive all-inclusive resorts Mexico's Riviera Nayarit puts forth some unique and more authentic options, boutique hotels that cater to a more personal experience. Three locations have emerged as among the most interesting choices, with impressive accommodations and luxurious, private features.
While some travellers come to Mexico in search of all-inclusive hotels filled with predesigned experiences others seek out a unique adventure all their own, finding it within some of the region's impressive boutique properties.
Author Dawna Robertson recently revealed three such options at home along Mexico's Riviera Nayarit in an article published on TravelPulse.
Located on the Pacific coast of Mexico, Riviera Nayarit is described as an area rich with boutique hotels, bed and breakfasts and eco-tourism inns. Robertson outlines some of the more interesting choices she found following a recent visit to the region.
Casitas del Mar
The small fishing village of Bucerias is home to the gated Casitas del Mar, filled with uniquely decorated casitas accented by items the owners collected during their own Mexican travels. The casitas are also outfitted with kitchen appliances, utensils, dinnerware and bottled water.
Each cottage includes al fresco dining on a private patio as well as room for indoor dining. In addition, common areas for guests to gather include the landscaped courtyard, wet bar, gazebo and mosaic tiled swimming pool. Guests also enjoy views of five-miles of beachfront property ideal for surfing, boogie boarding, bodysurfing and swimming.
The area is located close to nearby coffee shops, casual dining spots and a market, as well as the recently paved streets of Main Square. Casitas for two people start at $110 per night through October and four people can stay for just under $200.
Hotel Cielo Rojo
The next featured location is Hotel Cielo Rojo, found in the small beach town of San Pancho. Withonly nine guest rooms, the rest of the three-floor property is filled with a reception area and Bistro Organico, which serves up a complimentary breakfast to guests. The restaurant also presents fresh seafood and locally sourced and organic ingredients.
Visitors dine on a varied diet of fresh fish caught by local fishermen daily. From the bar, the author recommends a drink called Fuc-tonic, made with coconut water, ginger root, turmeric and lime.
Noted for its low-key, relaxing surroundings the property is decorated with Mexican artwork. There are single and double guest rooms along with some suites available. Priced from $130 per night, the rooms include free Wi-Fi and are air-conditioned.
First opened about a decade ago the hotel was recently granted Mexico Boutique Hotels status, a superb designation that requires five years of certification to attain.
Villa Bella
With impressive views of the Sierra Madre Mountains and Banderas Bay, Villa Bella offers a mere half-dozen suites, filled with exclusivity and tasteful designs. Grown from a private home, the owners take the experience they gleaned from working at larger Mexican hotels and constructed their own property.
Known for its colourful gardens, all of the villa-style suites include their own private bathrooms, private balconies and kitchenettes. As well, the rooms are air conditioned with a television and arepet-friendly.
Vila Bella is located in La Cruz de Huanacaxtle, a small fishing town, and most guests book about a week at a time, with some guests choosing to stay for several months. Nighty rates through October range up to $220 with some seasonal promotions available too. Villa Bella provides complimentary breakfast for guests, a lap pool, housekeeping service and guests may request spa treatments.
Other than these three properties, other top boutique-style accommodations the author recommends in the region include Imanta Resort Punta de Mita, Sayulita's Haramara Retreat for yoga enthusiasts, the organic farm of Mar de Jade in Chacala and Punta de Mita's Hotel Cinco.
Quickly emerging as one of Mexico's most desirable destinations for tourists, the Nayarit Riviera offers visitors a taste of rural Mexico; noted for its strong surf, charming towns, warm climate and miles of coastline. Visitors commonly enjoy dining on fresh seafood, taking in native wildlife and basking in the beauty of virtually untouched, natural scenery.