Hotel Filter
Download here our complete hotel directory
Celebration of the Ninth Award Ceremony of Thierry Blouet Trophy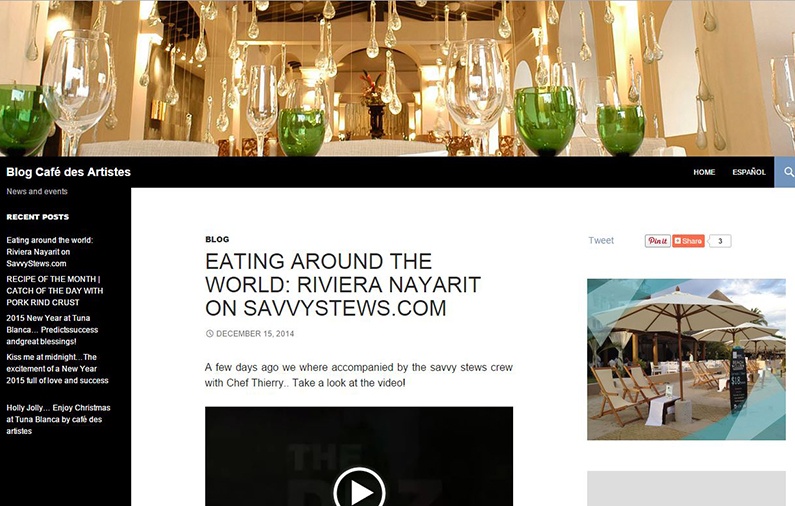 On February 18, the 9th Thierry Blouet Trophy took place in the luxurious restaurant Café des Artistes; renowned hotel chefs competed this 2014, such as: Vidanta Group, Villa Premiere, Haramara Retreat, Four Seasons Punta Mita, Hotel San Bernardo, and Coco Tropical Restaurant.
As well as prominent personalities of the Gourmet world, Roland Menetrey, Gerard Dupont and Thierry Blouet among others, who with their experience and knowledge evaluated the participating Chefs from different hotels located in Jalisco and Nayarit.
The participating Chefs prepared a variety of sophisticated dishes in different courses, which were evaluated by the experts, and at the end received acknowledgements and gifts from the different sponsors, as are El Barranqueño, Par de France, Kitchen Aid, Tequila Patrón, Vinoteca, L'Bristo, Vallarta Opina, Grupo Modelo, Hotel Catedral, Equipandose, La Academie Culinaire de France, Zuno, Lechugart, Universidad del Valle de México, Universidad Tecnológica de Bahía de Banderas, Canirac and Espacio Gourmet.
The first place was taken by Chef Martin Flores Verduzco of the Four Seasons Punta Mita Hotel, who received the statue for Commemorative IX Thierry Blouet Jalisco – Nayarit 2014 from Chef Thierry Blouet and the Academie Culinaire de France medal from Gerard Dupont, President of the aforementioned; the second place, Miguel Molinero of Vidanta Group received the Medal Vallarta Opina from Lic. Reyes Brambila, General Director of Editorial Group Vallarta Opina.
The ceremony evening was enjoyed by the guests of the event, who delighted in a spectacular dinner with sophisticated dishes and exquisite beverages of original flavors from the famous restaurant.