Hotel Filter
Download here our complete hotel directory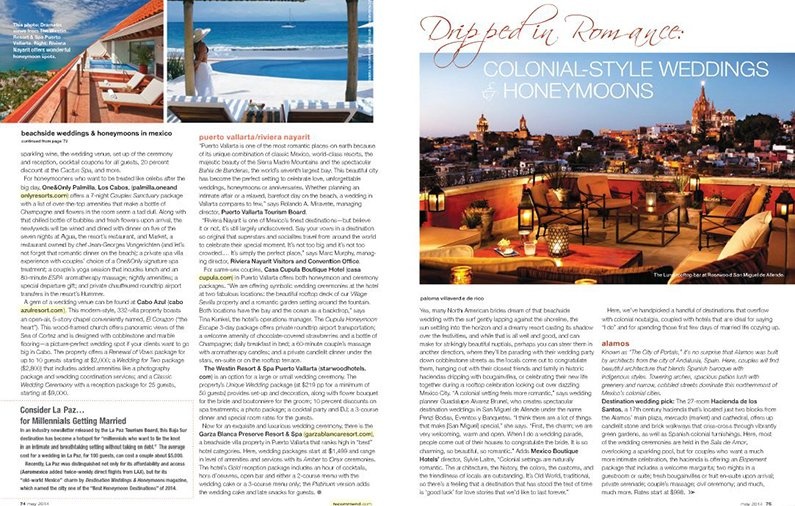 COLONIAL-STYLE WEDDINGS HONEYMOONS
Yes, many Northe American brides dream of that beach side wedding whit the surf gently lapping againist the shorline, the sun settiing into the horizon and a dreamy resort casting its shadow over the festivities, and while that is all well and good, and can make for strikingly beautiful nuptials, perhaps you can steer them in down cobblestone streets as the locals come out to congratulate them, hanging out with their closest friends and family in the historic haciendas dripping  with bougainvillea, or celebrratin their new life together during a rooftop celebration looking out over dazzling Mexico City. "A colnial setting feels more romantic", says wedding planner Guadalupe Alvarez Brunel, who creates spectacular destination weddings in San Miguel de Allende under the namePenzi Bodas, Eventos y Banquetes " I think there are a lot of things that make (San Miguel) special", she says. "First of the charm; we are very welcoming , warm and open. When I do a wedding parade, people come out of their houses to congratulate the bride. It is so charming, so beautiful, so romantic. Adds Mexico Boutique Hotels´director, Sylvie Laitre, "Colonial settings are naturally romantic. The architecture, the history, the colors, the customs, and the friendliness of the local outstanding, It´s Old World, traditional, so there´s a feeling that a destination that has stood the test of time of time is good luck" for love stories that we´d like tolast forever."
Here we´ve handpicked a handful of destinations that overflow with colinial nostalgia, coupled with hotels that are ideal for saying "I do" and for spending those fisrt few days of married life cozying up.
ALAMOS
Known as "The City of Portals," it´s no sorprise that Alamos was built by architects from the city of Andalusia, Spain. Here, couples will find beautiful architecture that blends Spanish baroque with indigenous styles. Towering arches, spacious patios lush with greenery and narrow, cobbled streets dominate this northernmost os Mexico´s colonial cities.
Destination wedding pick: The 27-room Hacienda de Los Santos, a 17th century hacienda that´s located just two blocks from the Alamos´main plaza, mercado (market) and the cathedral, offers up candlelit stone and brick walkways that that criss-cross through vibrantly grees gardens, as well as Spanish colonial furnishings. Here, most of the wedding ceremonies are held in the Sala de Amor, overlooking it sparkling pool, but for cupoles who want a match more intimated celbration, the Hacienda is offering and elopementts packages that inludes a welcome margarita; two nights in a guest room opr suite; fresh bougainvillea or fruit en-Suite upon arrival; privated serenade; couples massages; civil ceremony; and much much more. Rates strat and 998.