Hotel Filter
Download here our complete hotel directory
Lap of luxury – Mexico´s interior cities offer myriad ways to pamper groups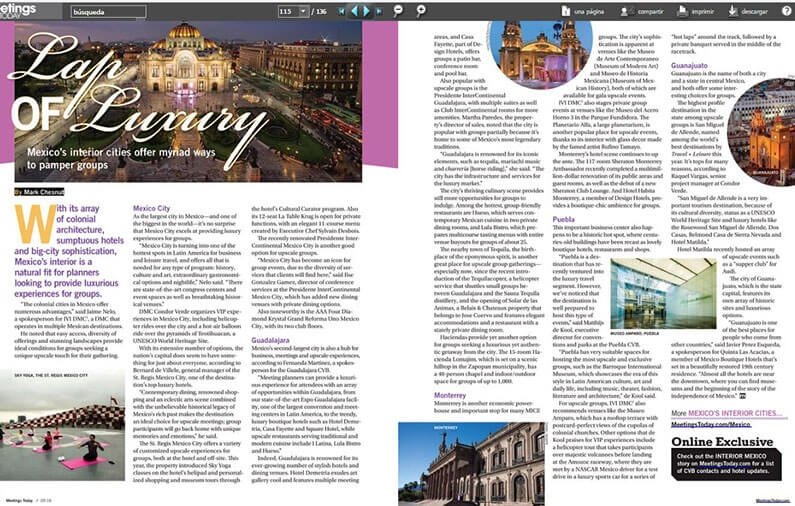 With its array of colonial architecture, sumptuos hotels and big city sophistication, Mexico´s interior is a natural fit for planners looking to provide luxuries experiences for groups.
"The colonial cities in Mexico offer numerous advantges" said Jaime Nelo, a spokerperson for IVI DMC, a DMC that operates in multiple Mexican destinations.
He noted the easy access, diversity of offerings and sttuning landscapes provide idealconditions for groups seeking a unique upscale touch for they gathering .
Mexico City 
As the largest city in Mexico – and one of the biggest in the world – it´s no surprise that Mexico City excels and providing luxury experiences for groups.
Mexico City is turning into one of the hottest spots in Latin America for bussines and leisure travel, and offers all that is needed for any type of program: history, culture and ar, extraordinary gastronomical options and nightlife.Nelo said "There are state-of-the-art congress center and events.
Guanajuato
Guanajuato is the name of both a city and a state in Central Mexico, and both offer some interesting choices for groups. The highest profile destination in the state among upscale groups is San Miguel de Allende, named among thr world´s best destinations by Travel + Leisure this year. It´s top for many reason, according to Raquel Vargas, senior project manager at Condor Verde.
"San Miguel de Allende is a very important tourism destination, because of its cultural diversity status as a UNESCO World Heritage Site and luxury hotels like Rosewood San Miguel de Allende, Dos Casas, Belmond Casa de Sierra Nevada and Hotel Matilda."
Hotel Matilda recently hosted an array of upscale events such as a "supper club" for Audi.
The city of Guanajuato, which is the state capital, features its own array of historic sites and luxurious options.
"Guanajuato is one of the best places for people who come from other countries" said Javier Pérez Esqueda, a spokerperson for Quinta Las Acacias, a member of Mexico Boutique Hotels that´s set in a beautifully restored 19th century residence. "Almost all the hotels are near the downtown, where you can find meseums and the beginning of the storu of the independence os México."
See original source HERE