Hotel Filter
Download here our complete hotel directory
Let's Road Trip Through Mexico!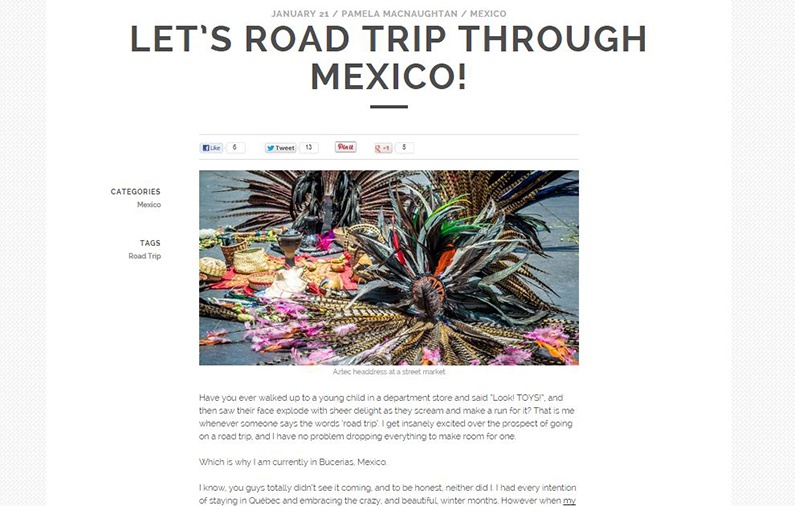 Have you ever walked up to a young child in a department store and said "Look! TOYS!", and then saw their face explode with sheer delight as they scream and make a run for it? That is me whenever someone says the words 'road trip'. I get insanely excited over the prospect of going on a road trip, and I have no problem dropping everything to make room for one.
Which is why I am currently in Bucerias, Mexico.
I know, you guys totally didn't see it coming, and to be honest, neither did I. I had every intention of staying in Québec and embracing the crazy, and beautiful, winter months. However when my friend Christine suggested a road trip through interior Mexico, I was more than happy to ditch winter and book a flight to Puerto Vallarta.
Hello sunshine, tacos, and the country of Mexico, I missed you.
The Plan…
When it comes to travel and adventure, I need very little coaching. In fact, don't even bother tempting me with the idea of an adventure unless you are serious about doing it because you will crush my soul if you change your mind. And then I'll have to kill you, or stop being your friend, or eventually forgive you and just hold a wee grudge for an extra week.
The best part of planning a road trip is deciding where to go – even though there is a chance that you will change your mind once you're on the road. This is our route as it stands right now:
Mexico Road Trip Map
Bucerias, Guadalajara, Guanajuato, Mexico City, Veracruz, San Cristobal de las Casas, Oaxaca, Puerto Escondido, and then along the coast to Puerto Vallarta, and back to Bucerias. The entire trip will be 15 days and will focus on food, culture, and of course the beauty of Mexico. We'll be driving Christine's van, leaving her kids and husband behind, and looking for unique and interesting things to do and see, and featuring some of Mexico's most beautiful boutique hotels.
BREAKING NEWS: I am so excited to announce that we are now also going to TAPACHULA and staying at an amazing coffee plantation, Argovia Finca Resort (thanks to our friends at Hoteles Boutique Mexico)!
I've travelled through interior Mexico before, by bus, but this is different. This time I'm driving around with a friend and have the ability to stop and take photos whenever I want. The freedom of that alone is enough to make me giddy for a year. This road trip is going to be epic, I can feel it in my bones.
Follow Along!
Photography and video will be a big part of how I share my experiences on the road trip, as well as social media. We'll be writing a couple articles for Travel + Escape, and I'll be highlighting some of my favourite experiences here on the blog, as well as on Facebook, Twitter, and Instagram.
See original source HERE