Hotel Filter
Download here our complete hotel directory
Mexi – Go! Rancho Las Cruces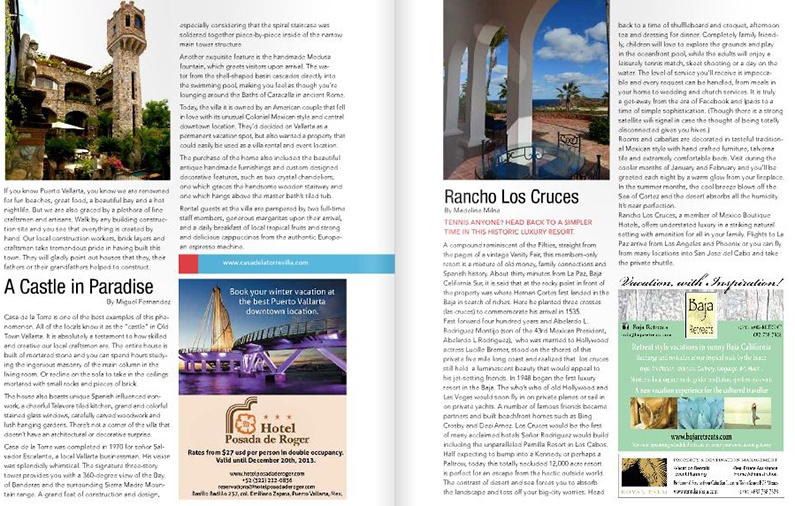 TENNIS ANYONE? HEAD BACK TO A SIMPLER IN THIS HISTORIC LUXURY RESORT
A compound reminiscent of the Fifties, straight from the pages of a vintage Vanity Fair, this members-only resort is a mixture of old money, family connections and Spanish history. About thirty minutes from La Paz, Baja California Sur, it said that at the rocky point in front of the property was where Hernan Cortés first landed in the Baja in search of riches.  Here he planted three crosses (Las Cruces) to commemorate his arrival in 1535. Fast forward for hundred years and Abelardo L. Rodriguez Montijo (son of the 43th Mexican President, Abelardo L Rodríguez) who was married to Hollywood actress Lucille Bremer, stood on the shores of this private five mile long coast and realized that las cruces still held a luminescent beauty that would appeal to his jet-setting friends.
In 1948 began the first luxury resort in the Baja. The who's who of old Hollywood and Las Vegas would soon fly in on private planes or sail in on private yachts. A number of famous friends became partners and built beachfront homes such as Bing Crosby and Dezi Arnes. Las Cruces would be the first of many acclaimed hotels Señor Rodríguez would build including the unparalleled Palmilla Resort in Los Cabos. Half expecting to bump into a Kennedy or perhaps a Paltrow, today this totally secluded 12 000 acre resort is perfect for an escape from the hectic outside world. The contrast of desert and sea forces you to absorb tha landscape and toss off your big-city worries. Head back to a time of shuffle board and croquet, afternoon tea and dressing for dinner. Completely family friendly, children will love to explore the grounds and play the oceanfront pool while the adults will enjoy a leisurely tennis match, skeet shooting or a day on the water. The level of service you'll receive is impeccable and every request can be handled, from meals in your home to wedding and church services. It is truly a get-away from the era of Facebook and Ipads to a time of simple sophistication. (Though there isa strong satellite wifi signal in case the thought of being totally disconnected gives hives.)
Roms and Cabañas are decorated in tasteful traditional Mexican style with a hand crafted furniture, talavera tile and extremely comfortable beds. Visit during the cooler months of January and February and you'll be greeted each night by a warm glow from the fireplace. In the summer months, the cool breeze blows off the Sea of Cortez and desert absorbs all the humidity. It's near perfection. Rancho Las Cruces, a member of Mexico Boutique Hotels, offers understated luxury in a striking natural setting with amenities for all in your family. Flights to La Paz arrive from Los Angeles and Phoenix or you can fly rom many locations into San José del Cabo and take the private shuttle.