Hotel Filter
Download here our complete hotel directory
Mexico´s secret paradise, Isla Holbox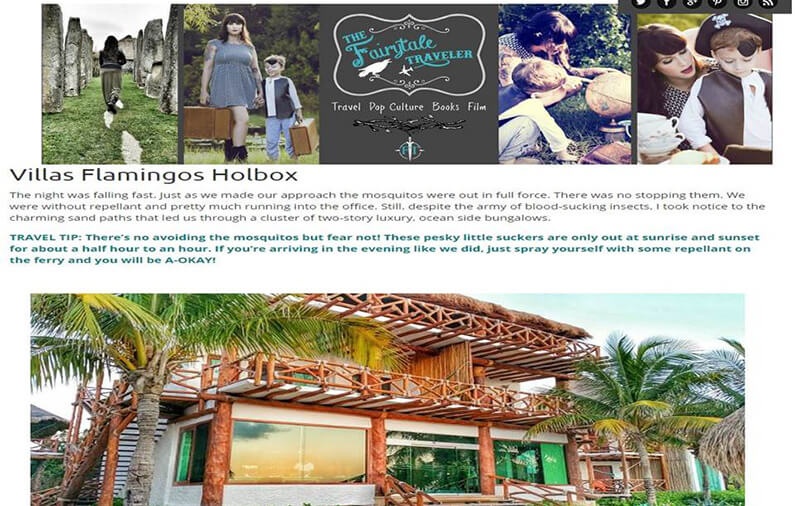 Villas Flamingos Holbox
The night was falling fast. Just as we made our approach the mosquitos were out in full force. There was no stopping them. We were without repellant and pretty much running into the office. Still, despite the army of blood-sucking insects, I took notice to the charming sand paths that led us through a cluster of two-story luxury, ocean side bungalows.
TRAVEL TIP: There's no avoiding the mosquitos but fear not! These pesky little suckers are only out at sunrise and sunset for about a half hour to an hour. If you're arriving in the evening like we did, just spray yourself with some repellant on the ferry and you will be A-OKAY!
We made our way to the reception entrance. Hand laid steps led to a beautiful and elegant, single-paned, automatic glass door. It reminded me of something you would see in a high end spa. Still competing with the diminishing light, I knew once I made my way to our hut it would be dark and my inspection of the property would have to wait until sunrise.
We were led to our room, just a few short steps from the main reception building. The soft waves of the Gulf gently rolling onto the sand just feet away. My excitement to see our home for the next three nights was gaining as we approached our very own luxury bungalow. On our timbered porch sat two hand-crafted loungers, a side table and hammock. I was smitten just standing there, but I in no way would have been able to prepare myself for what was inside…
To be continued…
Follow along on our mother and son adventure
as we share our Villas Flamingos experience and tell you all about this amazing boutique resort and Isla Holbox, undoubtedly the gem of the Caribbean. We'll share with you a beautiful photo essay of the island's street art, and give you tips on what do do while you're in paradise!
Special thanks to our sponsors:
While we have been sponsored by the following brand with fully paid experiences, this in no way shapes our opinions or reports. Everything you read is legit from our hearts to your eyes. They just make bringing you the deets affordable, and we're okay with that!
SEE THE ORIGINAL SOURCE HERE