Hotel Filter
Download here our complete hotel directory
Most romantic Mexico beaches / USA Today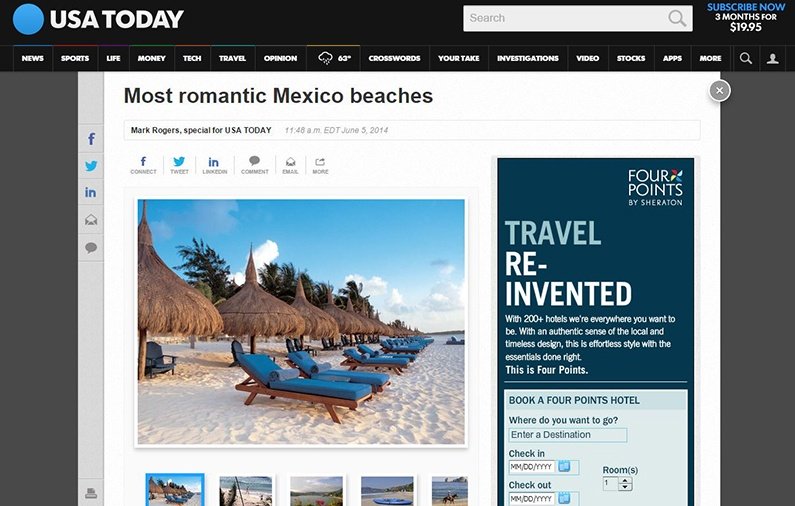 Romantic-minded couples of all stripes have one thing in common: their attention is firmly focused on their beloved. But once a couple decides on a Mexico beach vacation, it's definitely not a one-size-fits-all proposition. One couple's eco-adventure might be another's dull-as-dishwater vacation. Conversely, a couple's wild night out on a beach town, complete with nightclubs and bright lights, might leave a quieter couple sharing a pounding headache. Here are the top five romantic beaches in Mexico. Each of them is slightly different from the other, with their own unique appeal, although they all have something in common – glorious expanses of white sugar sand, stunning azure seas, and cobalt blue skies.
Maroma Beach, Riviera Maya
While Maroma Beach is only 30 miles south of Cancun, it feels as though it's a world away. The glamour is there — but not the glitz. Here, lovers can relax on a serene expanse of gleaming white sand, within a stone's throw of beach butlers eager to supply a handcrafted cocktail. Maroma Beach is low on distractions, which makes it unappealing for frenetic fun seekers and perfect for couples who want to zero in on each other. The prevailing tone is one of eco-consciousness and the serene green tropical backdrop matches the sea in its natural beauty. The world's second-largest barrier reef is nearby, offering couples prime conditions for an enchanting snorkeling excursion.
There are only a handful of resorts on Maroma Beach, all high-end, including the Belmond Maroma Beach Resort & Spa. The property has high-style stucco huts with thatched roofs, an observation tower providing a 360-degree view, and a spa utilizing therapies and techniques of the ancient Mayans. The resort's Oceanfront One-Bedroom Suites have a patio with a plunge pool and private palapas perfect for a soothing couple's massage.
Secrets Maroma Beach Riviera Cancun is adults-only, with the added appeal of being a top-of-the-line all-inclusive resort, meaning a couple's romantic getaway is paid for in advance, without need for dipping into a pocket to pay for a meal or drink.
Playa la Ropa, Zihuatenejo
Zihuatenejo is a charmed place in Mexico. All of the modern resort construction happened a few miles away in its sister destination, Ixtapa. This left Zihuatenejo's quaint fishing village atmosphere relatively intact, although visitors will still find high style among its restaurants, spas, and small hotels. The town's not-to-be-missed beach is Playa La Ropa, celebrated for its white sugar sand, gentle waves and swaying palms. The nearly mile-long Playa La Ropa is a great place for lovers to settle in for the day, where they can kick back on beach loungers or get active with parasailing, jet skis or a catamaran cruise on Zihuatenejo Bay. When hunger strikes, couples can enjoy a sumptuous lunch of spicy ceviche and a cold margarita, only steps away at one of the beachside eateries.
Romantic lodgings at Playa La Ropa can be found at La Casa Que Canta, a boutique hideaway with only 25 rooms and villas perched on a cliff overlooking the ocean. This is an adults-only property that puts a premium on privacy. For an extra splash, book one of the suites with a private plunge pool or plan a private dinner on the terrace.
Playa del Amor, Cabo San Lucas
Translate Playa del Amor and you get "Lover's Beach," which truly lives up to its name. The beach is at the tip of the Baja Peninsula, in Cabo San Lucas. Couples don't stroll to Playa del Amor – they have to amble down to the marina and hitch a ride across open water aboard a water taxi or glass-bottom boat. Once there, they can marvel at Los Cabos' iconic sight, the towering El Arco rock arch. Lovers will have to pack their own sunscreen and picnic provisions, since the beach is free of vendors. While the crescent-shaped beach is beautiful, the waters can be treacherous; swimmers should take extra care and only get wet in the waters facing the Sea of Cortes side, and not the Pacific Ocean side.
Playa del Amor is quiet and serene; Cabo San Lucas is known for its wild nightlife, world-class dining and enticing shops, providing couples with plenty of appealing distractions after a day on the beach. There are many resorts to choose from in Los Cabos; lovers looking for luxurious seclusion should check out Esperanza, an Auberge Resort, with its spa suites, private infinity-edge hot tubs and private beachfront dinners for two.
Akumal Beach, Riviera Maya
Couples with an eco-tourism bent will love Akumal Beach. Akumal means "Place of the Turtles" and the waters of Akumal Bay are home to the endangered Green Sea Turtle. Sea turtles customarily lay their eggs during the months of May through November, and the beaches on either side of Akumal's coast are protected areas to ensure optimum conditions for the tiny hatchlings.
The beach is about an hour's drive south of Cancun. Once there, couples can enjoy the protected reef's white sand beach and warm waters, perfect for a snorkeling or dive adventure; the Akumal Dive Shop can set couples up with all the gear they'll need.
For a change of pace, lovers can visit the nearby town of Playa del Carmen, where a hip Euro-centric nightlife, shopping and dining scene flourishes.
Akumal has a selection of large all-inclusive resorts with all the bells and whistles. For something more intimate, couples should consider the eco-conscious Vista del Mar, a modestly-priced hotel right on the beach, looking out on Half Moon Bay.
Beaches of Holbox Island
The island of Holbox (pronounced "Hol-bosh") is 18.5 miles long and only 1.2 miles wide at its widest point. Visitors are forgiven if they feel like the whole island is one huge beach, since even the main road is covered in white sand. This is a barefoot paradise, where only a handful of cars are to be seen, with most people making their way in golf carts and dune bikes.
Holbox Island lies off the northern tip of the Yucatan Peninsula, about a 30-minute ferry ride from the mainland. The ambience blends Mexico culture and friendliness with a laidback Caribbean island vibe that is guaranteed to lower the blood pressure. A high point of any visit to Holbox Island is the chance to swim with huge whale sharks, while birdwatchers are enthralled by the 100 different species either nesting or passing through.
The island's hotels are on the boutique side, with the best of them offering barefoot luxury. A standout is CasaSandra, a Mexico Boutique Hotels property brimming over with original art and well-known for its restaurant blending Mexican cooking and French haute cuisine.