Hotel Filter
Download here our complete hotel directory
Puebla brings history, art and food together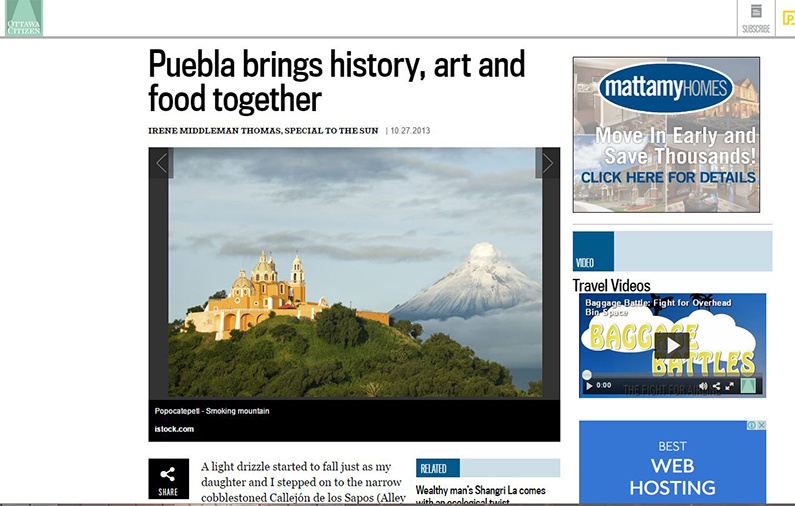 A light drizzle started to fall just as my daughter and I stepped on to the narrow cobblestoned Callejón de los Sapos (Alley of the Toads).
We ducked into the tiny folk art shop next to us to stay dry, and gazed at the impossibly vast array of wares on its narrow walls. A tap on my shoulder surprised us, as the handsome young clerk of our next-door hotel, Mesón Sacristía de la Compañía, had hunted us down on the street with an umbrella. "I thought you might need this," he smiled. Not only did we need the umbrella, but his friendly and hospitable touch started us off on a delightful, if moist, afternoon in Puebla.
Puebla is a gorgeous Spanish colonial treasure of a city some 80 kilometres southeast of Mexico City (about two hours by car or bus.) With about 2.6 million inhabitants, it is the fourth largest city in Mexico. Puebla was the site of the famous 'Cinco de Mayo' battle in 1852. It is also the capital of the state of Puebla, one of Mexico's 36 states.
What Puebla and its neighbouring towns offer is a vibrant, yet peaceful, incredibly beautiful area with a year-round mild climate, unique architecture, cobblestoned streets, fantastically ornate churches and cathedrals, a friendly and traditional Mexican culture, exquisite artesanía, spectacular natural scenery and some of the nation's most beloved and well-known gastronomy.
The zócalo, or main plaza, is the place to begin your Puebla experience. Heart of the town centre, a UNESCO World Heritage Site, Puebla has more than 2,600 buildings dating from the 16th to 19th centuries that are catalogued as being of great architectural and cultural value. Puebla's zócalo, La Plaza de la Constitución, is where Poblanos meet, greet, live and love, and you will have to visit it at various times of day to really "feel" it. Full of people at any time of day and late into the night, here we saw lovers embracing, children chasing huge displays of multicolored balloons, ice cream cone stands, freelance guitarists, stray dogs and old folks gossiping.
A tree-lined site fronting sidewalk cafes resembling those of a European city, the zócalo is centered by the enormous Catedral de Puebla, dating from 1575. The cathedral, a wildly ornate, carved masterpiece that shows off Puebla's status as a wealthy Spanish colonial city, is dominated by two 70-metre towers. Look up — the tiled domed ceiling was built to resemble St. Peter's in Rome.
Puebla's tiled buildings are truly magnificent and in amazingly good condition. You'll see courtyards, balconies, stone carvings and many other touches reminiscent of Spain's Andalucia or Toledo, where Talavera pottery originated. Afterwards, head back to the zócalo for a taco árabe (a locally popular snack similar to Middle Eastern gyros), or a menjul, a Mexican version of a mojito with rum, sugar and mint at the Bar Los Portales at the Hotel Royalty.
Then stroll over to the baroque-style Acatepec Church, and the Santa Maria Tonantzintla Church with an extraordinary interior formed by walls, column arches and vaults, adorned with angels and cherubs, flowers and fruit. You'll also enjoy the whimsical Casa del Alfenique, Casa de los Muñecos (a tiled mansion with depictions of dancing figures, or dolls all over it) the Fuerte de Loreto, where the Cinco de Mayo battle took place on May 5, 1862, the Municipal Palace and the Government Palace, with a clear French design.
The Museo Amparo, free admission, 2 Sur 708, holds one of Latin America's finest collections of Mexican art. In two colonial 17th and 18th century buildings, the Museo Amparo displays art from 2,500 BC to the present.
Puebla is renowned for its folk art and high-quality Talavera ceramic and tile, which it has produced since 1550, and which adorns its buildings. Visit Talavera Armando at 6 Norte 408 for a fascinating workshop tour as well as the shop selling their exquisite and certified talavera dishes, tiles and decorative ítems.
Sunday is antiques day in Puebla, and the afore-mentioned Callejón de los Sapos (Alley of the Frogs) is the place to go. You'll find everything from fine Talavera pottery to 1950s Mexican movie posters, as well as paintings displayed on the cobblestone streets by various artists at the Barrio del Artista at the Plaza del Torno. Then finish off at the Mercado de Artesanías, an 18th-century market selling crafts from the state of Puebla, including locally made sweets called dulces de Santa Clara.
The gastronomy of Puebla is famed throughout the world. Due in part to the continuous affluence in the region, Puebla's chefs came up with some of the most beloved dishes in Mexico, namely mole poblano (the exotic dark sauce made with some thirty ingredients including chilies, cinnamon and chocolate, very well prepared indeed at the Mesón Sacristía de la Compañía,) chilies en nogada (available in August and September only), cemitas (a type of sandwich,) and some of the best regional sweets in Mexico.
Be sure to visit Cholula, a small town just across the river from Puebla which is home to an enormous pyramid built in the Second Century B.C., now covered by a church.
Climb outside to the top for an impressive view of four snow-capped volcanoes, or explore the tunnels and chambers inside. Cholula has many churches as well and a wide, much more placid town plaza surrounded by shops and bistros. It is also home to the internationally renowned University of the Americas, which many students from the U.S. and other countries attend.
The delightful Quinta Luna is an intimate, luxurious and very well-run hotel here (try to arrive in time for their once-a-month classical recital in the courtyard), and it's walking distance from the pyramid, market and plaza. The plush presidential suite is in high demand for honeymoons — a perfect fit.
Much more awaits those who travel to Puebla — try Africam, a safari park with almost 200 species of African and other wild animals, or many kinds of adventure travel, including white water rafting, spelunking and rock climbing, hiking, or exploring archeological ruins. You'll be proud of your "sister city."
www.visitpuebla.travelwww.mexicoboutiquehotels.org (both Mesón Sacristía de la Compañía and Quinta Luna belong to this independently-owned hotel group)If you go
You can fly to Puebla via Mexico City; or fly into the capital to find an airport bus terminal from which you can take an Estrella de Oro luxury bus directly into Puebla for about $15 US each way, including assigned seats, a light lunch, an on-board movie with earphones and surprisingly good security (they X-ray all luggage and video each passenger before departing.) The trip takes about two hours and taxis await at the bus terminal in Puebla to whisk you to your hotel.
See the orginal source HERE