Hotel Filter
Download here our complete hotel directory
Puerto Vallarta Hideaways: eco-chic to uber-luxe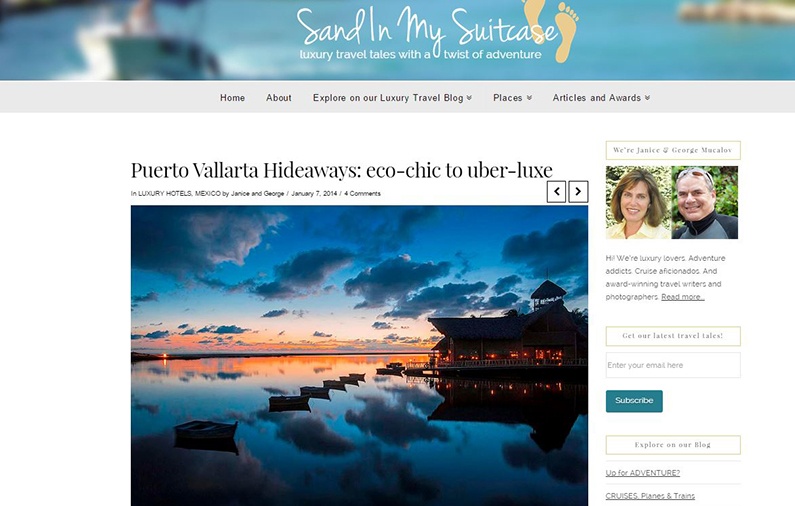 Row a boat to your candle-lit beach bungalow? In Puerto Vallarta, you have to venture a bit further afield to find these boat-access-only bungalows. But, then, the most special resort experiences are often a little off the beaten path, right?
Around Puerto Vallarta, three boutique beach hideaways are worth the extra drive from the airport.
Deluxe Puerto Vallarta hideaways
We've chilled out at all of them. (We know, it's a tough job.) And we can personally vouch that each is a worthy vacation experience in itself. Just be forewarned: re-entering the real world is a tad difficult afterward.
1) Hotelito Desconocido
A leader among eco-chic resorts when it opened to rave reviews over a decade ago,Hotelito Desconocido (a member of Mexico Boutique Hotels) was bought by new owners in late 2007. They shut it down in 2009 for a complete top-to-bottom renovation – and it reopened in late 2011
Hotelito is located about a 90-minute drive south of Puerto Vallarta on virgin coastline. (Transportation is provided to/from the airport.)
It's built around a lagoon sanctuary listed by UNESCO as a bird paradise aquifer.
Many of the 27 new palafitos (bungalows) perch on stilts over the bird lagoon. Simply but charmingly decorated, they have outdoor bamboo showers and wood floors. Round king-size beds dominate the center of the room. And instead of a number, a bird or animal figure identifies your palafito. (We stayed in El Garza, which means "heron.")
Some palafitos you even have to row a boat to get to.
The experience is so different from your usual Mexican resort that staying here almost feels like you've jetted away to some far-off island.
The resort is "greener" than before, so there's still no electricity. But a generator provides power a few hours a day, so you can recharge your electronic gizmos.
Outdoor bamboo showers are solar heated.
At night, flickering tiki torches light the meandering sand pathways, and the restaurant serves organic food (by candlelight).
What to do?
Help the resident biologists save endangered turtles and release them to the sea
Fish from your bungalow porch (you may find crab or snapper)
Take a panga ride in the lagoon to see herons, frigate birds and pelicans
Go kayaking
Indulge in an aromatherapy massage.
Or you can simply hang out in a submerged hammock in the saltwater pool.
Winter rates start at about $450 night (or $720 for an all-inclusive plan, minus liquor, for 2 people).
What we loved:
For lunch, you have to go in a rowboat across the lagoon to the beachfront restaurant.
Be aware of:
Make sure you put your make-up on before it gets dark! With no electricity, and only candles for light, it's hard to see if you're smudging your mascara or not.
2) Casa de Mita
This hideaway is a real gem.
Tucked off a dirt road, a 45-minute drive from the airport, it would be hard to find if not for the directions emailed in advance by the concierge for Mexico Boutique Hotels, to which Casa de Mita also belongs.
Once here, we didn't want to leave.
Powdery white beach? Check. Fab food? Check. Tasteful surroundings? Check.
The six rooms and two suites are individually decorated. Ours had a beachy feel with its pebble-floor rainshower, thatched palapa roof, gauzy curtains and even a gecko that peeked in.
But no matter the room you book, all have ocean views and are exquisite.
Think arched wooden windows, terraces, whitewashed walls, handcrafted Mexican furniture, big bathrooms with Aveda products, original oil paintings and luxurious linens.
Meals are served outside under the palm trees around a blue-tiled pool overlooking the sea.
There are no menus – the talented chef cooks what's fresh.
Dinner might start with a crab ravioli appetizer, followed by carrot-and-zucchini soup and then your choice of entrée.
It's so delicious that guests of the neighboring Four Seasons Punta Mita often prefer to dine at Casa de Mita (which accepts a few outside reservations).
Adding to the charm of the place is its casual, barefoot vibe.
There's no formal check-in, just an invitation to plop down in a sofa with a mojito while your bags are whisked to your room. There are no room keys (no need for locks as theft isn't a problem). And the owner's well-behaved dogs often pad about, looking to be petted.
If you feel the need for an outing, the friendly staff will drive you to the surf town of Sayulita or arrange stand-up paddling or snorkel excursions.
All meals, alcohol and airport transfers are included in the rates ($645 to $785 per couple in high season), making this a real deal for a luxury stay.
What we loved:
The atmosphere is warm and welcome – we felt as if we were staying at a wealthy friend's villa.
Be aware of: The beach isn't private, so while the section in front of Casa de Mita is clean and well maintained, you might see the occasional plastic bottle or other litter further down the beach.
See the original source HERE