Hotel Filter
Download here our complete hotel directory
Relax, Revitalize, Unwind! The Playa Escondida Boutique Hotel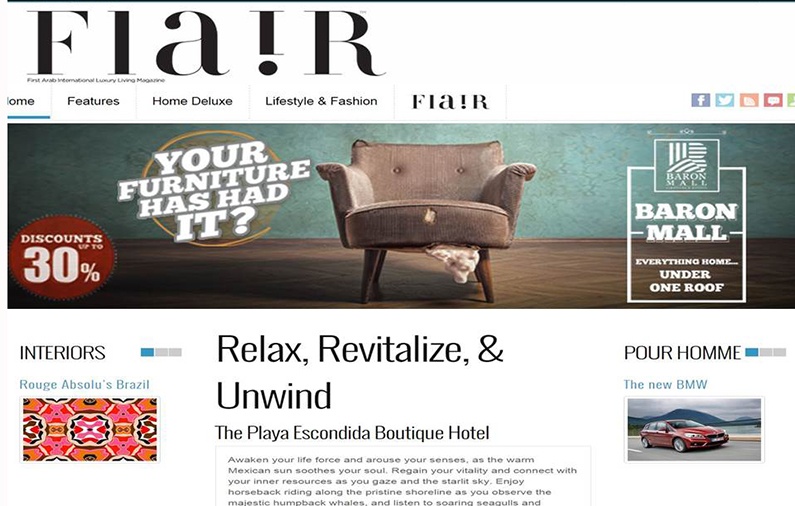 Awaken your life force and arouse your senses, as the warm Mexican sun soothes your soul. Regain your vitality and con- nect with your inner resources as you gaze and the starlit sky. Enjoy horseback riding along the pristine shoreline as you ob- serve the majestic humpback whales, and listen to soaring seagulls and chirping colorful birds, nestled in the dancing palm trees. Indulge in culinary delights, which will definitely tantalize your tastebuds.
The Playa Escondida boutique hotel, located in Sayulita, Riviera Nayarit in Mexico, provides the best of both worlds; this exquisite private hideaway offers both beach and jungle, ca- tering to all tastes out there.
When it comes to accommodation, there is a plethora of options–each more unique than the other–to choose from. Whether you go for the Templo del Mar options, which include the Ixchel Penthouse, Pasion, and Deseo, or the Lunas, the Sols, the Beach Villas, the Garden view rooms, the Bird Can- yon, and/or the Ocean View rooms, privacy, tranquility, and serenity are guaranteed.
boutiqueMoving on to the hotel's spa. Allow your spirit to roam free as you unwind, and let an expert masseuse sooth your body and soul with relaxing strokes; enjoy a combination of tropi- cal techniques, which will all leave you feeling revitalized. For ultimate relaxation, try the hotel's hot stone therapy; the penetrating warmth of the Ceboruco volcanic river stones are guaranteed to relax you and release your stubborn ten- sion, while truly heightening your senses. While you're there, also enjoy their signature kiwi and cucumber facials, then re- lax in an oriental ambience of the palm-thatched open air palapa cabanas with picturesque ocean views.
Getting married soon? Why not plan the ultimate destina- tion wedding and head down to the Playa Escondida, for a truly one-of-a-kind luxurious, fun, and memorable wedding? Another alternative would be planning your über-romantic honeymoon, which will definitely give you glorious memories to remember for the rest of your life.
You do not want to miss the hidden beach, which is acces- sible by swimming through an underwater tunnel. This excui- site gem is stashed away amidst the Mariettas Island; a small archipelago, a short distance from Punta Mita on the Bahia Banderas's northwest corner. Other than the impeccable view and–naturally–the exclusive privacy of this romantic spot, the islands are a sanctuary for thousands of birds and colorful marine life.
Want more outdoor activities…the hotel's got you covered.
Enjoy biking, snorkeling, whale watching, surfing, bird-watching, horseback riding, paddling, and unwind and tone your body with morning yoga classes.
For more info:
www.hotelesboutique.com/en/hotel/playa-escondida
+52 322 221 22 77
See the original source HERE