Hotel Filter
Download here our complete hotel directory
Top wineries in Mexico – Baja California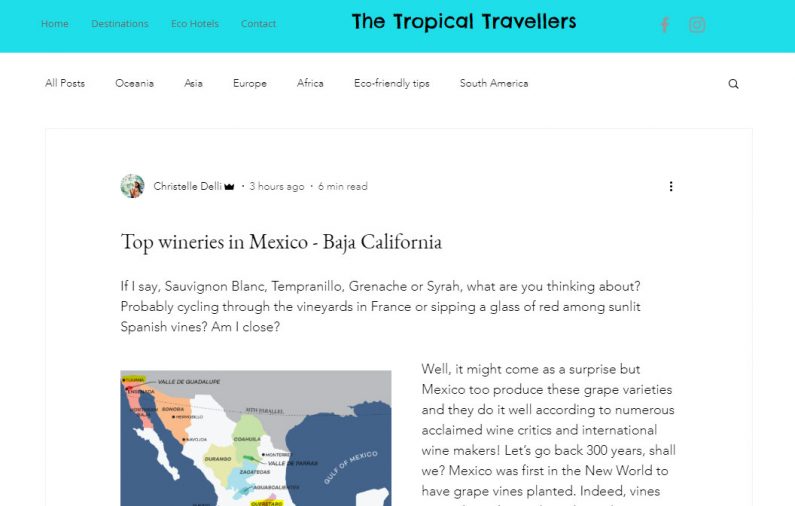 If I say, Sauvignon Blanc, Tempranillo, Grenache or Syrah, what are you thinking about? Probably cycling through the vineyards in France or sipping a glass of red among sunlit Spanish vines? Am I close?
Well, it might come as a surprise but Mexico too produce these grape varieties and they do it well according to numerous acclaimed wine critics and international wine makers! Let's go back 300 years, shall we? Mexico was first in the New World to have grape vines planted. Indeed, vines were planted as early as the 17th century by the Franciscan missionaries and grapes were used to make sacramental wines. Later on, missions were producing most of the Mexican wine.
However, despite a wine culture dating back to 300 years, the region has so far been overshadowed by other New World Wine Regions like the Napa Valley. It does seem that Mexico's wine is growing in popularity though and with the country brimming with young winemakers pioneering, travelling to other wine countries and experimenting new things, there's plenty of opportunities ahead for Mexican wines. If you're planning a trip to Mexico and you are a wine aficionado, you should probably explore the Baja California.
Baja California Wine history:
After being victorious of the Aztecs in 1521, Cortes demanded that Spanish grape varieties were planted in Mexico for wine-making purposes. Mexico's hot climate proved to be a challenge for wine production. However vineyards thrived in some higher altitude regions benefiting from a Mediterranean type of climate such as the Baja California.
Indeed the region benefits from a higher elevation which, combined with an ideal geographic location close to the breezy pacific ocean, allowed for vines to cool down at night after long and hot sunny days. Fast track to 2019, Mexico established itself as a prominent new world quality wine producer scoring a spot in the top 10 finalists in the international wine contest Concours Mondial de Bruxelles which took place in Switzerland earlier this year. 39 mexican wines were awarded and two even received a gold medal, a prize than less than 1% of wines in the competition receive. Most of the wines were from the Baja California region.
Why visit Baja California?
The heart of the Baja California is Valle de Guadalupe. The area produces nearly 90% of Mexican wine and almost all of the award-winning labels. Most popular grape varieties are reds due to the hot climate such as Grenache, Cabernet Sauvignon, Zinfandel, Tempranillo or Nebbiolo.
White wine amateurs, fear not though as some wineries produce spectacular Chardonnay, Chenin Blanc or Sauvignon Blanc too. A fine dining restaurant offering, often coming at a fraction of the price of California, a laid-back atmosphere coupled with a strategic geographic location being only a two hour drive from San Diego made it a popular destination fuelling the apparition of a plethora of small beautiful wineries. Valle de Guadalupe being at the heart of the region has naturally become a hot spot for tourists. The area brims with boutique wineries with limited and therefore exclusive wine production as well as talented chefs creating unique gastronomic experiences. Not only do people come for the beautiful wines and the food but there's also an interest in surprising and unique designer wineries and other desert style glamping options among sprawling vineyards. A weekend in the Valle de Guadalupe is a blissful journey into a laid -back land where wine and majestic views will take your breath away.Needless to say this is a must-go destination for wine lovers! Download the wine route map here if you're planning on spending some time there,Some other great wine areas we recommend to visit in Baja California include Valle de Ojos Negos and Valle de San Vincente.
Top wineries in Baja California:
The first wines, Chenin Colombard and Cabernet Sauvignon, were produced in 1988. The vineyards are set at the end of a dusty road in a beautiful valley with mountain views and a little pond lined with palm trees.
The perfect spot for a gorgeous wine tasting with a view. The winery produces iconic high quality wines using traditional methods and cutting-edge technology. The Monte Xanic Cabernet Sauvignon 2017 was awarded in the 2019 Concours Mondial de Bruxelles and The Gran Ricardo premium wine ( a blend of Cabernet Sauvignon, Petit Verdot and Merlot aged for 18 months in oak barrels) is also a great option.
Vineda de la Reina: Architect Roberto Curiel started making wine in 2006 as a hobby. The name means the queen's vineyard as a tribute for his wife.
How romantic! Thanks to his hard work and great technical skills, his passion soon turned into an award winning boutique winery. Indeed, 3 of their wines were awarded at the international competition in 2019 including Vino de la Reina Cabernet Sauvignon 2017, Vino de la Reina Syrah 2017 and Vino de la Reina Nebbiolo 2015. Wonderful wines, great cheese platters, sweeping views of the Valle de Guadalupe and excellent service make Vineda de la Reina a must experience for any wine aficionado travelling in the area.
Vena Cava: Known as the ' hippest winery in Mexico' and characterised by its unique upside down boat hull made of reclaimed fishing boats, the quirky winery was founded in 2005 by British couple, Phil and Eileen Gregory.
Their passion for nature and sustainability led them to choose an original design made of recycled materials for the boutique winery. The road to get there is a bit difficult but you'll be rewarded with gorgeous views, delicious wines and a food truck brimming with delicacies such as ceviche to complement your wine experience. If you stop there, try their Tempranillo and Sauvignon Blanc.
Chateau Camou: At the end of the Valle de Guadalupe lies a striking white building on a rugged terrain. Chateau Camou is one of the oldest wineries of the Valle de Guadalupe and produces some of the best wines this region has to offer. If your budget allows, I'd recommend getting the tasting (which offers 6 wines and a tour of the winery). The owners will give you a wonderful and thorough history lesson about wine making in Mexico. The winery is not pretentious and although there's a clear French influence, the place has a very Mexican and laid back atmosphere. Their Zinfandel 2014 has won some international competitions and is well worth the trip alone.

Adobe Guadalupe: Just 45 minute drive from the Mexican town of Tecate, Adobe Guadelupe is a European oasis in the rugged Mexican wine valley. The charming Spanish style winery includes a stunning courtyard and a beautiful fountain.
Picture this; you're sipping on one of their wines surrounded by gorgeous horses and vineyards, the cool pacific ocean breeze gently brushing your hair, feeling like you've stepped back in time. The atmosphere is authentic, charming and almost romantic. Where else could you possibly want to be? The owners moved from California to the Valle in 1998 seduced by the opportunities, the minerality and unique climate for wine-making. The first harvest was in 2000 and the quality has been consistent ever since producing some of the best wines in Mexico. The wines bear archangels' names and we'd recommend trying the Rafael and the blended Gabriel ( Merlot, Cabernet Sauvignon and Malbec).
Clos de Tres Cantos: What sets Clos de Tres Cantos apart from traditional wineries is the unique design of the buildings. Indeed, this is another quirky winery mostly made of reclaimed materials such as wood and glass.
The tasting room walls were built with stone and old wine bottles allowing for sunlight to stream in and fill the room. Another unique architectural detail is the unique pyramid shaped buildings. If you choose to have a wine tasting, you'll be spoilt with a complementary cheese platter. Fun facts about this winery; the wines bear philosophical names and the owners play music to the fermenting wines like Pink Floyd to ensure a good vintage.
Some other wineries worth visiting are Finca la Corodilla, Casa de Piedra and El Cielo. Finca la Corodilla is by far the most instagrammable spot of them all with a beautiful lush terrace offering sweeping views of the Valle. The boutique winery offers biodynamic and organic wines.
Casa de Piedra is one of the best wineries in the region with a beautiful wine lists including the Vino de Piedra a smoky blend of Cabernet Sauvignon and Tempranillo . Last but not least, El Cielo is another winery I would add to the list. Visiting El cielo is a unique experience. The winery is surrounded by olive groves and vegetable gardens giving an authentic fresh food feel to the place. Besides, only 6 years after opening, the astronomical themed winery has already won numerous awards for the quality of their wines. The wines are named after the glittering constellations that scatter the sky once the sun goes down. The Caipirinha 2016 recently won an international gold medal.
Where to stay?
If you're going to the Valle de Guadelupe for a couple of days, we would recommend you stay at the beautiful ALOU boutique hotel in Tijuana on the way back. The hotel offers quiet, clean, comfortable rooms with a hint of elegance and sophistication. Only an hour drive from Baja California on the way up to the border, this beautiful hotel is located in the heart of Tijuana. Despite its reputation for crime, Tijuana is a quickly becoming a tourist hot spot and the success is mainly fuelled by a blossoming gourmet scene from wonderful street food, food trucks and established restaurants.
We hope this article will inspire your next holiday or getaway in Mexico. Have you been to Baja California? We'd love to hear about your experiences in the comment box below 😉
Christelle and Dan
The Tropical Travellers
Original source HERE