Hotel Filter
Download here our complete hotel directory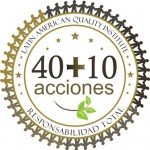 40 + 10 Acciones
LAQI 40 + 10 Acciones is the Latin American proposal for a fairer world, uniting companies and institutions committed to a common cause with new standards and quality procedures developed to guide our members towards taking "Total Responsibility." The goal is to establish a set of rules and standards that can be adopted by companies and incorporated into their visions and missions.
The principal objective of this new terminology, offered by LAQI (Latin American Quality Institute) to benefit its members, business and academic communities and society in general, is to define processes and actions that should be undertaken voluntarily by companies and institutions in Latin America based on internationally accepted models and inspired by the principles of institutions such as Global Compact, PRME and the United Nation's Millennium Development Goals.
The proposal is divided into 5 thematic areas, each designed to promote the concept of Total Responsibility within each interest group while at the same time strongly encouraging the continued evolution of the member companies. Although the topics concern distinct areas, they complement each other perfectly and strengthen the concept of Total Responsibility as a whole.
Total Quality
Total customer satisfaction.
Participatory management.
Development of human resources.
Commitment to goals.
Continuous improvement.
Management processes.
Delegation.
Dissemination of information.
Quality assurance.
Zero errors policy.
Corporate Social Responsibility
Transparency.
Establishment of public commitments.
Interaction with institutions representing varied interests.
Ability to attract and retain staff.
High degree of motivation and compliance of collaborators.
Ability to deal with conflict situations.
Setting short and long term goals.
Commitment from the company's senior management.
Creating intelligent organizations.
Support state efforts in the implementation of public policies.
Sustainable Development
Respect the limits of the ecosystem.
Use and promote the use of renewable energy.
Produce and consume materials full cycle.
Reduce the transportation of raw materials over long distances.
Avoid xenobiotics.
Respect and encourage natural biodiversity.
Increase eco-efficiency.
Effective action.
Restoration.
Common good ethics.
Fair Trade
Respect and concern for people and the environment.
Good working conditions and fair compensation.
Openness and transparency of the organizations' structures.
Protection of human rights, in particular women, children and indigenous people.
Education and participation in fair trade awareness campaigns.
Total production (or as much as possible) within the country or region of origin.
Involve producers, volunteers and employees in decision making that affects them.
Establish stable and long term business relationships.
Equal opportunities.
Reciprocity shares.
Education Quality
Commitment to norms and goals that are clear and shared.
Identification and recognition of values.
Professional leadership from the management.
Job security and strategies for staff development.
Well planned and structured curriculums
Climate conducive to learning.
Professional teachers
High expectations of students.
High level of involvement and support of parents.
Attention to the rights and responsibilities of students