Hotel Filter
Download here our complete hotel directory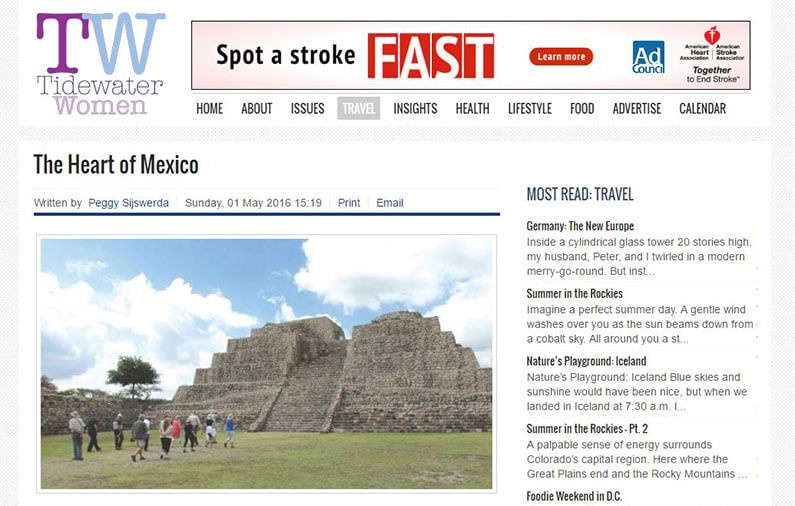 Fireworks light up the night sky as Peter and I sit on a rooftop bar, sipping tequila cocktails and nibbling on tapas. Lounge music plays softly as a warm breeze wafts across the tile rooftops of the surrounding town. Fashionable young people chat and laugh on couches nearby. It feels like we could be in Madrid, Buenos Aires, or Mallorca. In fact, we're in the middle of Mexico's heartland in the beautiful city of San Miguel de Allende.
About three hours northwest of Mexico City, San Miguel has been attracting ex-pats since the 1940s when Stirling Dickinson helped start an arts school for WWII vets. Today 10,000 U.S. and Canadian ex-pats choose to live here. No wonder. San Miguel is a beautiful city, rich in history and art, and Peter and I easily become enchanted. Our fall visit coincides with Mexico's Day of the Dead celebrations, and everywhere we turn colorful surprises await.
Both Peter and I adore Mexico, but every time we tell our friends we're heading south of the border, they say, "Isn't it dangerous?" We tell them Mexico has so much to offer: a distinctive culture, warm, friendly people, and an authenticity we seem to have lost in the U.S.
Mexico, especially in the heartland, feels like another world, a place where the past and the present intermingle. There's spirit here—and I don't mean tequila. Somehow nature, culture, religion, history, and people are deeply connected, and every time I visit Mexico I find my soul again.
SECRETS OF THE PYRAMIDS
Our first day is an extraordinary adventure. We begin with a group tour of Cañada de la Virgen, an archaeological site about forty minutes from San Miguel, which only recently opened to the public. Our tour guide, Albert Coffee, an archaeologist from Louisiana, came here to excavate the site and decided to stay. He's incredibly knowledgeable and passionate about Mexico's pre-Hispanic era.
Once part of a huge hacienda, the pyramids of Cañada de la Virgen are now operated by the Mexican government. Visitors can pay a fee and enter the site, but having a guided tour is well worth the added cost. After an introductory talk at the visitor's center, Albert drives us to a parking area, and we walk about half a mile before we even see the pyramids.
They are breathtaking. Seven pyramid structures—built between 500 and 1000 AD—loom up to the heavens, surrounded by canyons and hills undulating toward distant mountains. Besides the strategic position of this site—on a high plateau with 360° views—the Otomi people built the structures to align with celestial events, Albert explains. "The site itself is a true testament to [their] mathematical, astronomical, and architectural genius."
Since the Otomi grew their food and didn't need to hunt and gather, this advanced Meso-American tribe had leisure time to study the stars and understand celestial cycles. Every March 4, for example, the sun sets in perfect alignment with the top of one of the pyramids.
More secrets of the pyramids are slowly coming to light. They served many purposes: as ceremonial spaces, burial grounds, and residences for the elite. Albert shares interesting tidbits about the Otomi, although few records remain to shed light on their language, scholarly achievements, and beliefs. That's because when the Spanish conquerors arrived from Europe, they destroyed nearly all documents related to Meso-American people. A few intact codices remain (try searching online), which help historians and archaeologists piece together facts about these amazing people.
After Albert's insightful tour, Peter and I are ready for some fun. Tomas Morin is waiting at the visitor center to take us to his family's ranch, Rancho Xotolar, for an afternoon horseback ride. First, his sister Maria Luisa serves us a delicious lunch of homemade cheese, tortillas, and salsa tomatillo. Then we saddle up and, along with Tomas and two of his brothers, head out to the hills for what may be one of the most exciting horseback rides I've ever experienced.
For nearly three hours, we walk, trot, and canter through eye-popping scenery—from high on the edge of a canyon—don't look down—to deep in a fertile valley. At one point we race our horses through a stream, water splashing everywhere, and I feel like a kid again—sooo fun.
FORGOTTEN MUSIC
After an exciting day, Peter and I opt to relax at Hotel Matilda, the charming accommodations where we're staying. Trendy and fun, Hotel Matilda is a chic sanctuary close to the center of San Miguel. As night falls, we dine in Moxi, the hotel's restaurant, which offers eclectic Mexican cuisine: smoked tuna tartare with avocado and Chilean sea bass for me, and roasted carrots with goat cheese and a tasty filet mignon for Peter. Everything is accented with bold Mexican flavors.
We decide to explore a town nearby called Mineral de Pozos, also known as one of Mexico's Pueblo Magicos, a collection of charming villages that retain their historical character and ambiance. After about an hour's drive, we arrive and check into Casa Diamante, a gorgeous property at the edge of town that's part of the Mexico Boutique Hotel collection.
Surrounded by a tall wall, it's an oasis of modernity with a pool, chic restaurant and lounge, and well-manicured grounds. After resting up, Peter and I head to town just as dusk descends. Our mission is to join in the Day of the Dead festivities at the town square, but soon after we arrive, a light rain begins to fall. We watch a few dances on stage, but as the rain grows heavier, we head back to our cozy accommodations. Casa Diamante has an excellent kitchen, and during our two days here we relish mealtime.
Mineral de Pozos is known for its artisanal shops, especially its collection of pre-Hispanic musical instruments. The next day we find a shop called Camino de Piedro in town. It's filled with handmade musical instruments modeled after those found in Meso-American archaeological sites. The owner, Marco Antonio, invites us in and shows us a few. In an adjoining room, more instruments are on display, including turtle shells, drums, and flutes. Soon Marco's wife joins him, and they give us a personal concert using these unique instruments. One sounds like the wind blowing; another has a high-pitched peeping sound. The music is lovely.
Afterwards Marco explains that the melodies they played are their best guesses of what the music from the pre-Hispanic days might have sounded like, since there are no written records. It's sad to think about the forgotten music of these ancient people, music that's lost forever. I buy a maraca made by Marco's son, who's away at college. It sounds like a rain shower when I gently swirl it around.
Marco offers to give us a tour of nearby abandoned silver mines, which brought prosperity to the region around the end of the 19th-century. Now all the mines and factories that processed the silver are abandoned, and nature is taking over. The crumbling limestone buildings and surrounding landscape look hauntingly beautiful. Next we visit a lavender farm where I discover an adorable two-bedroom rental, perfect for a relaxing escape. Imagine falling asleep to the dreamy scent of lavender each night! We just may have to return for that experience one day.
CELEBRATING LIFE AND DEATH
But for now it's back to San Miguel for Day of the Dead celebrations. The main square is a colorful cornucopia of fluttering flags, flowers, people dressed in their Sunday best, and elaborate altars set up for viewing. During this festival it's a tradition to remember your departed loved ones by creating an altar upon which you place some of your loved one's favorite things, like a dish of special candy or a bottle of tequila or mementos from that person's life. Always there will be a smiling photo perched on the altar, a glimpse of the person all these memories belong to. Altars are a poignant ritual that connects people to the ones they miss, a tangible expression of the Mexican belief that death is part of life, not something to be ignored or forgotten.
This becomes even more apparent when Peter and I visit San Miguel's huge cemetery on November 1, the traditional Day of the Dead, when families come to the graves of their loved ones to spend time together, do some painting and maintenance on the graves, and even share a meal graveside. The scene is more like a party—not gloomy at all. In fact, one family has hired a mariachi band to play songs at the grave of their loved one. Everywhere you look families pay their respects, share this special day, and connect with their past.
One afternoon we visit the Rosewood San Miguel, a luxury hotel that blends in with the landscape, and take a tour with Gustavo, the hotel's PR director. Palm trees dot the elegant property, and lush bougainvillea vines cascade down walls. We walk by sparkling pools, and it's all I can do to stop myself from jumping in. Nearby a manicured lawn offers a romantic setting for weddings. We climb a few stairs to a rooftop bar, where stunning views of San Miguel await. Everywhere I look an understated elegance permeates the property.
The Rosewood looks like it belongs here, no small feat considering the hotel opened just five years ago and covers 14 acres. Except for the windows, which were imported from Spain, all the building materials were sourced in Mexico—from the beautiful Delores Hidalgo tiles to limestone from San Luis Pitosi. Artisanal accessories like glasses, lamps, and tablecloths are made right here in San Miguel.
At Rosewood's elegant restaurant, 1826, we meet Chef Victor Palma, who assures us his kitchen serves authentically Mexican fare. In fact, one of their employees, a woman whose only job is to make tortillas, was hired after she was discovered selling her delicious tortillas to the workers who built the hotel. Peter and I have a magnificent lunch beginning with a molcajete bowl filled with bubbling hot melted cheese served with corn tortillas. Yum. "People come from Mexico City just for this dish," Gustavo confides.
We also try cool refreshing gazpacho with scallops, avocado, and lime. For my main course I have the red snapper tacos served with chipotle-mayo sauce—nice and spicy. Peter chooses a traditional dish of cow's tongue served on a bed of rice with plantains. He offers me a taste, but I am happy with my tacos.
The food scene in San Miguel is surprisingly hip, as we discover one evening when we find our way to the rooftop bar, La Azotea, which specializes in tapas. Nestled beside the Parroquia, San Miguel's towering cathedral, this lovely spot is the perfect place to nibble on tapas, enjoy a flavorful cocktail, and watch the sun set. Peter and I melt into the moment and begin to think we might stay here forever.
Next Month: Peggy and Peter's Mexican adventure continues as they visit Hacienda de Taos, a rustic ranch with fabulous horseback riding, tour Casa Sauza in Tequila, and ride bikes in Gualadaljara.
For more information, visit:
• albertcoffeetours.com
• xotolarranch.com
• hotelmatilda.com
• hotelesboutique.com/en/hotel/casa-diamante
• mineraldepozos.com
• rosewoodhotels.com/sanmiguel