Hotel Filter
Download here our complete hotel directory
Press articles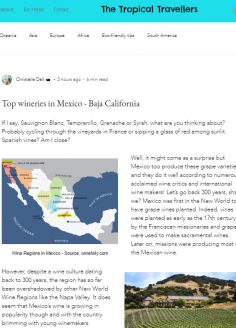 Top wineries in Mexico – Baja California
If I say, Sauvignon Blanc, Tempranillo, Grenache or Syrah, what are you thinking about? Probably cycling through the vineyards in France or sipping a glass of red among sunlit Spanish vines? Am I close? Wine Regions in Mexico - Source; winefolly.com Well, it might come as a surprise but Mexico too produce these grape...
leer mas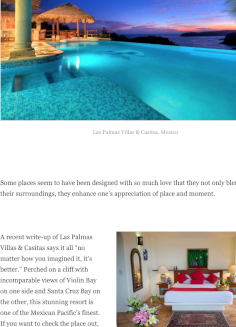 What to do in Oaxaca – Mexico
Are you planning a trip to Mexico and wondering where to go? We get you. There are so many wonderful spots in this vibrant country that it can be a bit overwhelming at first to pick and choose! If you want to be mesmerised and want your senses to be ignited then read on...
leer mas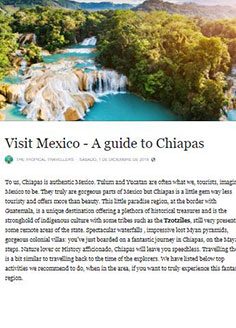 Visit Mexico – A guide to Chiapas
To us, Chiapas is authentic Mexico. Tulum and Yucatan are often what we, tourists, imagine Mexico to be. They truly are gorgeous parts of Mexico but Chiapas is a little gem way less touristy and offers more than beauty. This little paradise region, at the border with Guatemala, is a unique destination offering a...
leer mas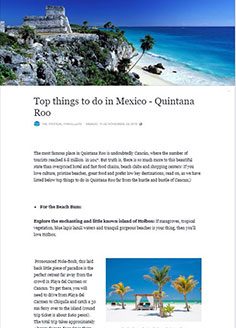 Top things to do in Mexico – Quintana Roo
The most famous place in Quintana Roo is undoubtedly Cancún, where the number of tourists reached 6.8 million in 2017. But truth is, there is so much more to this beautiful state than overpriced hotel and fast food chains, beach clubs and shopping centers! If you love culture, pristine beaches, great food and prefer...
leer mas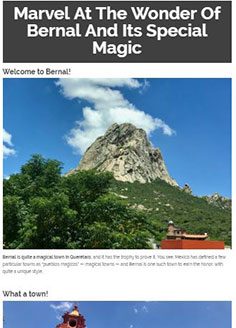 Marvel At The Wonder Of Bernal And Its Special Magic
Welcome to Bernal! Bernal is quite a magical town in Querétaro, and it has the trophy to prove it. You see, México has defined a few particular towns as "pueblos magicos" — magical towns — and Bernal is one such town to earn the honor, with quite a unique style. What a town! As...
leer mas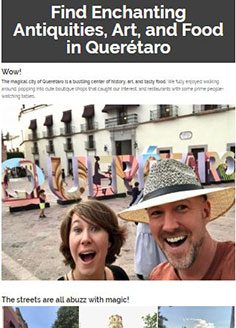 Find Enchanting Antiquities, Art, and Food in Querétaro
Wow! The magical city of Querétaro is a bustling center of history, art, and tasty food. We fully enjoyed walking around, popping into cute boutique shops that caught our interest, and restaurants with some prime people-watching tables. The streets are all abuzz with magic! The Historic Monuments Zone of Querétaro is a wonderful UNESCO World Heritage...
leer mas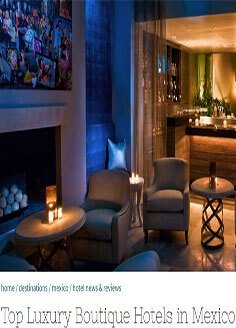 Top Luxury Boutique Hotels in Mexico
Brands such as The Ritz-Carlton and St. Regis may attract hordes of luxury travelers to Mexico, but smaller, independent hotels also imbue their offerings with enticing amenities, style and service. Whether it's a relaxed coastal beach resort or a historic inland city that clients are looking for, Mexico is well-equipped to satisfy sophisticated globetrotters looking...
leer mas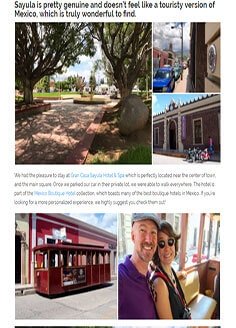 Romantic Mexican Road Trip Perfect For Foodies & Lovers
Nestled at the base of the majestic mountains in Jalisco, you will find a bustling Mexican town with a lot of personality and artisan charm. We honestly weren't sure what we'd find in Sayula when we took the easy drive from Ajijic, Jalisco, but we were full of anticipation — and we were not...
leer mas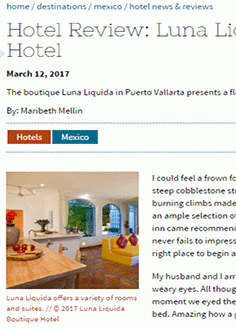 Hotel Review: Luna Liquida Boutique Hotel
I could feel a frown forming on my face as the taxi puttered up a skinny, steep cobblestone street toward my hotel. Visions of breathless, thigh-burning climbs made me question my choice. Puerto Vallarta, after all, has an ample selection of small, moderately priced hotels downtown. But this inn came recommended by Mexico Boutique...
leer mas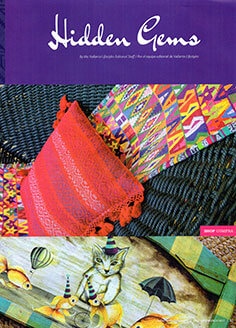 Hidden Gems – Playa Escondida
True tu its name, Playa Escondida (hidden beac in Spanish) is tucked away in the outskirts of Sayulita, Riviera Nayarit´s surfing capital par excellence, yet close enough to be part of the town´s lively action. From palapas and canopied beds to sensual organic architecture and scads of lusciuos lounge-worthy spots, not to mention al...
leer mas