Press Articles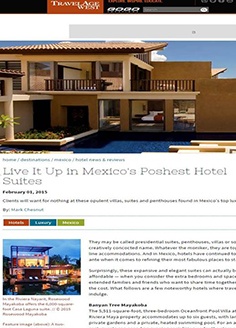 Live It Up in Mexico's Poshest Hotel Suites
They may be called presidential suites, penthouses, villas or some creatively concocted name. Whatever the moniker, they are top-of-the-line accommodations. And in Mexico, hotels have continued to up the ante when it comes to refining their most fabulous places to stay. Surprisingly, these expansive and elegant suites can actually be affordable — when you...
leer mas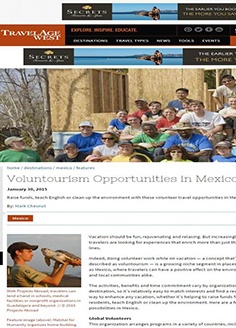 Voluntourism Opportunities in Mexico
January 30, 2015Raise funds, teach English or clean up the environment with these volunteer travel opportunities in Mexico By: Mark Chesnut Vacation should be fun, rejuvenating and relaxing. But increasingly, travelers are looking for experiences that enrich more than just their tan lines. Indeed, doing volunteer work while on vacation — a concept that's often...
leer mas
Villa Ganz, Guadalajara México
Tucked away on a leafy street in Guadalajara is this gem of a boutique hotel. A member of Mexico Boutique Hotels, Villa Ganz delighted us with its old-world charm. The restored 1930s villa is built around a high-walled garden and courtyard; inside, it has ten lovingly-restored rooms and suites. We speculate it's perhaps the...
leer mas
Herlige Huatulco
HVIS DU SKAL BO PÅ ETT HOTELL … La det bli Las Palmas Villas & Casitas, medlem av Mexico Boutique Hotels. Deter bare helt nydelig der det ligger omkranset av jungel og hav på en klippe over en øde strand med Huatulcos flotteste utsikt. (more…)
leer mas
Sunset Sunday – Just Be at Sunset Cozumel, Mexico / Stay Adventurous
by CRAIG ZABRANSKY on NOVEMBER 30, 2014 in MEXICO TRAVEL, SUNSET SUNDAY It was my first time back to Cozumel since I was a kid in the 80s. I wondered what changed, what I'd remember and if I'd be able to catch a Cozumel sunset on the water. (more…)
leer mas
Tasting Chilaquiles Verde in the Riviera Maya and Yucatan / Stay Adventurous
by CRAIG ZABRANSKY on DECEMBER 1, 2014 in CULTURE THRU CUISINE, MEXICO TRAVEL When I travel to Mexico breakfast often, if not always, translates to Chilaquiles Verde. Every trip and everywhere I dedicate one morning (if not more) to tasting my favorite Mexican Breakfast dish. (more…)
leer mas
5 Great Urban Experiences in Mexico
Mexico may be world famous for its sun-soaked beaches, but this vast nation is also home to some pretty exciting cities, too. Each of the major metropolitan areas in Mexico's interior offers its own unique array of activities, attractions and experiences. Travelers are apparently taking notice, as visitor numbers continue to rise in urban...
leer mas
Most romantic Mexico beaches / USA Today
Romantic-minded couples of all stripes have one thing in common: their attention is firmly focused on their beloved. But once a couple decides on a Mexico beach vacation, it's definitely not a one-size-fits-all proposition. One couple's eco-adventure might be another's dull-as-dishwater vacation. Conversely, a couple's wild night out on a beach town, complete with...
leer mas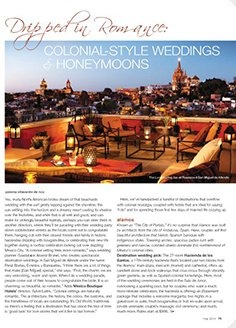 Dripped in Romance
COLONIAL-STYLE WEDDINGS HONEYMOONS Yes, many Northe American brides dream of that beach side wedding whit the surf gently lapping againist the shorline, the sun settiing into the horizon and a dreamy resort casting its shadow over the festivities, and while that is all well and good, and can make for strikingly beautiful nuptials, perhaps...
leer mas
Celebration of the Ninth Award Ceremony of Thierry Blouet Trophy
Celebration of the Ninth Award Ceremony of Thierry Blouet Trophy On February 18, the 9th Thierry Blouet Trophy took place in the luxurious restaurant Café des Artistes; renowned hotel chefs competed this 2014, such as: Vidanta Group, Villa Premiere, Haramara Retreat, Four Seasons Punta Mita, Hotel San Bernardo, and Coco Tropical Restaurant. As well...
leer mas